Backend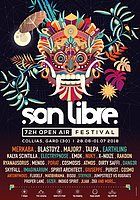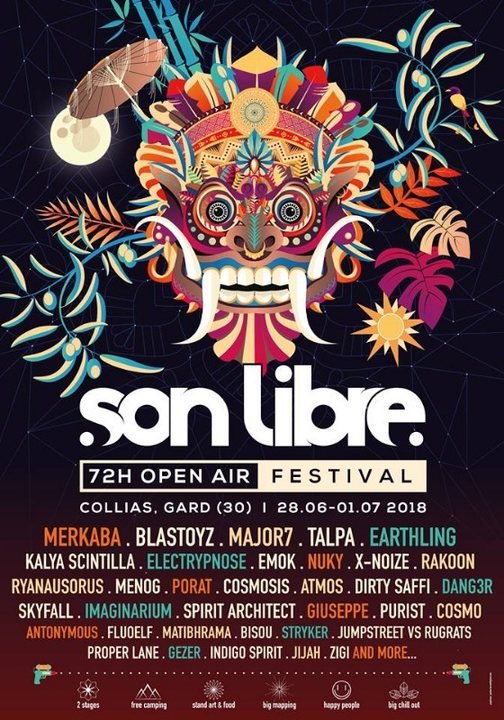 Deco
Trance Stage powered by BOTN Décoration+Visual Team
Techno Stage - Lambda labs Sound system - Déco TBA
Info
Info
➭ Ready to live a special and unique festival ?
After 4 successful editions, Son libre is back ! Lasting one more day, and with a homebrew program from Thursday June 28th to Sunday 1st of July in Collias.
Son Libre is offering an unique experience through various music style all day long as the festival is dedicated to every kind of electronic music.
From International artists to smaller gemstones we wanted you to discover, everyone will have the opportunity to live his very own instant.
Party is our golden word ! You are free to move around, no need to hide your alcohol to join in, just bring it in a plastic bottle.
Get your sunscreen and sunglasses, it will be warm and sunny by this time of the year in southern France. You will also be able to refresh yourself swimming in the gardon river passing just nearby in Collias, a beautiful village in the heart of the gardon canyon. There you will find many shady spots to chill-out. Join us for a weekend of true musical holidays !
Location
1h from Montpellier → Highway A9
1h30 from Marseille → Highway A55, A54 & A9
2h40 from Lyon → Highway A7, A9
3h from Toulouse → Highway A61, A9
3h30 from Genova → Highway A49, A7
4h from Barcelona → Highway AP-7, A9
6h from Milan → Highway A7,A10 & A8
Entry fee
• Pass 4 days only during phase 1 & 2.
➭ Phase 1 : 35€ • Sold out
➭ Phase 2 : 45€ • Sold out

➭ Phase 3 :
• Pass 3 days : 45€ • Sold out
• Pass 4 days : 65€ • Sold out

➭ Phase 4 :
• Pass 3 days : 70€
• Pass 4 days : 90€

➭ At Entrance (if not sold out) :
• Pass 3 days : 90€
• Pass 4 days : 110€
Organizer
Organizer
Son Libre Events