Backend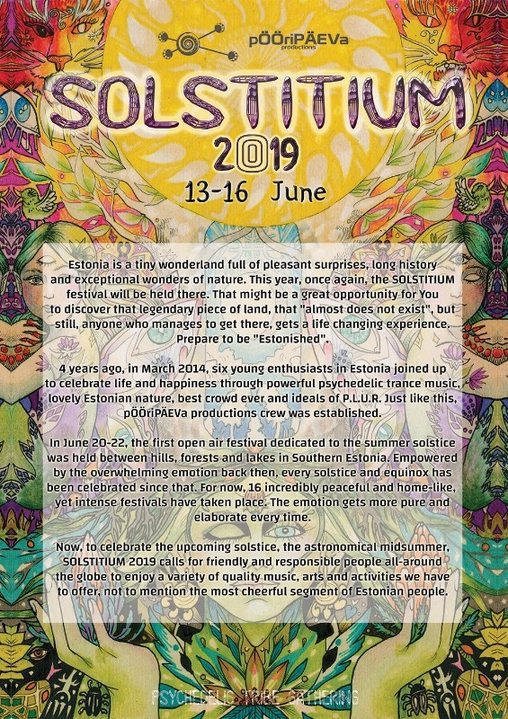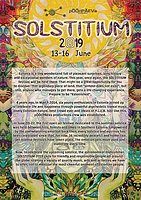 Line Up
*Outsiders (IL) LIVE
*Keluk LIVE
*Cosmic Harmony LIVE
*Taaraterra LIVE
*PsyZone
*Shift
*Salvia D
*Thematic
*Asko
*Prolyde
*Darkenstein
*Qalactus
*Josif Toots
*Universumi Direktor
*AsiilAnna
*Fraktal
*Quron
*Karl Muuga
*Atomica
*Infera
*HeavySavu
*Kipper
*Jürkaana
*Misha
*BorTek
*Psilotonic
Deco
fluorobotanics - lyserdelic decos any many awesome local decorators and VJs
Info
Basic festival info:
-Access will be open for max. 72h.
-Camping area is for free
-Bad weather won't be a (major) problem. Most of the facilities are prepared for it.
-Separate bedrooms and dormitory beds are available for 20€ (*) to 30(***) per person.
-Good food and drinks are sold all the time.
-The festival site is situated in a separate location in Viljandi County, Southern Estonia. You can get the full map once you register Yourself by us. Registration is free of charge.
NB! REGISTRATION IS REQUIRED IN ORDER TO PARTICIPATE!
THE EVENT IS NOT OPEN FOR GENERAL PUBLIC. That's how we manage to keep troublesome people away.
Please sign up at www. psy-estonia .ee or
info@psy-estonia.ee
THERE WILL BE NO EXCEPTION ON THIS. Any unregistred people will be denied the access.
..but once You take the small trouble to get registred upon the list, arrive here and get Your bracelet - You will receive an extra warm welcome among us and our very best wishes, trust and friendly care will be Yours.
For Your questions and doubts, we'll be happy to answer you anytime at:
info@psy-estonia.ee
P.L.U.R.R. and see you there.
pÖÖriPÄEVa productions team
Entry
TICKET SALE
All together there will be 650 ticket sold. Then we all will be comfortable and enjoy the festival.

First 150 tickets:
60€
Second 150 tickets:
65€
Third 150 tickets:
70€
Last 150 tickets:
75€
Organizer
Organizer
Pööripäev production