SOL FESTIVAL 2011
Extremadura - Sierra de Gat… ·
Spain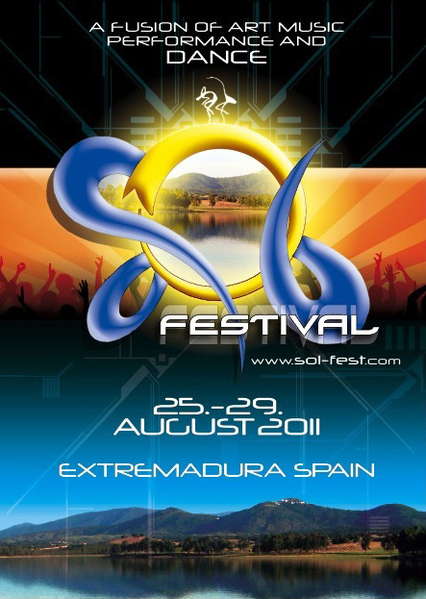 Live
Line Up
ABSOLUM. ANTiDOTE. AUDIALIZE. AJJA. AlEX Di STEFANO. ANAIS. ANDREAS PFEIFFER. AVALON. BADUN. CHILLINBERLIN. CHRISTOF. CELLI. DECAY. DICK TREVOR. DISCO HOOLIGANS. D.M.T. / Digital Mystery Tour. Dj DRUID. DJ ANDALUCE. Dj JONAS SWEDEN. Dr. NOJOKE. DJ SLATER FEAT. DJ TONIO. U-Prag Drummers. DJ THE GEE. EAT STATIC. EDOARDO. EX-GEN. FERNANDO MASS. GALOPPIERNDE ZUVERSICHT. GREG HUNTER. GIUSEPPE. GOA JONAS. HOEHLE. HULTSCHER & BLAU. I.MIKE. JEWLUNG. JOHN ACQUAVIVA. JAMES MONRO. J´ESPÉRE. KALABRESE. KARSTEN PFLUM. KIWA. KOXBOX. KOHPAT. LA CHERGA. LASSE ILLINTON. LAUGHING BUDDHA. LIQUID ROSS. LOGIC BOMB. LOCO & JAM. LOS NINOS DE LOS OJOS ROJOS. LUCA & JASMIN GIANFERRARI. MASTER MARGHERITA. MAUXUAM. MENOG. MIXMASTER MORRIS. MARIUS. MINIMINDS. NAKED TOURISTS. NORBERT DAVENPORT. OLIVIER GIACAMOTTO. PAT FLANDERS. PHILIPP LAMMERS. PIET JAN BLAUW. PLASTER. RAIMUND. RAOUL. RAY CASTLE. SALAKAVALA. SERGE. SERGE GEYZEL. SIMON BARING. SNØLEOPARDEN. SOFUS FORSBERG. SQUAREMEAT. SPACE TRIBE. SØVNIGT SIND. TAJ MAHAL. TAMIRIS. TEXAS FAGOTT. TOIRES. THE EBERTBROTHERS. TOTAL ECLIPSE. TRIBESMAN. WEEDBEAT. XAVIER MOREL. YESTEGAN CHAY. YOUTH. YUROQ. ZEFER.
DJs
Musical directions will be in the form of Psytrance, Progressive, Minimal Techno, Ambient, Dub, Breaks, Electronica, Reggae, World Music and different styles of Spanish music on three stages.
Info
Info
Sol Festival aims to return to the phenomenon of summer music festivals, the sense of community and warmth. Sol Festival will of course, feature a top line-up of DJs, live music and multimedia artists to blow your mind. The deco will be out of this world. Other than the obvious, the event will also include workshops, massage tents, market and a childrens' area.
Location
Location
After 3000 km of driving from lake to lake around Spain, we finally found the perfect festival site next to the 'Embalsa Borbollon' in the heart of the Sierre de Gata, in the province of Extremadura that lies next to the border of Portugal.
Organizer
Organizer
Third Eye Vision presents "Sol-festival"
Third-eye Vision S.L. has been established to create multi-media events and happenings in Europe. Our primary project will be the creation of a bi-annual festival called SOL-FESTIVAL next to Borbollon reservoir in the region of Extremadura, Spain at the end of August 2011.
Added

11y 2m

· Update

10y 5m

· 3 Parties ·

/ 5