ShivaMoon 2005
between/zwischen Hamburg and/und Berlin ·
Germany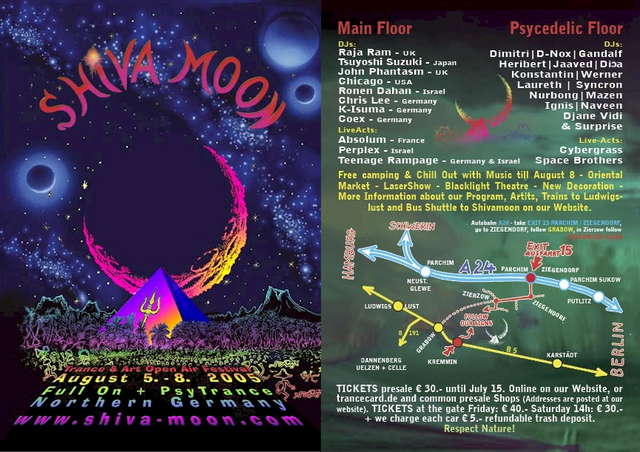 Mainfloor

< ::::::::- DJs -:::::::: >

Raja Ram (UK)
Tsuyoshi Suzuki (Japan)
John Phantasm (UK)
Chicago (USA)
K-Isuma (Germany)
Chris Lee (Germany)
Ronan Dahan - Perplex (Israel)
Coex (Germany)

< ::::::::- Live Acts -:::::::: >

Absolum (France)
Perplex (Israel)
Teenage Rampage (Germany/Israel)


Psyfloor

< ::::::::- DJs -:::::::: >

D-Nox (Germany)
Jaaved (Germany)
Heribert (Germany)
Laureth (Germany)
Dimitri (Greece)
Konstantin (Russia)
Werner (Germany)
Dica (Israel)
Gandalf (Germany)
DJane Akbal (Mexico)
Syncron (Germany)
Nurbong (Germany)
Mazen (Germany)
Ignis (Germany)
Naveen (Germany)
DJane Vidi (Gomera)
& Surprise

< ::::::::- Live Acts -:::::::: >

Cybergrass (Germany)
Space Brothers (Germany)
.
.
Info
Free Camping & Chill Out with Music until Monday till August 8 !

***Oriental Market (With Food, Clothes and everything a Fraggle needs)
***LaserShow (one of a Kind ... be suprised)
***Blacklight Theatre - (New Decoration!!! our legendary 3D deco will blow your mind)

Diesmal an einem kuscheligen Ort in Meck- Pomm. So süß war die Location noch nie. Von unseren Location-Scouts auf Barfußgenuss geprüft :-)

Alle geben dieses Jahr ihr absolut Bestes, DENN: This is "10 Years After" -Aniversary- das Jubiläum mit ganz speziellen Highlights.

Das LINE UP: Eine Trommelfell - Trance - Vibration mit Internationalen Künstlern. Unsere legendäre Deko wird Euch verzaubern!

Wieder wird sich einmal zeigen, wie schön eine Party bei uns ist , weil sie mit Liebe zum Detail von uns als Family gestaltet wird .
10 Jahre lang hat Jan mit seinem "Engel" Bhavani für die Fans unserer Goa Szene unvergessliche Festivals gemacht.
Einige fielen buchstäblich ins Wasser, aber alle waren schön.
Und nun hoffen wir auf geilstes Wetter und trockensten Spaß.

Bis bald
Euere ShivaMoon Family

P.S.: Respect Nature!
.
Location
Es gibt eine Brandneue Location Map, damit Ihr Euch schonmal ein Bild machen könnt ;-)
[shivamoon.de]
Die Location ist zwischen Ludwigslust und Karstädt.
Locationmap und Travelinfo gibt es auf unserer Website!
Es fährt ein Busshuttle von Ludiwigslust (Bahnhof) bis zum Festival!
~~~~~~~~~~~~~~~~
The Location is between Ludwigslust and Karstädt!
Locationmap and Travelinfo can be found on our website!
There will also be a Busshuttle from Ludwigslust (Railroadstation) to the Festival!
**************Autobahn A24 - take Exit 15 Parchim / Ziegendorf, go to Ziegendorf, follow Grabow, in Zierow follow the SHIVAMOON Signs!**************
.
.
Entry fee
Entry fee
Tickets at the GATE:
Friday 40 €
Saturday (14h) 30 €
+ 5 € Garbage Deposit for each CAR!
.
.
Organizer
Organizer
The ShivaMoon Family
.
.
Added

15y 5m

· Update

13y 9m

· 4 Parties ·

/ 61