SHANTI TRIBE OPEN AIR FULLMOON PSYCHEDELIC PARTY-TURKEY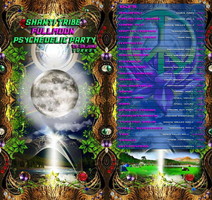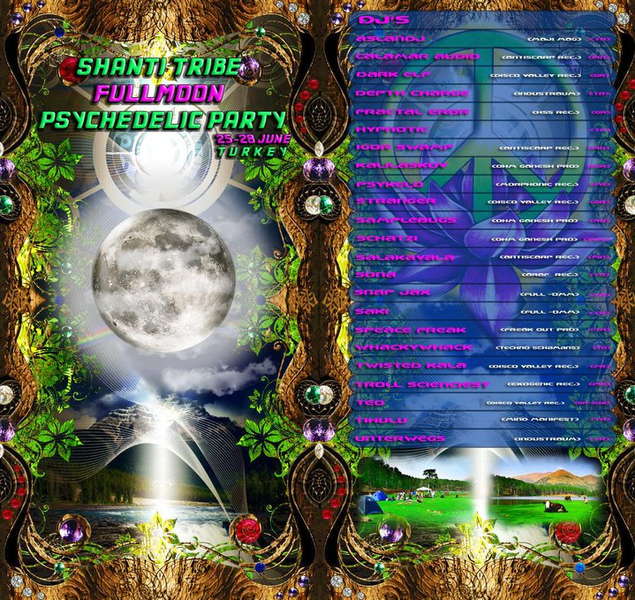 Info
FACILITIES / OLANAKLAR
There is a bar, restaurant, shower and toilets in the camping area. Trees surrounding the area offer a pleasant shade for the sunny afternoons. The local spring water called Kızlan Water will be free during the whole event. Free air and free water that is
Kamp alanında bar, restoran, duş ve tuvaletler bulunuyor. Kamp alanını çevreleyen ağaçlar güneşin parlak olduğu saatlerde serin gölgeli bir ortam sunuyor. Etkinlik süresince bölgede çıkan ve Kızlan Suyu adı verilen lezzetli kaynak suyu ücretsiz. Yani hava bedava, su bedava
TICKETS / BİLETLER
Early-bird tickets (Until 1st June ): 20 Euros
June/At the door: 40 Euros
SHOPS & STANDS / DÜKKAN & STANDLAR
If you wish to make a shop, stand, workshop etc please contact us.
Eğer dükkan, stand, atölye vb. gerçekleştirmek istiyorsanız lüften bizle temas kurun.
shantitribe@hotmail.com
IMPORTANT / ÖNEMLİ !
Chemical Waste / Kimyasal Atıklar:
In order not to harm the trout fish living in the Gökçeova Lake and all other creatures of the area, we will not be using detergents, soaps, shampoos etc. cleaning and personal care products. We invite you to take extra care to use biodegradable natural soaps and not let any other cleaning or personal care materials to come into contact with the nature.
Gökçeova Gölü'nde yaşayan alabalıklara ve bölgenin ev sahibi olan diğer canlılara zarar vermemek için kimyasal maddeler içeren deterjan, sabun, şampuan vb temizlik ve kişisel bakım malzemeleri kullanmayacağız. Sizlerden de buna özen göstermenizi, katkı maddesi bulundurmayan doğal sabunlar haricinde temizlik, bakım ve ürünlerin doğayla temas etmemesine özen göstermenizi rica ediyoruz.
Waste & Cleaning / Çöpler & Temizlik
Since we will be guests in a natural environment inhabited by many species of creatures living in Sandras heights, we are all responsible for the waste we create. We have to collect the rubbish and take it away with us down the mountain. So it is highly important for all of us to bring enough trash bags and share the cleaning responsibility all together.
Sandras Dağı'nın yükseklerinde, pek çok canlının yaşadığı doğal bir ortama misafir olduğumuza göre oluşturduğumuz çöplerden bizler sorumluyuz. Bu çöpleri giderken beraberimizde götürerek ortadan kaldırmamız gerekiyor. Bu nedenle herkesin yanında yeterli miktarda çöp torbası getirmesi ve çevre temizliği sorumluluğunu hep birlikte paylaşmamız son derece önemli.
WHAT TO BRING / NE GETİRMELİ
-Tent and camping gear
-Sleeping bag
-Enough clothes
-Warm clothes (don't forget that summer nights can be really cold in this high altitude)
-Flashlight
-Trash bags
-Pocket ashtrays
-Water container
-Sunblock
-Biodegradable soap
-Earplugs
-Çadır ve kamp malzemesi
-Uyku tulumu
-Yeterli giysi
-Sıcak tutan giyecekler (mekanın yüksekliğinden dolayı yaz gecelerinin de bir hayli serin geçebildiğini unutmayın)
-Fener
-Çöp torbası
-Portatif kültablası
-Su kabı
-Güneş kremi
-Çevre dostu doğal sabun
-Kulak tıkacı
We would like to thank all the labels and organisations that helped us to create this unique line up and gathering:
Bu özel line-up'ı ve buluşmayı hazırlamamıza katkıda bulunan tüm label ve organizasyonlara teşekkür ederiz:
Audio Drop
Antiscarp (
[myspace.com]
Disco Valley (
[myspace.com]
Exogenic (
[myspace.com]
Hss
Hyperscape
Industraum
Maji Mag. (
[facebook.com]
Mind Funk Rec. (
[myspace.com]
Mind Manifest (
[mindmanifestproject.com]
Morphonic Rec. (
[myspace.com]
Ohm Ganesh Pro. (
[myspace.com]
Shivapuri
Location
LOCATION / MEKAN
Highest peak of the Muğla area, the 2294 meter Sandras mountain is surrounded by a deep green flora. With a 3 km asphalt entrance, the village road taking off from the Ağla junction of the Köyceğiz freeway goes curling up through the woods. The Ağla (Cry) village on the drive was named after the many delicious, fresh spring waters gushing everywhere like tears. Besides it's fresh air and clear fountains, the area is also recognized with its age-old sycamore trees, the youngest of them being 300 years old. Blazing like emerald, the Gökçeove lake is surrounded by wild hyacinths, chamomiles and many other flowers that are able to endure the night frost as much as the sun. With its pleasant climate soothing the burning sun, delicious spring waters, green surroundings and fairy-tale trees, Sandras Gökçeova is an ideal place to dance and dream.
Muğla bölgesinin 2294 metre yüksekliğindeki en yüksek dağı Sandras yemyeşil bitki örtüsüne sahip. Köyceğiz çevre yolunun Ağla sapağından ayrılan ve ilk 3 kilometresi asfalt kaplı köy yolu ağaçlar arasından yükselerek devam ediyor. Yol üzerindeki Ağla köyü adını her yerinden fışkıran ve gözyaşlarını anımsatan lezzetli, serin kaynak sularından almış. Yörenin temiz havası ve berrak pınarlarının yanı sıra bir diğer özelliği de en genci 300 yaşındaki asırlık çınarları. Zümrüt gibi parlayan göz alıcı Gökçeova gölünün çevresi yabani sümbül, sarı papatya ve hem güneşe hem de gece ayazına dayanıklı dağ çiçekleriyle kaplı. Yaz günlerinde bile güneşin yakıcılığını tatlı bir serinlikle hafifleten havası, lezzetli pınarları, yemyeşil doğası ve masalları andıran ağaçları ile Sandras Gökçeova dansetmek ve hayal kurmak için ideal bir mekan.
TRANSPORT & MEETING POINT / ULAŞIM VE BULUŞMA YERİ
Meeting Point / Buluşma Yeri
Our shanti meeting point is the Köyceğiz Bus Terminal! Beginning with June 25th shuttles will leave at casual and uncertain intervals : ) yet as frequent as possible, as always. Don't forget to take the Shanti hotline numbers with you on the big day!
Shanti buluşma yerimiz Köyceğiz Otogarı! 25 Haziran'dan itibaren elbette herzamanki gibi gelişigüzel ve belirsiz aralıklarla : ) ama mümkün olduğunca sık kalkacak servislerle parti mekanına ulaşabilirsiniz. Shanti bağlantı telefonlarını da yanınızda bulundurmayı unutmayın!
Bus / Otobüs
You can take any bus that stops at the Köyceğiz Bus Terminal which is the closest bus point to the party location.
Parti mekanına en yakın otobüs garajı olan Köyceğiz otogarından geçen otobüslerden birine binmeniz yeterli.
Uçak / Plane
The closest airport is ATM Dalaman Airport. For flight schedule and service info:
Partiye en yakın havaalanı ATM Dalaman Havalimanı. Uçuş ve servis bilgileri için:
[atmairport.aero]
Özel Araç / Private Vehicles
The dirt road up the mountain is in real bad condition, so we reccomend you to use the shuttles unless your vehicle is a 4x4. In order to reach the location with a private vehicle you need to take the Ağla road from the Ağla junction on the Köyceğiz freeway and climb up 20 km. on the dirt road to arrive at the Gökçeova Lake.
Toprak dağ yolu bir hayli bozuk olduğundan eğer 4x4 değilse arabanıza zarar vermemek için servisle ulaşımı tercih etmenizi tavsiye ederiz. Mekana özel araçla ulaşmak için Köyceğiz çevre yolundan Ağla sapağına dönerek 20 km kadar dağ yolunda tırmanarak Gökçeova Gölü'ne gelmeniz gerekiyor.
Entry fee
Entry fee
Early-bird tickets (Until 1st June ): 20 Euros
June/At the door: 40 Euros
Added

12y 11m

· Update

12y 9m

·

/ 7