Pulsar Festival - Encontro de Arte, Cultura e Sustentabilidade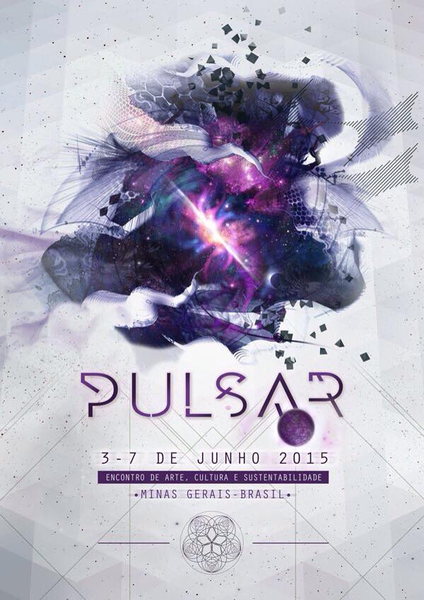 Line Up
C.O.S.M.I.C S.T.A.G.E

LIVE SETS:
----
Arjuna (Parvati)
Bash (D-A-R-K)
Disfunction (Zenon)
Elowinz (Parvati)
Fungoloyds (Grimm)
Gao (Uroboros)
Gesh (Digital Yonkis)
Haggen (Digital Yonkis)
Minimal Criminal (Cosmic Conspiracy)
Nevermind (Vagalume)
Pandora's Box (Dark Prisma)
Paracozm (Zenon/Uroboros)
Psychowave (Spacedock)
Rollercoaster (Uroboros)
Spooky Hertz (Grimm)
Sychotria (Ayauma)
Tijah (Uroboros/Zenon)
Traxon (2 to 6)
Whiptongue (Looney Moon)
Xpiral (Vagalume/Mosaico)
Zartrox (Uroboros)

DJ-SETS
----
Alanita (Uroboros)
Brunale (Forest Family)
Diza vs Errado (Zenon)
Fábio Leal (Zenon)
Giuseppe (Parvati)
Iguana (Parvati)
Nuyarao (Solstice Gathering)
Rica Amaral (Supernatural)
Rifs (Padang)
Zumbi (Vagalume)

More to be released soon...



M.O.L.E.C.U.L.A.R. S.T.A.G.E

Soon..
Deco
Deco
DECO:
Free Optics
Geômetra
Rodrigo Miranda

VJs:
PixxFluxx
Peckman
Location
Location
Soon the complete information here..
Entry fee
Entry fee
Early Bird Tickets: R$150
on
[com.br]
More infos soon..
Organizer
Organizer
Pulsar Festival