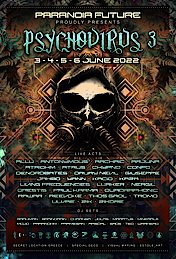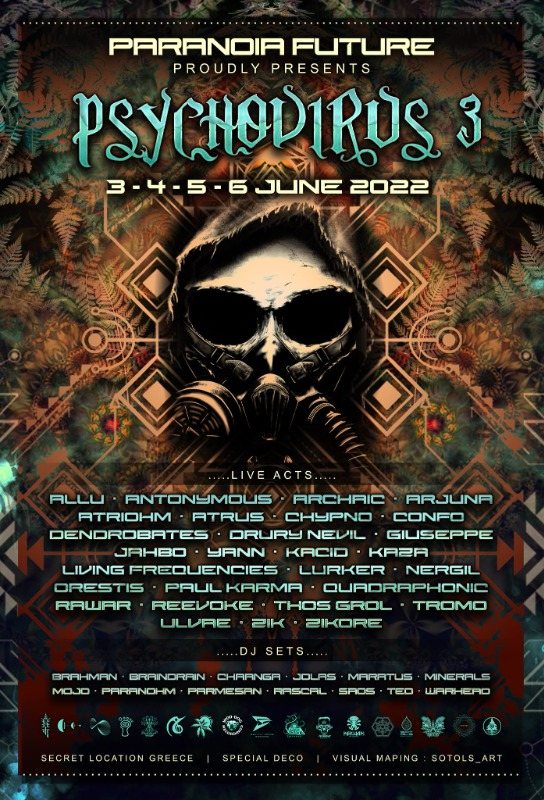 Info
Where the melodies of Forest music meet the magic of Olympus, the purest and brightest vibes are created.Opening the summer season with the best names of the forest scene, with the strongest name to visual mapping in Greece and our will to offer you the best audiovisual, physical and mental experience. This makes it look even more fantastic!One of the reasons for the creation of the festival that we organize and the most important is to promote every art form and expression of freedom and spirituality.With the help, the love and the support that you have offered us these two years, you have given us even more strength to continue to develop all of this here.That is why we make an appointment on June 3, 4, 5 and 6, on the mountain of the Gods, so that we can all experience this incredible experience together.Inside the page of @PSYCHOVIRUS or @Paranoia Future partys and Deco, you will be able to find any other information you want and book your ticket.
Paranoia Future is coming again for 2022 and announces Psychovirus 3, it will take place on 3-4-5 & 6 June in Secret location. The number of tickets is limited! Our guests are friends with good vibes and a smile ! Our purpose is everyone who comes to our event is to have some fun and nothing else !!! We do not want to spoil it for any reason . You can invite your friends to join our group and vibing with us .
Our goal is to create the event every year, and make it stronger every time .
In 2022 you can not imagine what's coming 😁😁😁.
We put our love and create a Line Up 🔥🔥🔥
With stars of the Forest scene, our parties take place in the forest in very beautiful places in the heart of Olympus Mountain in the threshold of the gods.
whatever information you want you can contact the page Paranoia Future Partys And Deco
The event will provide:
💥Foodbar, fruit bar & bar,
💢PARANOIA FUTURE TEAM.
💥Tea shop :
💢BLUE MONKEY TEAM .
💥Chill area, Yoga,
💢VASIA MPATSI
💥Massage,
💢Shanti Irena
International massage (Chiropractic, Reflexology, Agyrvedic massage)
💥 Clothing stores:
💢HESPERUS FAMILY -
💢 MANDALA CLOTHINGS -
💢PARANOIA FUTURE CLOTHINGS...
💥, Dances and fire show:
💢
💥(showers, wc,free camping area ).
.........…....................................................
The pre-sale of tickets will take place in specific cities in specific shops-friends:
By electronic payment after consultation with the page:
[facebook.com]
From 18 to 31 December
Or tickets at 70 euros !!!
🧨From 1 January to 31 January
Or tickets of 80 euros
🧨From February 1st to February 28th
90 Tickets of 90 euros
🧨 From March 1 to May 15
300 tickets of 110 euros !!!
The pre-sale normally starts today!
If some of the pre-sales end before the end of the specified date, an announcement will be issued that they have ended so you know !!!
Any more information you want you can contact our page for the relevant information
Location
OLYMPUS MOUNTAIN Secret Location
Organizer
Organizer
Paranoi Future Partys and Deco