Psychedelic Experience Open Air Festival 2016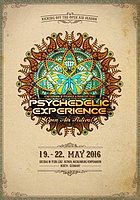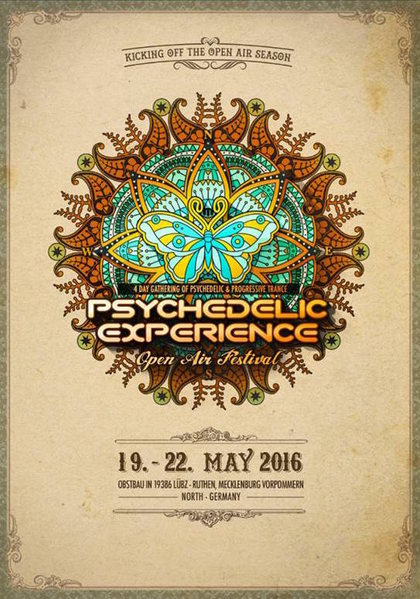 Info
Wenn Ende Mai der Sommer unmittelbar bevorsteht, werden sich auch in diesem Jahr Tausende Festivalbegeisterte von überall auf der Welt im wunderbaren Mecklenburg- Vorpommern zusammenfinden, um endlich wieder in der Sonne zu feiern. In den letzten Jahren ist die Psychedelic Experience noch weiter gewachsen, nicht zuletzt wegen des regen Anklangs bei euch. Somit könnt ihr euch darauf verlassen: was wir versprechen, wird auch gehalten. Und gerade wegen dieser Zustimmung werden wir das Festival dieses Jahr bereits am Donnerstag einleiten! Das bedeutet: ein Extra-Tag für Fun & Games steht auf dem Programm.Dazu gehört natürlich ein erstklassiges Line-Up mit den besten internationalen Artists und 10 Dekoteams, die das Festival gestalten, damit ihr aus dem grauen Alltag 4 Tage in ein buntes, intergalaktisches Wochenende starten könnt.Der Mainfloor ist durchgehend geöffnet und gemäß Tag oder Nacht, Sonne oder Mond wird den Tageszeiten entsprechend für jeden Geschmack etwas dabei sein. Für Schatten (denn wir hoffen natürlich auf Sonne, Sommer und Sonnenschein) und Erholung ist natürlich auch gesorgt. Es wird - wie immer - eine wunderschön eingerichtete Chillarea geben, um sich auch zurückziehen zu können.Aber - liebe Psy Experianer - bei unserem Programm für 2016 ist akuter Schlafmangel vorprogrammiert. Also: bitte plant euren Urlaub rechtzeitig! Die zauberhafte deutsche "Seenplatte" in Mecklenburg-Vorpommern bietet diverse Attraktivitäten in Bezug auf Sport, Freizeit, Erholung und vor allem die berühmten 2033 Seen.
Euer Psy Exp Team
٠ ٠•●✹●•٠
At the end of May, when summer is just around the corner, thousands of festival enthusiast from all around the globe will again make their way to beautiful Mecklenburg-Western Pomerania in Germany to finally party in the first rays of warm sunshine. During the last couple of years, the Psychedelic Experience has continued to grow, last but not least because of your approval. And so, you can depend on us being all about keeping our promise. Precisely because of your approval, we will launch the festival on Thursday, meaning one extra day for fun and games!Of course this includes a first-class line-up with the best international artists and 10 decoration teams who will create and shape the festival in order for you to be able to flee from the daily grind and take off into an intergalactic weekend for 4 days. The main floor will be open the whole time with appropriate music according to the time of day - and day or night, sun or moon , there will be something for everyone when in comes to music.As always, there will be a lovingly decorated chill area for shade (cause we are hoping for summer, sun and sunshine) or to just sit back and relax.However, dear Psy Experiancers, - with our program for 2016 you won't be getting a lot of sleep. So please plan your vacation in advance! The enchanting German lake area in Mecklenburg-Western Pomerania offers a variety of attractions in regard to sports, leisure, relaxation and of course the famous 2033 lakes.
Yours, the Psy Exp team
٠ ٠•●✹●•٠
4 days
3 nights
10 visuals
Fireworks
Uv-Bodypainting
Workshop
Lasershow
Projection
Free Camping
Chill-Area
Videoanimation
Shop-Area
Fire-Performance
Showers
٠ ٠•●✹●•٠
✹ Transport by Bus ✹
❂ GoaExpress ❂
Eine schnelle und günstige Busfahrt bietet GoaExpress Hamburg allen Festivalgängern, die sich bereits während der Hinfahrt mit freundlichen Leuten, guter Musik und einigen Überraschungen im Bus perfekt auf das Festival einstimmen möchten.
Webpage:
[meinfestivalbus.de]
Facebook:
[facebook.com]
❂ OntourToParty ❂
Für jeweils 27€ bietet OntourToParty die An- und Abreise im Shuttle o. Reisebusvon Berlin und HH direkt zum Festival. HH auf Anfrage Buchungen u Infos hier:
[ontourtoparty.de]
❂ Nicecorp ❂
Wenn du am 19-22 May 2016 zum Psychedelic Experience Open Air Festival möchtest, dann rechne mit uns! Wir bringen dich hin und zurück in unseren gemütlichen Bus
Abfahrt von Budapest, Felvonulási platz
Haltestellen: Tatabánya, Győr, Wien ,Bratislava, Brno, Dresden, Berlin
Info:
[nicecorp.co]
❂ GoaExpress ❂
A cheap and entertaining shuttle service offers GoaExpress to all festival guests who already like to join an entertaining bus ride with good music, lovely people and some surprises on the way to the festival.
Webpage:
[meinfestivalbus.de]
Facebook:
[facebook.com]
❂ OntourToParty ❂
For each 27€ OntourToParty offers an outward and a return journey from Berlin and Hamburg to the festival. Hamburg on request. More information and booking here:
[ontourtoparty.de]
❂ Nicecorp ❂
If you want to visit Psychedelic Experience Open Air Festival 19-22 May 2016, travel with us: we will take you there and then bring you home safely.
We are setting off from Budapest, felvonulási Square (exact date coming later)
Stops: Tatabánya, Győr ,Vienna, Bartislava ,Brno, Dresden, Berlin
Info:
[nicecorp.co]
٠ ٠•●✹●•٠
✹ Transport by Train ✹
Trainstation 19386 Lübz / Parchim
[db.de]
Shuttle Bahnhof / Trainstation
Lübz / Parchim - Shuttle mobile: +491738190286
٠ ٠•●✹●•٠
Location
Obstbau in 19386 Lübz - Ruthen, Mecklenburg-Vorpommern, Germany

٠ ٠•●✹●•٠
Entry fee
❂ Tickets:
-> X-rated <-
01th of December until 10th of May 2016
- Earlybird-Ticket is available the full month of december for 65€
- Presale-tickets are available until 10th of may 2016 for 75€
LINK -
[psyexperience-festival.com]
❂ At the Gate:
❂ Thursday 02pm - 100€
❂ Friday 8pm - 80€
❂ Saturday 8pm - 50€
❂ Sunday 10am - 20€
٠ ٠•●✹●•٠
❂ Tickets:
-> Ab 18 Jahre <-
01. Dezember bis zum 10.Mai 2016
- Das "Earlybird-Ticket" ist erhältlich den ganzen Dezember 2015 für 65€
- Vorverkauftickets sind erhältlich bis zum 10. Mai 2016 für 75€
LINK -
[psyexperience-festival.com]
❂ Abendkasse:
❂ Donnerstag 14Uhr - 100€
❂ Freitag 20Uhr - 80€
❂ Samstag 20Uhr - 50€
❂ Sonntag 10Uhr - 20€
٠ ٠•●✹●•٠
Organizer
Organizer
Powered by Solartech Event / Psy Exp Crew

٠ ٠•●✹●•٠
From
SOLAR TECH EVENT ·
17,834
Added

9y 8m

· Update

6y 11m

·

/ 195
More events from SOLAR TECH EVENT