Psychedelic Experience Open Air 2015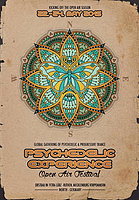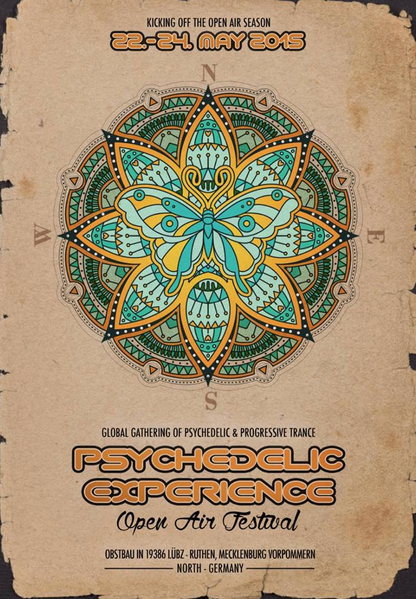 Info
On 22 May 2015, summer will be just around the bend and during the last couple of years thousands of freqs from near and far have come to know where to celebrate just that. Following a notoriously bleak and seemingly endless German winter, the Psychedelic Experience Festival has become a fixed first stop to traditionally launch into the summer season. And – even better – the festival is finally going to be set on the Pentecost weekend – which means a public holiday on the following Monday and an official extra day to either dance or softly end the festival in a relaxed way.
The top line-up with artists from all around the globe, the international flair on the entire festival area as well as 10 deco teams will ensure that you can leave all your everyday worries and cares behind and can dance into the next festival season 2015 with a grin on your face.
And by the way – the main floor will be open for 48 hours without a break and we will take care to adapt music styles to daytime and nighttime. And so, not only friends of the sun but also of the stars and moon can look forward to a spectacular music program. For those of you who want to relax after dancing, we have our lovingly and stylishly decorated chill space, just to chat or chill.
For those of you who want to see more of the region, the beautiful state Mecklenburg-Vorpommern, known as "State of 2033 lakes" is the perfect place to spend a relaxing holiday in nature before or after the festival. At this time of the year, the region is ideal for hiking, camping, canoeing, swimming, riding mountain bikes and fishing.
We are happy to welcome you :)
٠ ٠•●☀●•٠
Am 22. Mai 2015 ist es endlich wieder soweit, denn dann steht der Sommer vor der Tür und mittlerweile wissen tausende Freqs aus vielen Ländern, wo man das zelebriert. Nach dem scheinbar endlos langen Winter ist das Psychedelic Experience Festival ein fester Anlaufpunkt geworden, um traditionell den Sommer einzuleiten/ einzuläuten. Zusätzlich fällt dieses Wochenende auch endlich wieder auf ein langes Pfingstwochenende und das bedeutet, der folgende Montag ist – im wahrsten Sinne des Wortes – ein Feiertag! Also lädt dieses Wochenende zusätzlich zum weichen und entspannten Ausklingen des Festivals ein.
Das Top Line-Up mit Artists aus der ganzen Welt, das internationale Flair auf dem Festivalgelände sowie die 10 Dekoteams werden dafür sorgen, dass du den Alltag hinter dir lassen kannst und mit einem Lächeln auf den Lippen dem Sommer 2015 entgegentanzt.
Übrigens – getanzt wird auf dem Mainfloor 48 Stunden ohne Pause und zu Musik, die den Tageszeiten entsprechen wird. Somit dürfen Freunde der Sonne UND des Mondes sich freuen auf ein spektakuläres Musikprogramm. Wer sich nach dem vielen Tanzen entspannt zurückziehen möchte, für den ist die liebevoll eingerichtete Chillspace dazu da sich z. B. einfach nur auszutauschen oder ganz relaxt zu chillen.
Wer im Anschluss noch nicht genug hat und die Gastfreundlichkeit der Region auskosten möchte, für den bietet sich das wunderschöne Mecklenburg-Vorpommern, das "Land der 2033 Seen" geradezu an in Verbindung mit dem Festival einen naturverbundenen Urlaub zu planen. Denn zu dieser Jahreszeit kann man hier wunderbar wandern, campen, kanufahren, baden, Mountainbike fahren und angeln.
Wir freuen uns auf Euch :)
٠٠ ٠•●☀●•٠ ٠
☀ Features ☀
Fireworks
Uv-Bodypainting
Workshop
Lasershow
Projection
Free Camping
Chill-Area
Videoanimation
Shop-Area
Fire-Performance
Showers
٠٠ ٠•●☀●•٠ ٠
☀ Transport by Bus ☀
Für jeweils 25€ bietet OntourToParty die An- und Abreise im Shuttle o. Reisebus von Berlin und HH direkt zum Psychedelic Experience Open Air 2015​ (HH auf Anfrage)
Buchungen u Infos hier:
[ontourtoparty.de]
OntourToParty offers an outward and a return journey from Berlin and Hamburg to the Psychedelic Experience Open Air 2015​ for 25€ (Hamburg on request)
More information and booking here:
[ontourtoparty.de]
☀ Transport by Train ☀
Trainstation 19386 Lübz / Parchim
[db.de]
Shuttle Bahnhof / Trainstation
Lübz / Parchim - Shuttle mobile: +491738190286
٠٠ ٠•●☀●•٠ ٠
Location
Obstbau in 19386 Lübz - Ruthen, Mecklenburg-Vorpommern, Germany

٠٠ ٠•●☀●•٠ ٠
Entry fee
Presale:
01th of December until 10th of May 2015
- Earlybird-Ticket is available the full month of december for 50€
- Tickets are available until 10th of may for 65€
LINK -
[ticket-dealer.eu]
At the Gate:
☀ Friday 6pm - 80€
☀ Saturday 8pm - 50€
☀ Sunday 9am - 20€
٠٠ ٠•●☀●•٠ ٠
Vorverkauf:
01. Dezember bis zum 10.Mai 2015
- Das "Earlybird-Ticket" ist erhältlich den ganzen Dezember 2014 für 50€
- Tickets sind erhältlich bis zum 10. Mai 2015 für 65€
LINK -
[ticket-dealer.eu]
Abendkasse:
☀ Freitag 18Uhr - 80€
☀ Samstag 20Uhr - 50€
☀ Sonntag 9Uhr - 20€
٠٠ ٠•●☀●•٠ ٠
Organizer
Organizer
Psy Exp Crew // powered by Solar-Tech Event
From
SOLAR TECH EVENT ·
15,073
Added

10y 9m

· Update

7y 11m

·

/ 195
More events from SOLAR TECH EVENT