Backend
Psychedelic Experience Open Air 2014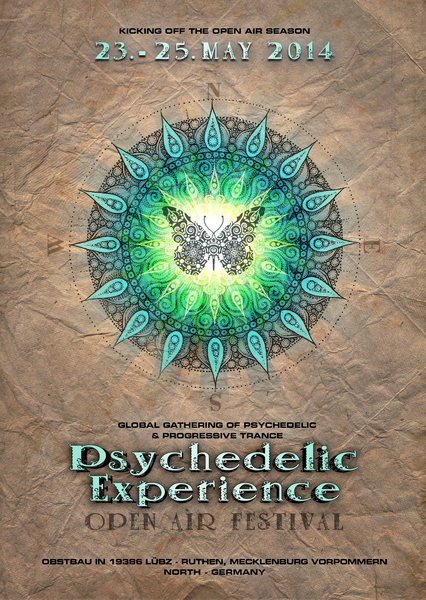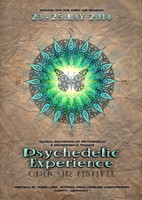 Info
Fellow trancers: Even we get older and more mature + thus we change! In 2014 we introduce a new identity, a new logo. We hope, you like it.
When finally in the merry month of May, the sun warms us again and is laughing with us, and the first sunny rays are luring us outside, then we declare the summer season opened at the Psychedelic Experience. In 2014 we welcome the open air family beneath our new sun mandala.
As usual we bring you an international top line up surrounded by the picturesque backdrop of the the beautiful Mecklenburg Western Pomerania, the land of the 2033 lakes.
During the last years visitors from may different cities and countries have been at the Psychedelic Experience Open Air, contributing to the exceptional atmosphere with international flair.
Of course, we will be regaling our steadily grown traveller crowd with the choicest sound. Apart form this top music rich in variety - specifically tuned to the particular day time, ranging from Psy Trance to Progressive - 5 decoration teams will indulge our vision with appealing visuals. Our appraised familial atmosphere and the enlarged common dance floor will further promote the spirit. For more tranquil phases there is a comfy chill space and lots of shops as well as workshops for in between...and after the big opening on Friday, there will be 48 hours of non-stop music. Moreover, you can look forward to a huge firework and surprises.
We are looking forward to welcome you :)
٠ ٠•●☀●•٠
Liebe Tanzgemeinde : Auch wir werden reifer + älter + verändern uns! 2014 starten wir daher mit einer neuen Identität, einem neuen Logo. Wir hoffen, es gefällt euch.
Wenn uns im Wonnemonat Mai die Sonne endlich wieder wärmt, mit uns lacht und die ersten warmen Sonnenstrahlen wieder nach draussen locken, eröffnen wir auf der Psychedelic Experience den Festivalsommer. Dieses Jahr begrüßen wir die Open Air Familie unter unserem neuen Sonnenmandala. Mit einem internationalen Top Line up und vor einer malerischen Kulisse im wunderschönen Mecklenburg Vorpommern, dem Land der 2033 Seen.
In den letzten Jahren waren auf der Psychedelic Experience Open Air Besucher aus verschiedensten Städten und Ländern zu Gast und haben stets zu einer außergewöhnlichen Stimmung mit internationalem Flair beigetragen.
Natürlich verwöhnen wir unsere stetig gewachsene Traveller Schar mit allerfeinstem Sound. Neben abwechslungsreichen Topklängen, einer besonders sorgfältigen Abstimmung der Musik auf die jeweilige Tageszeit - die von Psy Trance bis Progressive fröhliches Anheizen verspricht - gestalten zudem 5 Teams eine visuell reizvolle Dekoration. Die geschätzte familiäre Atmosphäre wie der vergrösserte gemeinschaftliche Dancefloor werden zur Förderung des Spirits beitragen. Für ruhigere Phasen gibt es einen gemütliche Chillspace und viele Shops sowie Workshops für zwischendurch...und nach der grossen Eröffnung am Freitag läuft 48 Stunden Musik ohne Unterbrechung. Weiter erwarten euch ein buntes Feuerwerk und einige Überraschungen.
Wir freuen uns auf Euch :)
٠ ٠•●☀●•٠
Features:
Fireworks
Uv-Bodypainting
Workshop
Lasershow
Projection
Free Camping
Chill-Area
Videoanimation
Shop-Area
Live-Painting
Fire-Performance
Showers
٠ ٠•●☀●•٠
By Train
Trainstation 19386 Lübz / Parchim
[db.de]
Shuttle Bahnhof / Trainstation
Lübz / Parchim - Shuttle mobile: +491738190286
٠ ٠•●☀●•٠ ٠٠ ٠•●☀●•٠ ٠٠ ٠•●☀●•٠ ٠
Location
Location
Obstbau in 19386 Lübz - Ruthen, Mecklenburg-Vorpommern, Germany


٠ ٠•●☀●•٠ ٠٠ ٠•●☀●•٠ ٠٠ ٠•●☀●•٠ ٠
Entry
Presale:
01th of December until 10th of May 2014
- Earlybird-Ticket is available the full month of december for 45€
- Tickets are available until 10th of may for 52€
[ticket-dealer.eu]
At the Gate:
☀ Friday 6pm - 65€
☀ Saturday 8pm - 45€
☀ Sunday 9am - 20€
٠٠ ٠•●☀●•٠ ٠
Vorverkauf:
01. Dezember bis zum 10.Mai 2014
- Das "Earlybird-Ticket" ist erhältlich den ganzen Dezember 2013 für 45€
- Tickets sind erhältlich bis zum 10. Mai 2014 für 52€
[ticket-dealer.eu]
Abendkasse:
☀ Freitag 18Uhr - 65€
☀ Samstag 20Uhr - 45€
☀ Sonntag 9Uhr - 20€
٠ ٠•●☀●•٠ ٠٠ ٠•●☀●•٠ ٠٠ ٠•●☀●•٠ ٠
Organizer
Organizer
powered by Solar-tech-Events
From
SOLAR TECH EVENT ·
13,866
More events from SOLAR TECH EVENT