Psy-Fi "Holographic Universe"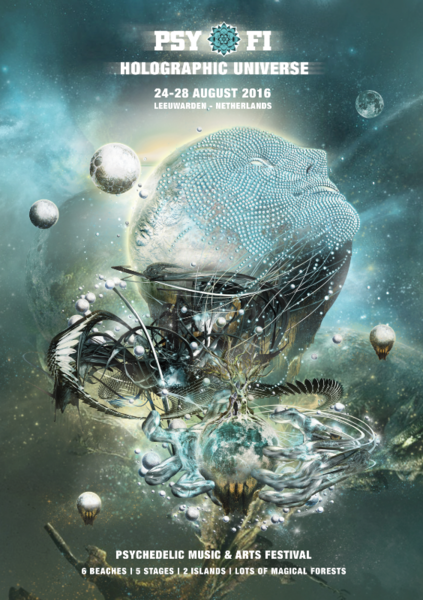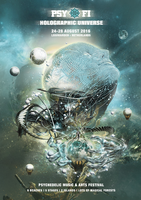 Line Up
ABRAXAS (COSMOSIS & QUANTICA) - (Holophonic)
ACE VENTURA - (Iboga)
ALPHA PORTAL - (Hommega)
AJJA - (Peak)
ALTRUISM - (Nano)
ANOEBIS - (Suntrip)
ASTRAL PROJECTION - (T.I.P.)
ASTRIX - (Hommega)
ATMOS - (Iboga)
BOOM SHANKAR- (BMSS)
BURN IN NOISE - (Nano)
CARBON BASED LIFEFORMS - (Ultimae)
CHICAGO - (T.I.P.)
COSMO - (NOISEPOISON)
COSMOSIS - (Holophonic)
CRITICAL CHOICE - (Iboga)
DENSE ( Chillgressive tunes)
DIGICULT - (Dacru rec.)
DIRTY SAFFI - (Bom Sankha)
DJANE GABY (Ovnimoon, Source Creation)
DOMESTIC - (Hommega)
DRISS - (Hadra)
E-CLIP - (Iono)
EARTHLING - (Zero 1)
EAT STATIC - Full live show (Twisted)
ETNICA - Live (Etnicanet)
FADERS - (T.I.P.)
FILTERIA - Live (Suntrip)
FREQ - Live (Iboga)
FX TENSION - (Psylife)
GAUDI - (Sofabeats)
GLOBULAR - (Sofabeat)
JAMES MONRO - (Flying Rhino)
JOVIS BURKE - (mr.Pink)
JUNO REACTOR - Full live show (Hommega)
KALYA SCINTILLA - (Merkaba Music)
KAYA PROJECT - featuring IRINA MIKHAILOVA & FLOOTING
GROOVES - Full live show (Interchill)
KOXBOX - (Zero 1)
KUKAN DUB LAGAN - (Mikelabella rec.)
LIFEFORMS - (Iono)
LIQUID ROSS - (Liquid)
LIQUID SOUL - (Iboga)
LOGIC BOMB - (T.I.P)
LOUD - (Nano)
LUCAS - (T.I.P.)
MAGIK - (Nano)
MAN WITH NO NAME - Live (Dragonfly Records)
MASTER MARGERITTA - (Blue Hour)
MERKABA & EVE-OLUTION - Live (Merkaba Music)
MVMB - (BANEL & VICE) - (Iboga)
ONKEL DUNKEL - (Parvati)
OTT & The ALL-SEEING I (Full live show)
PARA HALU - (Psylife)
PERFECT STRANGER – (Iboga)
PHIBIAN - (Trick Music)
PLEIADIANS - (Etnicanet)
PRANA - ( Matsuri)
PROTONICA - (Iono)
PSYKOVSKY - (Osom Music)
RAJA RAM - (T.I.P.)
RINKADINK v.s. ELEMENT - (MVX)
RITMO - (Iono)
ROCKY - (Iboga)
SCORB - Live (Trick Music)
SHADOW FX - Live (Zenon)
SHAKTA - (Dragonfly)
SOLARFIELDS - (Ultimae)
SHPONGLE - by Raja Ram (Twisted)
SONIC SPECIES - (Alchemy)
STAUNCH - (Adapted)
SUN PROJECT - (Vuuv)
TALPA - (TesseracTstudio)
TETRAMETH - (Weapon)
THE DELTA - Full live show (Bokshe Beats)
TICON - (Iboga)
TRAUM ATLAS - (Psylife)
TRIPSWITCH - (Section)
TRISTAN - (Nano)
TSUYOSHI SUZUKI (Matsuri Digital)
U-RECKEN – (Dacru rec.)
VERTICAL MODE - (Hommega)
VIBRASPHERE - (Tribal Vision)
VINI VICI - (Iboga)
WEGHA - (Ozora)
X-DREAM - Full live show (Solstice Music)
YUTA UDA - (Matsuri Digital)
ZEN BABOON - (Sofabeat)
ZEN MECHANICS - Sourcecode Transmissions
100th MONKEY - (Matsuri Digital)
1200 MICROGRAMS - (T.I.P.)

More soon :)
Info
5 days and 4 nights of Psychedelic trance!!!!

6 Beaches
5 Stages
2 Islands
Swim lakes
Outdoor open 24/7
pre and after party
Free camping on the lake side
Supermarket
Huge international market street on the beach
400m2 Art gallery displaying the worlds finest Psychedelic art
Full moon masquerade ball
Wood fired hot-tubs
Flea market
post office
Healing garden
Lecture program
Workshops
Ambient forest
Art installations
Open air cinema
Head shops
Massive international line-up
Campfires on the beach
Dinner on the beach
Sweat lodge
Hot and cold Showers
Lockers
Massage
Laser shows
3d Projections
Mushroom ceremonies
Fire performances
Lots and lots of nature

****************************************************
Travel Update:

ALL OUR CAMPERVAN AND CARAVAN TICKETS ARE SOLD OUT!
PLEASE DO NOT BRING YOUR CAMPERVAN OR CARAVAN IF YOU DON'T HAVE A RESERVATION AS WE DO NOT HAVE SPACE LEFT ON OUR CAMPSITE.

****************************************************
8 hour break during the night:

We have to adjust our schedules a bit and we would like to inform you on the exact times that we are allowed to produce sound. We need to install an 8 hour break during the night, but unlike other festivals we will have no break during the day and keep the music going!

The exact times are as followed:
Wednesday 08:00 – 23:00
Thursday 07:00 – 01:00
Friday 09:00 – 01:00
Saturday 09:00 – 01:00
Sunday 13:00 – 23:00

We know that turning off the sound at night is generally unorthodox at our festivals, however we look for the positives in this situation because this is the kind of people we are – we make the most out of any given situation and choose to see the bright side because we can, and because there are benefits too.

****************************************************
A lot more informations you can find on our website.
Location
Location
De Groene Ster, Leeuwarden, Netherlands
Entry
Ticket sales will start 18 December at noon (local time) for the 2016 Edition.
1st phase: 80 Euro, 17-12-2015 / 01-01-2016 / 500 tickets max. / SOLD OUT
2nd phase: 100 Euro 01-01 -2016 / 31-01-2016 / 1000 tickets max. / SOLD OUT
3rd phase: 120 Euro 31-01-2016 / 24-08-2016 / max 15.000 in total. / SOLD OUT
At the gates: 130 Euro / max 15.000 tickets in total. (ONLY IF AVAILABLE)..
Tickets @
[psy-fi.nl]
Added

6y 28d

· Update

5y 5m

· 7 Parties ·

/ 63