Backend
Psy-Fi 2018 "A Shamanic Experience"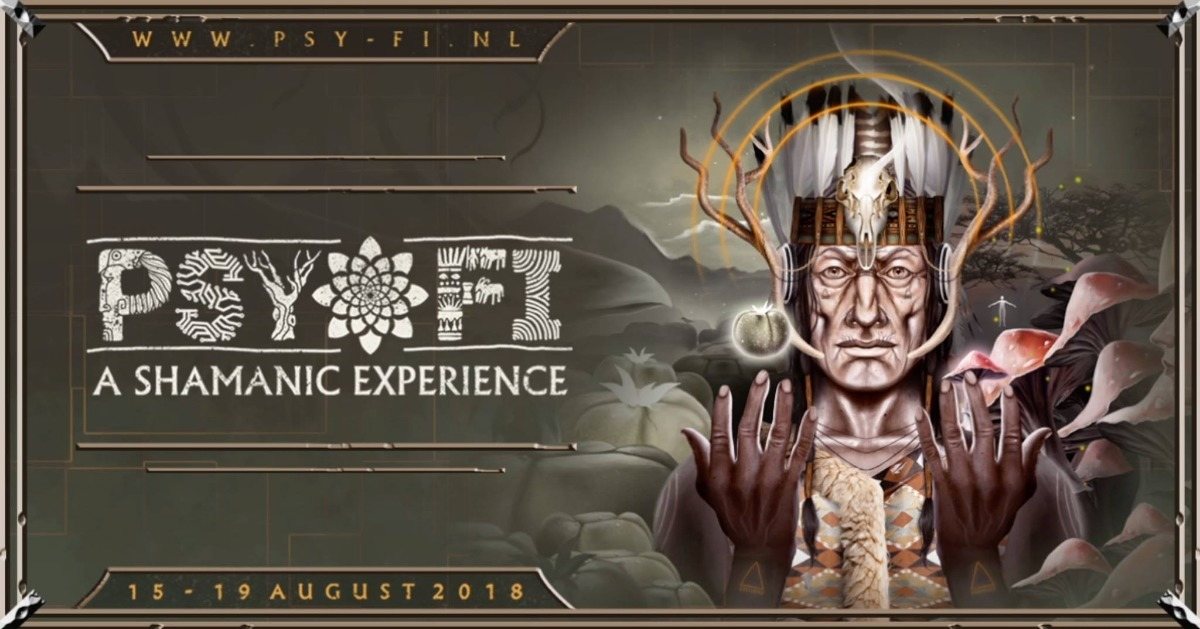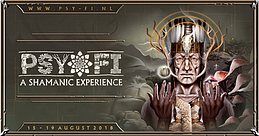 Line Up
AES DANA - (Ultimae rec.)
AGRESSIVE MOOD - (Psyence rec.)
ALPHA – (Interzone Pa.)
ASTRIX – (HOMmega)
ATMOS - (Iboga)
AUDIO TERRORIST vs SHIVANKI– (3rd BIT)
BURN IN NOISE - (Nano rec.)
BWOY DE BHAJAN - (Shanti Planti / Feel Life Music)
CAPTAIN HOOK - (Iboga)
CARBON BASED LIFEFORMS – (Leftfield Records)
CHLOROPHIL – (Synchronos Rec.)
CLOZEE Live – (Gravitas Recordings)
CORKA'AN – (Dream crew rec.)
COSMO – (Noise Poison rec.)
CRACKED NOZES – (Parvati rec.)
CRITICAL FREAK – (Freak rec.)
D-LERIUM – (3rd BIT)
DAKSINAMURTI – (Sangoma rec.)
DELA MOONTRIBE – (Street Ritual)
DIGICULT - (Dacru)
DIRTY SAFFI – (Bom shanka music)
DRIP DROP – (Harmonia Rec)
EARTHLING – (Zero One Music)
ELUNAMI – (Cyberbay rec.)
ENTHEOGENIC – (Universal symbiosis rec.)
FILTERHEADS – (Wildthings rec.)
FILTERIA – (Suntrip Rec)
FLOOTING GROOVES – (Blue Hour Sounds)
FUNGUS FUNK – (Sangoma rec.)
FUTURE RIPPLES – (Kamino rec. – Osom rec.)
G.M.S. – (Future Music Rec)
GAGARIN PROJECT – (Altar rec.)
GAUDI – (Rarenoise rec.)
GAUDIUM – (Iboga Rec)
GLOBULAR Live – (Feel life music / Shanti Planti)
GOA JONAS – (TIP Rec)
GROOVY TOURIST– (Feel Life Music)
GROUCH - (Zenon rec.)
GROUCH IN DUB – (Shanti Planti)
GUISEPPE – (Parvati rec.)
HEDFLUX – (Luminus Music)
HIBERNATION Live – (Interchill Records)
HIGHKO - (Blast rec.)
HYPERACTIVE 25 – (Freak rec.)
HYPOGEO – (Zenon Rec)
IGUANA – (Parvati rec.)
INNAYA – (psybient.org)
INSECTOR – (Kamino rec.)
JAHBO – (Parvati rec.)
JAMES MONRO - (Flying Rhyno)
JOHNNY BLUE – (Mikelabella Rec.)
KALYA SCINTILLA - (Merkaba Music)
KASHYYYK – ( Kamino rec.)
KAULIKAA – (Etnica net rec.)
KAYA PROJECT Live Feat. IRINA MIKAHILOVA – (Interchill Records)
KINDZADZA – (Osom rec.)
KUKAN DUB LAGAN - (Feel life music)
LIQUID ROSS - (Liquid rec.)
LIQUID SOUL – (Iboga)
LOGIC BOMB – (Tip rec.)
LOOSE CONNECTION – (Catawampus rec.)
LOVA – (Nutria dance rec.)
LURKER – (Parvati rec.)
MAD PROFESSOR Live – (Ariwa Sound)
MARA LEFAY – (Pantheon)
MASTER MARGHERITA & MAHADEV COMETO LIVE CONCERT - (Feel life music)
MEGALOPSY – (Dark prisma rec.)
MERKABA – (Merkaba music)
MILOWATT - (STZ rec.)
NAIMA - (Sangoma rec.)
NAKED TOURIST – (Parvati rec.)
NEMETON - (Damaru rec.)
NILEZZ – (3rd BIT)
NITIN - (Hilltop rec.)
OBSCURUM – (Stz rec.)
OLEG – (Sun Festival)
OTT Live – (Ottsonic)
OXIDAKSI – (Freak rec.)
PARASENSE – (Bom Shanka music)
PASTOR JOHN – (Zulutunes)
PAUL B. – (3rd BIT)
PERFECT STRANGER – (Iboga)
PHILOSO – (Kamino rec.)
PHOBOS – (Looney moon rec.)
PSYNONIMA - (World People)
PURIST - (Sangoma rec.)
RAJA RAM – (TIP rec.)
RAWAR – (Deviant force)
RUMPISTOL Live – (Rump Recordings)
SAB SUNSHINE - (Soundlab Pirates rec.)
SATOR AREPO - (Deviant force)
SENSIENT – (Zenon Rec)
SHANE GOBI – (Alchemy Records)
SHPONGLE - (Twisted)
SIMON POSFORD / HALLUCINOGEN– (Twisted rec)
SOLAR FIELDS – (Droneform)
SOLEYE – (Hadra Altervision rec.)
SONIC SPECIES – (Nano rec.)
SORIAN – (MikelaBella Rec. / Feel Life Music)
SOUNDAHOLIX - (Future Music Rec)
SYMBOLICO – (Merkaba)
SYSYPHE – (Hadra Altervision rec.)
TALPA – (Tesseract studios)
TETRAMETH – (Weapon rec.)
THUSILA – (Shaggadelic rec.)
TSUYOSHI SUZUKI – (Matsuri Digital)
TWISTED PSYCHOLOGY - (Black out Rec.)
U-RECKEN - (Dacru)
VINI VICI – (Iboga Rec.)
VIRTUANOISE – (Freak rec.)
WILL O WISP - (Dark Prisma rec.)
X-DREAM – (Boshka beats)
XANDOZ - (STZ rec.)
XENROX – (Kamino rec.)
YATZEE – (Maniac Psycho Pro)
ZEN BABOON – (Electrik Dream)
ZEN MECHANICS vs AES SEDAI – (Sourcecode Transmissions)
Deco
Before Psy-Fi festival opens its gates, hundreds of artists have been working hard to decorate the festival area for you. A big part of the decoration has been specially made for this festival by teams from all over the world, as well as the content you see in all the projections and laser shows. We recycle almost everything from the last editions and use it for the new one. Soon we will post here all of the artist that will transform the land into the psychedelic dream landscape we call Psy-Fi.
Info
Campsites:

We have two campsites, A Northside and a Southside camping. Both camp sites are open from the 13th of August 12:00h until the 21st of August 12:00h. So more than one whole week to enjoy the nature surrounding the festival! See you there !

The biggest part of the campsite is in the forest. Another part is on grass planes along the water side and another is on parking lots surrounded by grass to camp on.

Campervans and cars:

We would like to make the camping experience more chilled for everyone. This means less vehicles on the campsite so there is more space to walk around, camp comfortably and nature does not look like a car park. We also need the space for our services, such as cleaning the toilets.

facilities:

There are 80 hot and cold showers in total on a central spot on the campsites. About 50 flushing toilets and 300 eco dixie toilets are spread around the area, they are cleaned twice a day.

There are also several water points where you can get free drinking water.

Electrical charging points can be found on the festival terrain and in the info shop, free of charge.

​
Location
De Groene Ster, Groningerstraatweg, Leeuwarden, Netherlands.
Entry
1st Phase tickets: 100,00 Euro - only 750 tickets Sold out

2nd Phase tickets 120,00 Euro - only 750 tickets Sold out

3rd Phase tickets 140,00 Euro - only 11.500 tickets Available

At the gates: 160,00 Euro - if available

Tickets ar not personalised!

​*To ensure your comfort on the festival and campsites and to reduce our impact on nature, we decided to limit the amount of available tickets to 13.000 instead of 18.000 tickets. There are no daytickets so you are in for the ride :)

Please do understand that this means that Psy-Fi 2018 will be sold out faster than ever before, as we have never sold under 13.000 tickets in the past.

We wish everyone a great festival and look forward to see you all again in August!

​**Please keep in mind that when you decide to come with a mobile home you are required to purchase a separate ticket for that. Mobile home tickets are sold out at the moment. We are trying to get more space. More info about that asap.

***Do not buy tickets from people that you don't know, especially not online.
Guest country:

Every year we choose one country that can buy tickets for a friendly price, this year it's Hungary! If you are a holder of a Hungarian passport then you can buy your discounted "Guest country ticket". for 100,00 Euro only

​

Here's how it works:

-Buy your "Hungarian ticket" These tickets are name bound, meaning you can only buy one ticket at a time and the correct name needs to be on the ticket. There are max. 500 tickets available.

Remember to bring your Hungarian passport to the festival, you need to identify yourself with it at the gates. The name on your passport has to match with the name on your ticket.

​

Kids under the age of 12 can come in for free, all tickets include free camping.

​We wish all of you a great festival experience and look forward to see you in August!

​
Organizer
The Psy-Fi foundation

We are one global family All Colours, all Races, one world united.

We dance for peace and the healing of our planet earth, peace for all nations, peace for our communities and peace within ourselves.

As we join all dance floors across the world, let us connect Heart to heart Through our diversity we recognize unity.

Through our compassion we recognize peace. Our love is the power to transform the world We are one family

The prayer for peace