Primer Festival De Medicina Ancestral Ecuador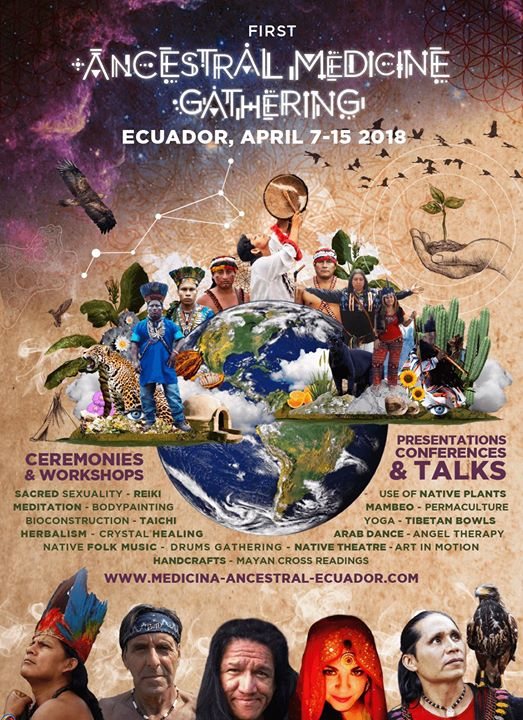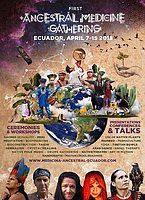 Line Up
HEALERS FROM NORTH AND SOUTH AMERICA

MUSIC BY TAKI SUYU - SOPHIA RAMIREZ - HORUS BAMBOO - MUJERES DE LUNA - DELALMA - KALLE SOL KALLE LUNA - IMAIZARA MANZANILLA - DR. RATON - LUNAYBRYAY & MORE

A magical place on the holy mountain Ilalo ...
A mystical time we share with nature ...
The connection to the spirit of Pachamama ...

Together we will continue working for our world.

The purpose of this gathering is to promote the sacred use of ancestral plants of the many different kind of people of our world as well as their music, their culture and their ancestral traditions. By doing so we want to establish a precedent about the true purpose and mission that the sacred medicine has in terms of sharing the knowledge of many ancestral cultures. This message comes from grandparents and grandmothers that have glimpsed their visions in the great cosmic facbric. These visions have been codified in the Taitas and Mammas word. Now they will be reflected in the sowing of the sacred fire and by that the harvest will reach many future generations.

This will be a festival of integration of the ancestral medicines of Anahuac (North) and the Tahuantinsuyo (South) of the American continent. The medical representatives of each country will be present at the festival. These male and female medics have international experience with the management/handling of sacred plants from various places – from the Amazon to the desert. With this knowledge we will pledge/offer an enriching experience for the spirit, mind and heart. This gives the opportunity to be part of the cosmic fabric and to weave the universal connection.

The Medicine Masters attending the event are representatives of many different ancestral traditions from all around the world. These are certified experts in the art of healing and spiritual, emotional and physical healing*. At the beginning of the festival there will be the opening of the sacred fire where all visitors can be integrated in the ancestral vision of the sacred medicines. Throughout the festival everyone who wants to participate in sacred medicine will be able to do so by joining the ceremony of his/her choice.

All healers will be part of the magic of the event by providing purification and healing throughout the festival. We will have ceremonies with sacred plants such as Ayahuasca, San Pedro, Peyote, Coca and the use of DMT in ceremony.

TICKETS PRICE:

EARLY BIRD FULL PASS - 126,75 USD (Before February 28h)
FULL PASS - 156,75 USD (From March 1st)
TWO DAY PASS - $50 USD
DAY PASS - $30 USD

The following workshops and conversations of recognized specialists from all around the world are included in the regular festival price:
* Folkloric and ancestral music with people of diverse ethnic backgrounds as well as different styles of local and international regions.
* Subjects on the role of medicines in the 21st century.
* Conversations of each of the invited shamans on ancestral cultural themes.
* Workshops and lectures about the use of native plants from Warriors of the Amazon and Masters of the Andes.

WORKSHOPS INCLUDED WITH THE TICKET:

• Yoga / Acroyoga
• Tai Chi
• Bodypainting
• Meditation
• Crystal Healing
• Tibetan Bowls
• Herbalism
• Permaculture
• Bioconstruction
• Tribal Exchange
• Chocolate preparation
• Shamanism
• Traditional Music Instruments
• Tantric Sexuality
• Textiles
• Shamanic Art Crafts
• Mandalas
• Acro Balance
• Chicha
• Music Instruments Creation
• Meditation
• Origami
• Story Telling
• Oral Tradition
• Andes Medicine
• Ancestral Nutrition
• Sacred Sexuality
• Reiki
• Men and women energy during birth
• Therapeutic Obsidian Use
• Shamanic vision of birth and maternity
• Metaphysics
• Sense Conection

And much more.

Not included in the regular festival price is the attendance of the following ceremonies.
If you want to join them, additional costs will arise:
* Ayahuasca
* Peyote
* San Pedro
* Tepezcohuite
* Bufo Alvarius
* Temazcal
* Elders Cleaning
___________________________________________________________

ESPAÑOL

En la sagrada montaña del ILALO nuestros visitantes compartirán con la madre naturaleza, y tendrán una interacción directa con el medio ambiente.

Es un festival de integración y articulación de las medicinas ancestrales de Anahuac (norte) y el Tahuantinsuyo al (sur), del continente americano. Los representantes de Medicina de cada país que estarán presentes en el festival son Hombres y Mujeres Medicina con una larga trayectoria internacional en el manejo de plantas sagradas del Amazonas y el desierto, desde la estepa hasta la montaña. Conocedor de los misterios del ser: lo que garantiza a nuestro festival que las personas que toman las medicinas sagradas; tener una experiencia enriquecedora para su espíritu, mente y corazón. Además de la oportunidad de ser parte del tejido cósmico largo que se determinará mediante la siembra de la conexión universal que se ha colocado como un propósito sagrado para este encuentro.

El lugar donde realizaremos la reunión es una granja ecológica donde las personas tendrán contacto con varias especies de animales al pie de la montaña sagrada de ILALO; venerado ancestralmente por los pueblos andinos por las festividades de la cosecha y el respeto por la Pachamama.

Los parámetros recomendados para el festival son un profundo respeto por cada área que involucra a la granja.

(La entrada de vehículos está prohibida).
Los sanadores y los curanderos locales también serán parte de la magia del evento realizando purificaciones purificantes durante todo el festival.
Tendremos Medicinas y Ceremonias Sagradas, como Ceremonias de Cacao; Ceremonias de Peyote; Ayahuasca y San Pedro.
El uso de diferentes tipos de medicinas.
Y el uso de la molécula de Dios (DMT).

El costo del Festival es de:
EARLY BIRD FULL PASS - $126,75 dólares estadounidenses hasta el 28 de febrero.
REGULAR FULL PASS - $156,75 dólares estadounidenses a partir del 1 de marzo.
TWO DAY PASS - $50 dólares estadounidenses.
DAY PASS - $30 dólares estadounidenses.

Incluye acceso al Festival
Talleres de Especialistas Reconocidos de todo el mundo en diversas áreas.
Música folclórica y ancestral con grupos de diversos grupos étnicos y estilos de regiones locales e internacionales.

Conversaciones y presentaciones sobre el papel de los medicamentos en el siglo XXI.

Conversaciones de cada uno de los chamanes invitados sobre temas culturales ancestrales.
Guerreros de la Amazonía y Maestros de los Andes dando talleres y conferencias sobre el uso de plantas nativas.
Para los visitantes que ingresan al festival, todas las actividades son gratuitas.

• Yoga / Acroyoga.
• Tai Chi
• Pintura corporal
• Meditaciones frecuencias electrónicas.
• Talleres de cristales
• Cuencos tibetanos,
• Herbolaria
• Permacultura
• Bioconstrucción
• Intercambio de habilidades tribales
• Elaboración de cacao y chocolate
• Chamanismo
• Cultura tribal
• Instrumentos tradicionales
• Sexualidad tántrica
• Textiles
• Arte chamánico (artesanías)
• Tejido de Mandalas
• Acro Balance
• Hacer Chicha
• Hacer instrumentos musicales
• Meditación
• Origami
• Narración de cuentos
• Hierbas medicinales
• Tradición oral
• Medicina andina
• Nutrición ancestral
• Sexualidad Sagrada (Kundalini).
• Talleres de Reiki
• La energía de hombres y mujeres en el parto tradicional.
• Acercamiento terapéutico del OBSIDIANO, como un elemento sagrado de curación y despertar de la conciencia.
• Maternidad y parto desde la visión chamánico.
• Metafísica
• Conexión sensorial
Iniciación en Reiki, entre otras.

El costo de las ceremonias adicionales al festival según la Medicina que va a trabajar.
Location
Location
Ilaloadventure
AV. INTERVALLES km. 6
593 Tumbaco
Organizer
Organizer
Festival De Medicina Ancestral