PLUR Festival 2017 ''The Fifth Element Exploration''
Thermo-Kato Dosoula-Kareli ·
Greece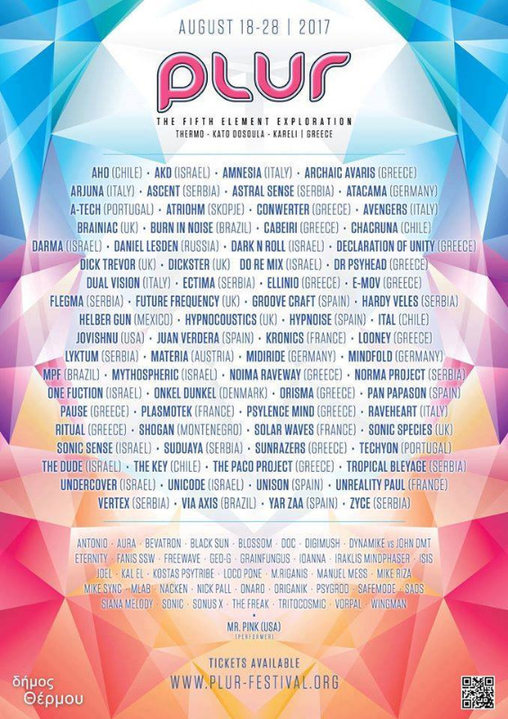 Info
The "fifth" element of the Nature may be coming from each person individually, but only if we combine our own elements can it be realizable. The "fifth element" is merely what we call PEACE, LOVE, UNITY, RESPECT!
The PLUR FESTIVAL institution has been taking place over the past few years, closely attached to PSY TRANCE that has proved to be beyond music so far. PSY Trance brings people from all over the world regardless of colour, sex or even religion together. Under PSY we are all equal, interacting and respectful to nature that welcomes us.
The upcoming summer of 2017 is about to change and reestablish what we have known about the PSY stage. It is about inviting us for the first time in PSY TRANCE history to a
10-DAY festival not only to feast with music for days, but also to enjoy our vacation, chilling out, relaxing and nourishing both our bodies and our minds.
More than sixty-five (65) live acts and more then thirty-five (35) dj sets of high quality sound systems are to perform on two musical stages.
Two musical stages offered not only for your entertainment, but for expressing and developing yourselves too. Combined to one, whole live unit, people and music on both dancefloors is a key commitment factor.
A Line Up of the most widely known and loved musicians, but also new names and artists, combined with an audience from all over the world are coming together to participate with us in a beautiful journey through music!
MAIN ENERGY EXPLORATION STAGE:
-PSY TRANCE
-PSY PROGRESSIVE
-PSYCHEDELIC
-FULL ON
-FOREST
-DARK
-PROGRESSIVE DARK
CHILL EXPLORATION STAGE:
-AMBIENT
-DOWNTEMPO
-DUB
-ALTERNATIVE
*Along dancing and entertainment, yoga seminars are being organized daily for everyone to offer you some time for relaxation and well-being to prepare your body by mastering up your energy.
*Shops in the festival premises will be available for you, satisfying most of your needs according to your tastes.
*A variety of drinks and foods for vegetarians.
*Enjoy the seductive tea-varieties in the tea shops
*Enjoy refreshing cocktails in the Cocktail House
*A shop with camping equipment and other useful things, in case you are not properly equipped
*Shower spots (please use green soap preferably, it is friendlier to the environment)
*WC with chemical cleansing units
*Medical care
*Alternative medicine for myoskeletal injuries
*Parking lot in the Festival premises
**Your four legged friends are most welcome as long as you take full responsibility of them; you respect the others and the environment (the owner's data must be referred on your pet's collar to avoid losing it).
The Festival will take place along the following three villages: Thermo-Kato Dosoula-Kareli on a wide area, which will allow us to move and co-exist comfortably, without the slightest inconvenience.
At the same time we will have the chance to explore the secrets of the place that will accommodate us for 10 whole days. It is a wonderful destination, kept far from the mass tourism and ideal spot for naturists.
The paths connecting the villages are still accessible and will walk you through streams and breathtaking landscapes. You will love the route around the Lake of Evinos River and the paths in the woods that bring you to the heart of the mountains. Alternative activities such as trekking, rafting and mountain bike or a thrill on four wheels (4X4) are at your disposal here.
Literally a heaven on earth located on the riversides of Evinos River, a place full of trees and wooden bridges leading you to the other side of the river. The crystal clear river waters offer you an ideal refreshing escape. And as for the adventure lovers, you will find a lot to keep you busy, such as numerous hidden beaches along the river, some of them still unexplored, as well as founts with crystal waters.
The more you merge yourselves into this area, the more wonderful landscapes you are to find. It's all up to you!
As the sun goes down, feel released by your fears, since the starlight and the warmth of the mountains will keep you protected.
RESPECT THE ENVIRONMENT AND THE ACCOMODATION PREMISES
THERMO OF AETOLOAKARNANIA-Visit:
*The ancient premises and the city museum
*The Trihonida Lake, the largest lake in Greece
*The River Evinos
*The Environmental Education Centre
ACCESS
*By car (for instructions please click on the link below)
*By intercity busses from Athens to Thermo (at Thermo there is a new bus agency near the Piraeus Bank)
Timetable:
08.00am
10.00am
16.00pm
***For further information please click here
*By buses from Nafpaktos to Thermo daily (information shortly)
*By the Plur Festival Buses from Athens and Thessaloniki (information shortly)
" Party entry at mushroom magazine with beautiful sound previews:
[mushroom-magazine.com]
"
Location
Location
The Festival will take place along the following three villages: Thermo-Kato Dosoula-Kareli on a wide area, which will allow us to move and co-exist comfortably, without the slightest inconvenience.
Entry fee
::ONLINE TICKETS::
[dacru.be]
::PRESALE TICKETS::
1 PERIOD:: 1 NOVEMBER-1 FEBRUARY( 60 Euro)
2 PERIOD:: 2 FEBRUARY-2 MAY (75 Euro)
3 PERIOD:: 3 MAY-15 AUGUST (90 Euro)
AT THE DOOR::110 Euro
Added

3y 7m

· Update

3y 1m

· 1 ·