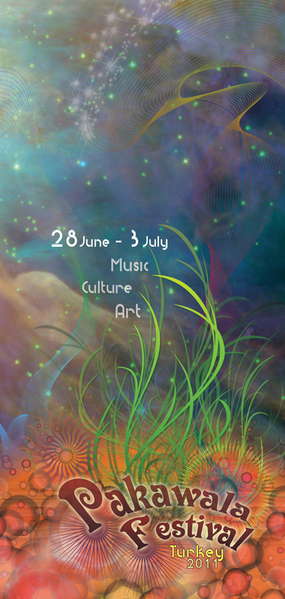 Line Up
MAIN STAGE
-----LIVE ACT-----------
Aodioiboa - (Littlebigsensations) Germany

Arjuna (Parvati rec.) Italy

Atriohm (Parvati Rec.) Macedonia

Beat Chop (2 to 6 record)Iran

Dissociactive (Sun Station Records)Russia

Loose Connection(Catawampus records)England

Mubali (Parvati Records) Usa

Nolm (Mental Souce) Japan

Psycozaika (Zaikedelic Rec.) Russia

Samadhi (Shanti Sound System)Russia

Trippy Trail (Nirmal-Samadhi Project) Scotland-Russia

Tryambaka(1FT Groove Recors)Portugal

Quip Tone Beatz (Mental Souce) Japan
---------------DJ'S-------------------

Ardacadabra (Kohlea Records) Turkey

Aslandj (electix rec.)feat Taylan Von Aygar (live ) Turkey


Cromaniac (Bionic instinct rec.)Morrocco


Dsompa (Peak Records)Germany

Djane Miazu (Exogenic records & MMD records)Finland

Fullmoon Mondo (Fullmoon Records) Japan

Hypnotic(Shanti Tribe)Turkey

ChoZen Jo (Tremors Underground Prod.) UK

Kia (Zoo Music)Iran-Goa

Kidhugu Turkey

K-rimsy Project ((Bionic instinct rec. & NOS) morrocco

Lova Italy

Merry (Mindfunk Rec)Germany

Magic Boom(Shanti tribe) Turkey

Moksha (Active meditation rec.)Macedonia

M.U.T.E (Hebehebe tribe)Turkey

Psymo Morocco

Saki (Full-Omm)Turkey

Snap Jaxx(Full-Omm) Turkey

sG4rY(Mind Funk Records)Germany

Super Sam (Goa Freak Family)Iran

Tweek (Wonderland Project) Turkey

Twisted Kala (Discovalley-Lycantrop Rec.)France

Voodoo Mantra(Liquid Tune Records)Turkey

Woodpecker (Shanti tribe) Turkey
------------ALTERNATIVE STAGE--------------
Aslandj(majimag) Turkey

Bahar Canca Turkey

M.U.T.E (Hebehebe tribe)Turkey

Magick (radiofil.fm) Turkey

Oriah(Turkey)

Jah luck a (dub slecta)

Whacky Whack – Technoshamans (Turkey)


tba..................
Info
Pakawala
Music,Culture & Art Festival

Pakawala is a joyful celebration of the many colors and sounds of our tribes united under the generous Mediterranean sun. A unique occasion for all light beings to share our similarities, differences and gifts in spirit of love and freedom.

...Shanti Tribe collaborates with Fullom to bring a spirited festival for the happy people. An eco-friendly gathering, a stomping ground of true psychedelic trance, alternative stage for live bands and heart melting psybient tunes, healing area to nurture our body and soul.

We will come together once again to revitalize our spirit and join forces for a special summer to remember.

Pakawala
Muzik,Kultur&sanat festivali

Pakawala bereketli Akdeniz güneşi altında bir araya gelen kabilelerimizin renklerini ve seslerini kutlayacağımız bir festival. Tüm ışık varlıkları için benzerliklerimizi, farklılıklarımızı, armağanlarımızı sevgi dolu ve özgür bir ruhla paylaşacağımız eşsiz bir buluşma.

Shanti Tribe ve Fullom mutlu insanlar için neşe dolu bir festival gerçekleştirmek üzere el ele veriyor. Doğa dostu bir buluşma, esaslı psychedelic trance ile inleyecek bir dans meydanı, canlı gruplar ve yüreği eriten psybient ezgiler için alternatif sahne, ruh ve bedenlerimizi besleyecek bir şifa alanı.

Ruhlarımızı yeniden canlandıracak, unutulmaz ve özel bir yaz için bir kez daha bir araya gelip güçlerimizi birleştiriyoruz. .

-WORK SHOPS
--FLEA MARKET &INTERNATIONAL FOODS
--HEALING AREA
--VISUAL PERFORMS
--EXHIBITION CENTER
--PSY CİNEMA
--SEMINARY
Location
TRANSPORT & MEETING POINT / ULAŞIM VE BULUŞMA YERİ

Meeting Point / Buluşma Yeri

Our PAKAWALA meeting point is the Mugla Bus Terminal! Beginning with June 28th shuttles will leave at casual and uncertain intervals : ) yet as frequent as possible, as always. Don't forget to take the pakawala hotline numbers with you on the big day!

Shanti buluşma yerimiz Mugla Otogarı! 28 Haziran'dan itibaren elbette herzamanki gibi gelişigüzel ve belirsiz aralıklarla : ) ama mümkün olduğunca sık kalkacak servislerle parti mekanına ulaşabilirsiniz. bağlantı telefonlarını da yanınızda bulundurmayı unutmayın!


Bus / Otobüs

You can take any bus that stops at the Mugla Bus Terminal which is the closest bus point to the party location.

Parti mekanına en yakın otobüs garajı olan Mugla otogarından geçen otobüslerden birine binmeniz yeterli.


Uçak / Plane

The closest airport is ATM Dalaman Airport. For flight schedule and service info:

Partiye en yakın havaalanı ATM Dalaman Havalimanı. Uçuş ve servis bilgileri için:

[atmairport.aero]


Özel Araç / Private Vehicles

The dirt road up the mountain is in real bad condition, so we reccomend you to use the shuttles unless your vehicle is a 4x4. In order to reach the location with a private vehicle you need to take the topuklu road from thebeyagac junction on the mugla-denizli freeway and climb up 40 km. on the dirt road to arrive at the topuklu..

Toprak dağ yolu bir hayli bozuk olduğundan eğer 4x4 değilse arabanıza zarar vermemek için servisle ulaşımı tercih etmenizi tavsiye ederiz. Mekana özel araçla ulaşmak için mugla-denizli çevre yolundan beyagac sapağına dönerek 40 km kadar dağ yolunda tırmanarak topuklu yaylasına 'ne gelmeniz gerekiyor.
Entry fee
----TICKET---------
preesale ticket
february:30 euro
march :40 euro
april :50 euro
may :60 euro
till 25 june :60 euro
gate :75 euro
TICKET AND INFO POINTS:
GERMANY
phone: +491636838848
mail:
merryspace@gmx.de
skype: merryspace
AVUSTRIA
0043 (0)680 321 30 86
ammaseyyal@gmail.com
MACEDONIA
+38971548549
ISRAEL
0097 252 348 73 87
0097 054 432 33 21
nirdosh4@libero.it
FINLAND
+358443724336
djmiazu@hotmail.com
RUSSIA
skype: goungsterizza25
lukiana@mail.ru
TURKIYE Bilet Satis Noktalari
ANTALYA reflex; 0242 247 53 03 / 0505 451 57 73
TURKIYE Bilet Satis Noktalari
ANTALYA reflex; 0242 247 53 03 / 0505 451 57 73
ISTANBUL ROLL street wear
kuloğlu mah. Turnacıbası sok. no:13/1
galatasaray-Beyoğlu-istanbul
0 212 252 52 25
0212 244 96 56
IZMIR 0535 739 57 56
ANKARA 0505 282 80 43
ESKISEHIR 0534 360 73 35
IZMIR 0535 739 57 56
ANKARA 0505 282 80 43
ESKISEHIR 0534 360 73 35
Organizer
Organizer
shanti tribe&Full omm