Backend
OVNI STAGE Electro Selvámonos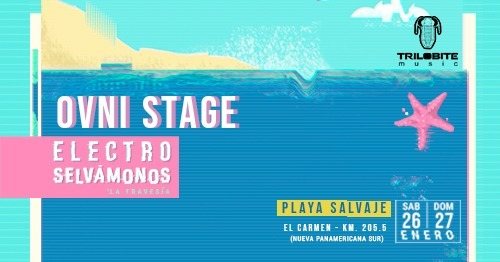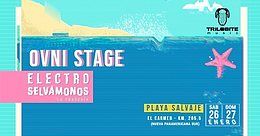 Info
We invite you to the most fantastic and magical beach location for
a music festival, ideal to renew the energies,
heal dancing. Traveling, taking pictures, contemplating nature.
CHILL AREA / OVNI STAGE
It is a pleasant space under shade where you can rest
and spend a chill moment, replenishing energies, harmonizing
our bodies, healing through music that sounds like
beginning of the day preparing it for the stellar moments that we
offer this year Electro-selvámonos
All guided by expert pilots of the chillout, downtempo,
world music, djs by Trilobite Music - Ovni festival.
We also have several full psychedelic trance sets
-----------------------------------------------------------------
More about Electro Selvamonos:
Inicia #LaTravesíaSelvámonos con el @Electro Selvámonos cerca de Paracas! 🏖:Abróchate el cinturón, ¡Selvámonos te lleva dos días fuera de Lima para disfrutar del mejor del verano en la playa con música electrónica, ferias, fogatas, y actividades náuticas y camping! 🎉🏄‍🌞⛺
El Electro Selvámonos tendrá lugar en la PLAYA SALVAJE, ubicada en el Km 205.5 de la Nueva Panamericana Sur, cerca de PARACAS. 🐟🦈🌊
El festival tiene un line up de 25 DJs internacionales y nacionales:
BEBETTA (Alemania) - SOTOMAYOR (México) - DENGUE DENGUE DENGUE! - TOBIAS (Alemania) - SIDIRUM (Argentina) - RODERIC (México) - ORIETA CHREM - TOLINCHILOVE - FELIPE CALLADO (Brasil) - QOQEQA - DIEGO HIDALGO - VALICHA EVANS - DVRP - TRIBILIN SOUND - INSAINT - ARISTIDEZ - LOWBAG - JESPERINO - MACASSI - JESÚS CHICCÓ- GUILLERMO DEL CASTILLO - SOUL BOT- TRILCE - MELANIE JANE - CESAR H.
Las entradas ya están disponibles en Joinnus a precio Preventa hasta el 13 de enero o hasta agotar el stock. ➡
[bit.ly]
Todas las entradas incluyen acceso a la zona camping. También está disponible en la misma plataforma de Joinnus una movilidad oficial a partir de Lima.
FAQ:
Link a "¿Cómo llegar al Electro Selvámonos?" ->
[selvamonos.org]
Link a "¿Dónde comprar mi entrada al Electro Selvámonos?" ->
[selvamonos.org]
Link a "¿Dónde dormir en el Electro Selvámonos?" ->
[selvamonos.org]
Venta de entradas: Link a Joinnus
[bit.ly]
Location
Location
Playa Salvaje, km 205.5 Nueva Panamericana Sur