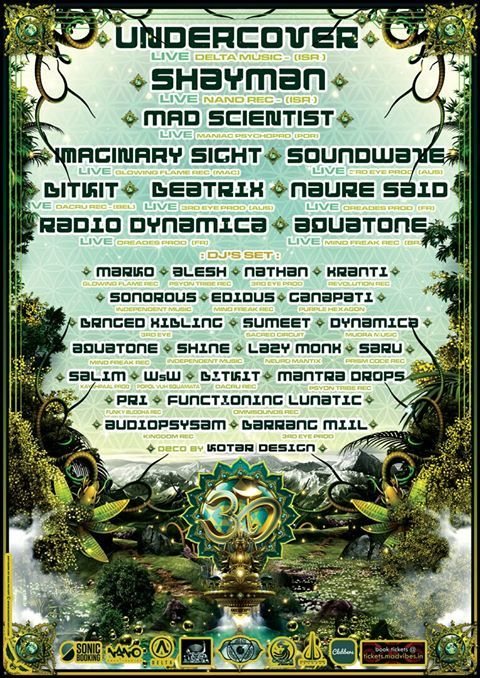 Line Up
Line Up
UnderCover [Delta Rec]
Mad Scientist [Maniac Psychopro]
Bitkit [Dacru Rec]
Imaginary Sight [Glowing flames Rec]
Info
Info
OMKARA is another term for Om (or Aum), literally meaning the "OM syllable." Om resembles both "controller of life force" and "life-giver". Through this special meaning, we bring to you a festival that will bring the life and energy of various artists from around the world to experience the stunning nature and vitality of Nepal.

Our crew, the 3rd Eye Family, is a small musical group from Nepal who lives, works and breathes the festival scene! The 3rd Eye Family has been at the birth of many festivals and parties over the past 15 years. Our family was brought together through a powerful karmic connection of wanting to create parties juiced with cultures from around the world onto dance floors in vibrant untouched nature. Our mission is to bring back feelings and sound from the past and recent to life, in an open friendly atmosphere through special outdoor gatherings. We organize events where energy and communication find space to expand in a retro-futuristic way.

Our special location for OMKARA is found in the middle of Nepal's untouched landscape, under the shade of ancient trees, and surrounded by Himalayan mountain peaks. You will find yourself moving to the miraculous beats of our DJs on a dance floor protected by a deep, surreal, magical forest.

Today we are happy to give you the first time in Nepal, the collaboration of internationally known 3rd eye Production of two crews with a common vision from Nepal and Australia. With freshly produced music, Mad tunes and Psybass like you have never heard before. A total new connection in sound, crossing oceans and continents. This gathering is built with love by dancers FOR dancers. Come with us into the wild nature of Nepal and experience the loud universal spirit of OMKARA!

WatersFromHeaven an NGO focused on sharing Art with the children of Nepal will be accepting donations & collecting school supplies (writing tablets, pencils, pens, crayons, markers, erasers, etc); backpacks new & second-hand backpacks in good condition. All donations will be used exclusively & 100% for projects, as all our previous accomplishments have been.
Organizer
Organizer
The 3RD EYE
DJ Mantra Drops