OFFWORLD - UK PSYTRANCE FESTIVAL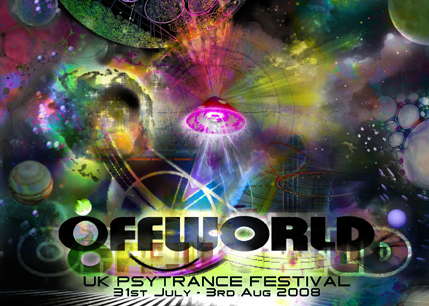 Line Up
Line Up
Fullon/Prog/Chill

Lineups will be announced soon!
Info
* - PLANET BOB'S CHAI EMPORIUM & OPERATIONAVALAUGH ARE CHUFFED TO ANNOUNCE - *
OFFWORLD 2008
UK PSYTANCE FESTIVAL
31st July - 3rd August 2008
A festival of theatre, dance and buffoonery.
[org.uk]
*
We've had such good feedback about the first OFFWORLD, thanks to you all - this year we get to do it again, only better, and (hopefully) A LOT SUNNIER!
This year we'll have another steaming selection of psytrance, progressive psy and chillout artists lined-up for your listening pleasure.
We've a Theatrical space too this year, offering even more pleasure related goodness, for when you fancy a little break from the dance!
There'll be a market area full of cool stuff, a selection of fine food and drinks, AND your very own chance to look at the stars with The Traveling Observatory!
Visit the website to join the OFFWORLD Mailing List
[ORG.UK]
*** Keep an eye on the website - OFFWORLD '07 Gallery NOW ONLINE and other info coming soon...
The pre-fliers are out now! - Have you got yours?
If you'd like us to send you some, please get in touch!
HUGE THANKS TO EVERYONE WHO'S GETTING INVOLVED
Can't wait!
TeamOFFWORLD
*8)
we used to have a handle on life, but it broke
if you're interested to get involved, please get in touch!
Email
info@offworld.org.uk
CREWS BIGUP: ORGANIC RECORDS, TOADSTOOL, HYPERTRIBE, WILD THINGS RECORDS, DOMO RECORDS, GEOLITE DOMES, TWISTED CLARITY, CELESTIAL LIGHTWORKS, INDIAN MARQUEES, LIQUID RECORDS, ARKONA CREATION
Location
Location
Liddington Warren, Wiltshire, UK
Entry fee
OFFWORLD 2008 Tickets - NOW AVAILABLE
Save Money by Getting Your's Early!
advance tickets: (+ booking fee)
From 13th Feb £50
From 1st April £60
From 1st June £70
On the door £80
Group Tickets: Buy 10 get 1 Free!
Campervans £10
Car Park £3 (when u get there)
To book please visit:
[accessallareas.org]
(Children under 12 years are free, but must order a Child Ticket)
Visit the website to join the OFFWORLD Mailing List
[ORG.UK]
Organizer
Organizer
Planet Bob's Chai Emporium + OPERATIONAVALAUGH
Added

12y 9m

· Update

12y 9m

· 1 ·