N.O.M.A.D. SUNDANCE FESTIVAL 2013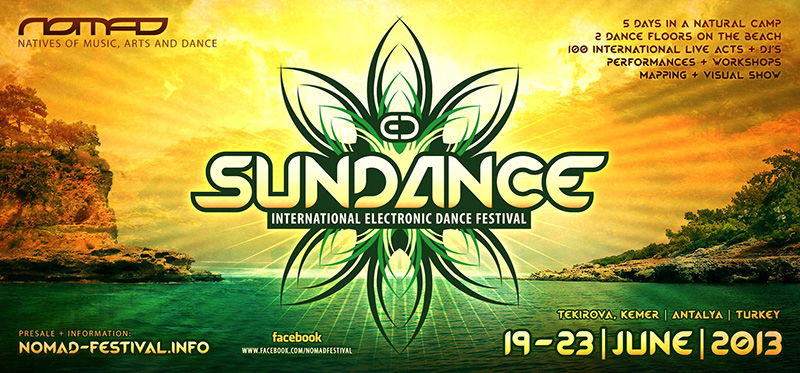 Line Up
✖ ALLABY | Nano Records, Spiral Trax, Twisted | UK
[nomad-festival.info]
✖ ATMOS | Spiral Traxx Records | Sweden
[nomad-festival.info]
✖ ASLAN DJ FEAT OZAN CENIKEL | LIVE BAND! | Turkey
[nomad-festival.info]
✖ ATYSS | Sonic Motion Records, Planet Ben | France
[nomad-festival.info]
✖ AVALON | Nano Records | UK
[nomad-festival.info]
✖ CAPTAIN HOOK | Iboga Records | Israel
[nomad-festival.info]
✖ CYKLONES | Synergetic Records | France
[nomad-festival.info]
✖ DEJAVOO | Transient Records | UK
[nomad-festival.info]
✖ DENOLOG | LIVE BAND! | Turkey
[nomad-festival.info]
✖ DICK TREVOR | Nano Records, Flying Rhino, Twisted | UK
[nomad-festival.info]
✖ EGOKIND | Kallias Music | Germany
[nomad-festival.info]
✖ GMS - Growling Mad Scientists | Spun Records | Netherlands
[nomad-festival.info]
✖ HEADROOM | Nano Records, Infinite Music | UK
[nomad-festival.info]
✖ HEDIYE GÜVEN | WE PLAY | TR
[nomad-festival.info]
✖ INNER STATE | Iono Music | Greece
[nomad-festival.info]
✖ KLANGKUENSTLER | Kallias Music | Germany
[nomad-festival.info]
✖ LIGHTSPHERE | Savva Records | Germany
[nomad-festival.info]
✖ MINFEEL | Iboga Records, Sensifeel Music | France
[nomad-festival.info]
✖ NEELIX | Spin Twist Records | Germany
[nomad-festival.info]
✖ PROTONICA | Iono Music | Germany
[nomad-festival.info]
✖ RIKTAM & BANSI | Spun Records | Netherland
[nomad-festival.info]
✖ RINKADINK | Alchemy Records | South Africa
[nomad-festival.info]
✖ RITMO | Iono Music, Iboga, Blue Tunes | Israel
[nomad-festival.info]
✖ SENSIFEEL | Synergetic Records, Spin Twist | France
[nomad-festival.info]
✖ SHEFF | Iboga Records | Israel
[nomad-festival.info]
✖ SYMPHONIX | Blue Tunes Records | Germany
[nomad-festival.info]
✖ TAYLAN VON AYGAR | LIVE BAND! | Turkey
[nomad-festival.info]
✖ TOXIC UNIVERSE | Savva Records | Turkey
[nomad-festival.info]
✖ TRUE LIES | Blue Tunes Records | Germany
[nomad-festival.info]
✖ UTKU-ALPER | LIVE BAND! | Turkey
[nomad-festival.info]
▀▀▀▀▀▀▀▀▀▀▀▀▀▀▀▀▀▀▀▀▀▀▀▀▀▀▀▀▀▀▀▀▀▀▀▀▀▀▀▀▀▀▀▀▀▀▀▀
✖ ALKAN RULLER | Ultimae Records | Greece
[nomad-festival.info]
✖ ALLE FARBEN | Kallias Music | Germany
[nomad-festival.info]
✖ ANAIS | San Ima | Brazil
[nomad-festival.info]
✖ BAHAR CANCA | Bubble Records | Turkey
[nomad-festival.info]
✖ BIM | YSE Records | Germany
[nomad-festival.info]
✖ CUNORT | Sundance | Turkey
[nomad-festival.info]
✖ DOC | Harmonia Records | Greece
[nomad-festival.info]
✖ DRENAN | Iono Records, Mandala | France
[nomad-festival.info]
✖ DRISS | Hadra Records, Hadra Festival | France
[nomad-festival.info]
✖ DUDU GALVAO | Simpson Tecords| Brazil
[nomad-festival.info]
✖ EBRU | Sundance | UK
[nomad-festival.info]
✖ FLOW | Open mind Records | Mexico
[nomad-festival.info]
✖ GABY (DJane) | Source Creation, Digital Nature | Slovenia
[nomad-festival.info]
✖ GANDALF | Iono Music, November Ritual | Germany
[nomad-festival.info]
✖ GINO (Sonica) | Sonica | UK
[nomad-festival.info]
✖ GOTTSCHALL | Electric Circus | Germany
[nomad-festival.info]
✖ GUIDO BOURLEY | Cocoon bar | Germany
[nomad-festival.info]
✖ GITTE VERFUEHRT | Kallias Music | Germany
[nomad-festival.info]
✖ JOANNA | Spin Twist Records, Waldfrieden | Germany
[nomad-festival.info]
✖ KAEMPFER & DIETZE | Iono Music | Germany
[nomad-festival.info]
✖ KICK & BASE | Morgentau, Electric Circus | Germany
[nomad-festival.info]
✖ KLANGKOMBINAT SUED | Schmitz Katze, Drifter's | Germany
[nomad-festival.info]
✖ LA NIÑA | Electric Circus | Germany
[nomad-festival.info]
✖ MAPUSA MAPUSA | Blue Tunes Records, Iboga | Germany
[nomad-festival.info]
✖ MIZOO | Ultimae Records, Moonloop, Biolive | Switzerland
[nomad-festival.info]
✖ PIN | Mosaico Records | Brazil
[nomad-festival.info]
✖ SAGMA | Freeze magazin | Greece
[nomad-festival.info]
✖ SHANE GOBI | Alchemy Records | UK
[nomad-festival.info]
✖ SHOVE| Alchemy Records | Mexico
[nomad-festival.info]
✖ VANJA | Tribal Vision Records | Macedonia
[nomad-festival.info]
✖ YOLVERINE | Sundance | Turkey
[nomad-festival.info]
✖ ZENDIUM | Electric circus | Australia
[nomad-festival.info]
LINE UP IS FULL!! Thank you for sending your links and demos. SEE YOU AT THE BEACH!
▀▀▀▀▀▀▀▀▀▀▀▀▀▀▀▀▀▀▀▀▀▀▀▀▀▀▀▀▀▀▀▀▀▀▀▀▀▀▀▀▀▀▀▀▀▀▀▀
Deco
THE DREAM TEAM + Friends
. MAE MOA
. JAMIN MURPHY
. GANSEDOLINE
. MAXI
Our beautiful, imaginative and mind-blowing decoration is especially designed and created for the festival by a veritable dream team of psychedelic art, consisting of GANSEDOLINE, JAMIN MURPHY, MAE MOA and MAXI. If you have been around visiting trance festivals during the last 10 years, you will have certainly been mesmerized more than once by these guys' images, installations and designs.
Multimedia performers, music lovers and unparalleled visual and mapping artists are renowed for their unique choreography of music and video combined with animation and documentary material in perfect synchronisation. This fusion of DJ and VJ creates a unique multimedia-experience… enjoy!
PERFORMANCE:
The PHOENIX FIREDANCERS. Drawing deeply from mythology, ancient cultures and a vision of an enlightened future, PHOENIX leads audiences on a mystical journey through timeless space. Originally, they learned and played with movement techniques from cultures visited during travels around the world. Then they developed and combined these techniques with modern circus elements, concert/stadium based special effects and the dynamics of gymnastics, acrobatics and dance as well as electronic sound production, creating a new energetic, eclectic style of performance. PHOENIX is the world's leading fire performance company. Since 1990 they have been weaving their fiery magic and surreal 'colourscapes' across the globe, creating cutting-edge shows for a wide variety of entertainment requirements. The team consists of international and Olympic athletes, dancers, musicians, martial artists, visual artists and technical experts. Each individual is a master at his or her own discipline, as well as being skilled in many different aspects of the company to produce a well-oiled and multi-talented team.
[phoenixfiredancers.com]
You are a talented juggler, wader, performer… and want to partake in creating a unique and special atmosphere at our festival? We offer discount and free tickets for the best of you! If you want to apply and show your talents, please write us an e-mail:
contact@nomad-festival.info
▀▀▀▀▀▀▀▀▀▀▀▀▀▀▀▀▀▀▀▀▀▀▀▀▀▀▀▀▀▀▀▀▀▀▀▀▀▀▀▀▀▀▀▀▀▀▀▀
Info
The N.O.M.A.D. Festival III - Sundance 2013 takes you to a secluded location directly at the beautiful coast of the sun-drenched Turkish riviera. Under a full moon, you will experience the international peak of psy-trance music on the main stage as well as selected electro, chill out and world music acts on alternative stages. Relax on a private beach, surrounded by mountains and beautiful natural woodlands, and enjoy the magic of a unique festival at a unique place.
With the N.O.M.A.D. Festival III - Sundance 2013, Electric Circus continues a love story with trance, electronic dance and world music that has always involved a passion for finding magical locations and creating an inspiring and safe space of freedom and joy. Starting in the 1990s, this small band of DJs, musicians, artists and visionaries has been at the centre of the German trance scene for decades – now the N.O.M.A.D. - Natives of Music, Arts and Dance - follows the promise of its name and goes exploring with a powerful crew from all over the world.
Next stop: the lush, breathtakingly beautiful place at the Turkish riviera: the Sundance Natural Village.
A part of the N.O.M.A.D. - Crew is on the festival-site already, organizing all the logistics. We will plant trees and plants for your campsite, build toilets and showers with running water and finalize the main floor, alternative stage and chill-out areas! Hope you will all enjoy this paradise with us! :-)
Save your holidays for celebrating the sun, sharing dance and love with us - the Natives Of Music, Arts and Dance ...
SHOPS:
The N.O.M.A.D. - Sundance Festival's market area represents the diversity of the cultural heritage of the people who make up the electronic music and culture scene: people full of curiosity, creativity and imagination. If you would like to display your arts and crafts and sell your creations and goods, please email us at
shops@nomad-festival.info
ESSENTIALS:
The N.O.M.A.D. - Sundance Festival 2013 is a beautiful and natural space that we want to preserve, so please take some time to prepare for it. Mostly it's those little things that make life so much easier, provided you have thought about them. Please do not just turn up without thinking about what equipment you will need. Since you will spend at least four days and nights out in nature, it is wise to bring the following items:
-tent and camping equipment
-sleeping bag and air-mattress
-torch
-swimming gear
-bathing towels
-warm clothes for the nights
-rain clothes
-sun protection
-enough clothes to change into
-portable ashtray
-filled water container
-first-aid kit
-insect repellent and insect bite treatment
-condoms
-prescription medication
-earplugs
-things to decorate your camp
PLEASE LEAVE ALL THOSE UNNECESSARY AND IRREPLACEABLE VALUABLES AT HOME. YOU WILL NOT NEED THEM AT THE FESTIVAL ANYWAY. TAKE AS LITTLE AS POSSIBLE WITH YOU SO YOU ARE FREE FOR WHAT IS MOST IMPORTANT: PARTY, DANCE AND MUSIC! THE LESS YOU TAKE ALONG, THE LESS YOU HAVE TO TAKE CARE OF. SINCE WE WILL SPEND A FEW DAYS WITH THOUSANDS OF PEOPLE IN NATURE, WE ALL HAVE TO FOLLOW A FEW RULES NOT TO DISTURB THE BEAUTIFUL ENVIRONMENT. PLEASE TREAT THIS WONDERFUL PLACE WITH RESPECT AND TRY TO LEAVE NO TRACES BEHIND.
-No open fires! During summer there is extreme danger of fire hazards, therefore open fires and barbecues are strictly prohibited!
-For the same reason please take care of your cigarette butts! It would be best, if you collected them in a portable ashtray, for example in an empty film container.
-At the entrance you will be provided with a garbage bag for your trash, as well as a garbage deposit coin. When you leave the location the deposit will be refunded in exchange for a filled garbage bag and the deposit coin.
-Please leave your pets at home. Their ears are so much more sensitive than ours and not attuned to loud music. If you have to bring you pet dog along, make sure you keep it on a leash at all times and always provide enough fresh drinking water. We need to protect the wild life in the nearby forests.
-Once you have arrived and set up your camp, take some time to introduce yourself to your neighbors. You will spend some time with them, so create a small network and form communities to make your camp pleasant and safe.
-If you encounter somebody at the festival who needs help, offer it!
-If you need professional support please contact either the Info Area, the First Aid or our Security.
-Our friendly but firm Security is always there to assist you.
ECO MANAGEMENT:
Respect the nature! The garbage deposit system is designed to make us all more aware of our disposals and to keep this beautiful location clean during the whole festival period. We will of course still hire a team of people to collect garbage during and especially after the festival, but it still is everybody's responsibility to keep the nature intact. It is essential for us to leave the place with no traces of the festival. We try to have no impact on the place apart from good vibes. 


Therefore, please bring as little packaging material etc. as possible to minimize the amount of trash we have to take care of. Portable ashtrays and biodegradable dishes are a must if you want to go green. We will recycle all garbage, glass, plastic, paper and organic waste after the festival. And remember: Simply do not drop anything on the floor, whatever you need to get rid off needs to go into a trash bag!
CAMPING (FREE):
The quality of the campsite at the N.O.M.A.D. - Sundance Festival is as important to us as the overall quality of the festival. We will plant trees and plants for your campsite, build toilets and showers with running water. With the best comfort, you can make the most of your stay at the festival and enjoy every minute of it.
We will soon provide you a list of hotels, guest houses and nice places around the festival location. stay in tuned!
For general information prease write an e-mail to
contact@nomad-festival.info
Official web site:
[nomad-festival.info]
(ONLINE!)
Networks:
[myspace.com]
[facebook.com]
[electriccircus.de]
Location
Sundance Camp/ Tekirova
THE WAY TO PARADISE:
If you come by car or caravan, the journey to the N.O.M.A.D. - Sundance Festival is beautiful and well worth taking. Check out these route planners for a safe arrival at the festival area. For carsharing please visit our forum. See you on the dancefloor!
BY PLANE:
N.O.M.A.D. - Sundance Festival is approximately 70 km West of Antalya airport. 
To reach the festival site, you can use the NOMAD SUNDANCE SHUTTLE service, you will be abble to find it, directly in front of the main exit of the airport. Follow the sign...
Other solution, you can then go on to the main bus station or to the Migros intersection with the airport shuttle 'Havas', and from there take the Tekirova minibus. From Tekirova, you can take a taxi or walk to the festival site, only 5/10min away.
BY CAR:
From Antalya, take the Kemer-Kumluca road. Pass Kemer and Phaselis, enter the town of Tekirova. Take the first turn left over the bridge and continue following the 'Ekopark' signs. Take a right at the 'Sundance Camp' sign and continue until the end of the road.
BY BUS:
As well as the local bus, Antalya airport to Tekirova; you will be abble to find a Nomad Sundance shuttle bus service at the Antalya airport, right in front the main exit. The shuttle will drive you directly to the festival loaction.
SHUTTLE SERVICE:
There will be a shuttle service from the 'Tree of Life Festival' directly to the N.O.M.A.D. Sundance Festival. We are planning for more shuttle buses to go from various cities in Turkey to the festival site. Please register and reserve your seats per e-mail. More infos about timetable and prices soon.
E-Mail:
shuttle@nomad-festival.info
DISTANCES FROM SOME MAIN CITIES:
Istanbul - Antalya: 724 km
Izmir - Antalya: 445 km

Ankara - Antalya: 545 km
▀▀▀▀▀▀▀▀▀▀▀▀▀▀▀▀▀▀▀▀▀▀▀▀▀▀▀▀▀▀▀▀▀▀▀▀▀▀▀▀▀▀▀▀▀▀▀▀
Entry fee
✖ SAVE YOUR TICKET NOW:
[nomad-festival.info]
• ROAD RUNNER TICKET - SOLD OUT
• EARLY BIRD TICKET - SOLD OUT
• PHASE #1 PRESALE TICKET - SOLD OUT
• PHASE #2 PRESALE TICKET | 01.04. until 18.06.| limited 100,- €
• TICKET AT THE GATE | 19.-23.06.2013 | 140,- €
✖ PRESALE TICKETS AT SHOPS (Hardticket):
• you.trade GmbH
Sand 9, 4.OG
D-21073 Hamburg
Open: Mo.-Do., 8:30-17:00 / Fr., 8:30-14:00
▀▀▀▀▀▀▀▀▀▀▀▀▀▀▀▀▀▀▀▀▀▀▀▀▀▀▀▀▀▀▀▀▀▀▀▀▀▀▀▀▀▀▀▀▀▀▀▀
Organizer
Organizer
N.O.M.A.D. Sundance-Crew
Added

10y 1d

· Update

7y 7m

· 5 Parties ·

/ 4