Backend
NATURAL FREQUENCY FESTIVAL @ PSYTRANCE NIGTH E-JEKT live!!!!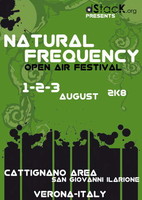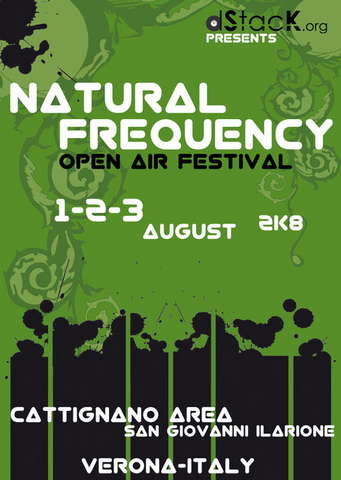 Line Up
NATURAL FREQUENCY ELETRONIC MUSIC FESTIVAL
VENERDI PSYTRANCE
E-JEKT (Noya rec) ISR
[myspace.com]
[myspace.com]
E-JEKT are Gadi Vered and Uri Azene from Tel Aviv, Israel. Gadi came from a heavy metal background as a drummer and searched for the same "feel" in electronic music. He met acid house and techno in the early 90's and upon listening to trance, the future was set. Gadi has had an active part for many years in the global psy movement as an administrator at Isratrance. Uri was a professional sound designer, working at the top of the Israeli sound design industry for a decade. He has been a DJ since 1992 during the unforgettable DAT era. His musical influences are 60's and 70's psychedelic and experimental rock. E-JEKT's music can be described as hard, unique, heavily psychedelic and free of fluff and cheese. The duo, currently continue to release and work on new music at a feverish pace and a 2nd E-Jekt album is well underway. The theme of the new album is kept true to the E-JEKT core concept: crushing quality dance floor beats.
ACID PROPHECY (Veleno rec) ITA
[myspace.com]
Acid Prophecy is the live project that was born from the union of two Italian artists: Alberto Zattera (djZat) & Michele Sperman (djNatraji). Alberto begun to play the drums at a very young age and had already experiences in a several metal bands before he started to produce electronic music five years ago. Beginning with Hardcore and Gabber, he is now producing psy trance since three years. Also Michele is a musician since years – before he started to produce psy trance 4 years ago he was already playing the bass and guitar for a several years – and together they are now releasing their debut album "Digital Delirium" that perfectly combines the powerful bases full-on of Zat and the melodies psy-trance of Natraji. Acid Prophecy has played on lineup with recognized Italian artists such as: Coma Sector, Psycho Punk; Pineal; Sismic; Plasmoon; Pulsar; Lenz; Kundalini Prj; Fr@ntik; Remsource; Atmospherese i dj Matte; dj Phobos; dj Fog; dj Bentley; dj Face... and with more International artist such as: DNA; Magnetrixx & Morganixx; Akbal; Ocelot; Fractal Glider.
-- SHALO

-- HOFFMAN+

-- NITEK

-- SPEC3

-- BRAIN TK3

-- CIVA

2 STAGE (d&b/breack beat )

--STEFAN NL

-- 69DB LIVE!!!!

--COMBINAT

--SKEEME vs NARCO

--MIK vs MIDVOODERIZIF SPA
Info
QUESTO è UN FESTIVAL DALLA DURATà DI TRE GIORNI..PSYTRANCE SARà SOLO VENERDI , E ALL INGRESSO SI POTRà DECIDERE CHE TIPO DI BIGLIETTO (GIORNALIERO /INTERO WEEKEND)..QUESTA APPUNTO E LA LINE UP SOLO DI VENERDI MA C IMPEGNEREMO A BREVE A POSTARE INTERA LINE UP CHE VALE LA PENA DI VEDERE... sabato sera nello stage 1 l' ospite più importante sarà Leeroy Thornhill (Prodigy)
Lo stage è composto da un muro Layher alto 8 metri e largo 12 con una decina di fari mobile, 20 fari a led, 2 schermi per videoproiezione e un impianto audio di 30000 W.Nello stage 2 ci sarà una cordata di dj della scena tekno/breack beat europea (69db, stefan, combinat, brz dei tdk, robert latumahina dei mononom)
INFO SU GLI ARTISTI
[myspace.com]
- 2 STAGE
-TUTTI I TIPI DI SERVIZI (WC-DOCCIE-FOOD- CAMPING-BAR-MERCHANDISING-SERVIZIO MEDICO E DI PRIMO SOCCORSO)
-30000W
-LASER AND LIGHT SHOW
-2 VJS SETS
100% LEGAL PARTY
RISPETTA LA LOCATION:è severamente VIETATO:FUOCHI
TAGLIARE RAMI
DETURPARE IN ALCUN MODO L'AMBIENTE
ABBANDONARE RIFIUTI
INFO X PREVENDITE NAZIONALI +393473738557 +393496946922 +393477156642 +393460301098 +393403632994 +393349788710 MORE INFO
[myspace.com]
Location
Il Natural Frequency si terrà a Cattignao (VR) sulla cima di un colle, immerso nel verde.more INFO
[myspace.com]
IN AUTO:USCITA A4 SOAVE / SANBONIFACIO,GIRARE A DESTRA X VERONA SU SS11,POI A DX X ILLASI.SUPERATO IL PAESE DI TREGNAGO SEGUIRE LE INDICAZIONI PER FINETTI/CATTIGNANO E SALITE FINO IN CIMA
IN BUS:DALLA STAZZIONE FS VERONA PORTA NUOVA PRENDERE AUTOBUS PER TREGNAGO AUTOLINEA 21
Entry fee
Entry fee
PRENDITE GIORNALIERA 15 euro PREVENDITA PER 3 GIORNI 3O euro,..................alla cassa 35euro
More info
[myspace.com]
Organizer
Organizer
NATURAL FREQUENCY ELETRONIC MUSIC FESTIVAL & MONKEYS EXSPLOSION and
[myspace.com]
Web
profile.myspace.com/index.cfm?fuseaction=user.viewprofile&friendid=384421269
From
monkeysexplosionsummertimes ·
10,314
Added

14y 5m

· Update

3m 25d

·