Mystical Forest II. – The Sleeper Must Awaken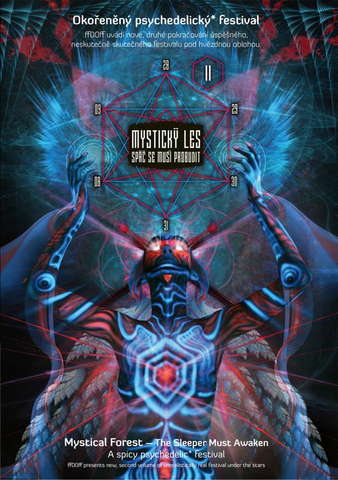 Live
Line Up
--- LIVE navigators ---
TRYAMBAKA (SPECTRAL REC., BHOOTESHWARA REC.,PORTUGAL)
INSECTOR (PSYBABA RECORDS, HUNGARY)
BEYOND (PHANTASM RECORDS, HUNGARY)
VENOMSENSE (PSYBABA RECORDS. HUNGARY)
MYTHEMATICA (Mimo TV, Czech)
--- AUDIO benders ---
DJANE SURYA NAMASKAR (TRANCE KARMA REC., PORTUGAL)
Danger vs. Boohma (Procyon Records, Hungary)
Styropian (Mystic Arts Event, Psylesia.org, Poland)
Slater (Tribal Vision Records)
Rawe (3D Vision Records, Czech/France)
Djane Lolla (Zero Point)
Ondrej Psyla (Mystical Waves, Goblin Records)
Osku (Goblin Records, Slovakia)
MP (HedoniX)
Tranceformer (Yupisashi)
Jarin (Yupisashi)
Roman Rai (Solstice Music, Tribal Vision Records)
000333 (Mimo TV)
--- CHILL OUT of space ---
Fat Cat&Ambientium-Live
Gem Reflection-Live
Litvik Petr - voicesaliquot, guttural, didgeridoo, accordion, flutes, drums
Ambient drift-live
Slater (Tribal Vision Records)
Tranceformer (Yupisashi)
Ambientium dj set
_H2O_ ( a r o v n a)
Kapa (Psyalaska, SK)
Ondrej Psyla (Mystical Waves, Goblin Records)
Rachetik (HedoniX)
Peky (HedoniX)
Jarin (Yupisashi)
Osku (Goblin Records, SK)
Deco
--- Fremen Decos ---
Imperial Geologist Alienjedna
Fluorobotanics
Cybofunk
Elemental
Spiralka
C17/Hedonix
IVQ, Danielka
Alisa and much more

Fireshow by Masoo & friends

--- Photon Killers ---
Eskadr, Siggy, Kashmir, MIMO-TV, Yaro
Info
--- MARKET AREA ---
Dune`s bar
Dune`s breakfast bar
Flying Mouse
SpaceBar by Mithras Temple
Tea room by a r o v n a
--- CINEMA STAGE ---
--- WORKSHOPS ---
GrowShop Kleka - How to growing spice
Blacklight backdrops painting workshop (nonstop painting in a reserved hut) by Alien-Alisa
Screen-printing workshop - printing on clothes by Kredenc
Theremin workshop by Xchaos
++++++++++++++++++++++++++++++++++++++++++++++++++++++++++++++++++++
Press release
+++++++++++++++++++++++++++++++++++++++++++++++++++++++++++++++
Mystical Forest II: .. The sleeper must awaken
On the last summer holiday weekend, a second continuation of successful festival Mystical Forest II will take place. After a year, the organizers come with program full of not just psychedelic trance. They will present the best Czech and foreign scene can offer, both in terms of music and visual. Event full of dark and booming sounds, psychedelic design, impressive performances and interesting workshops will take place on Friday 28th August 20:00 at the site of recreational center Všín, Brdy, near Píbram.
Like last year, this year the whole festival is designed thematically. Subtitle "The sleeper must awaken" refers to the legendary sci-fi novel "Dune" by Frank Herbert. Space will be decorated along the lines of the remote desert planet Arrakis, chillout as desert worm guts, an entrance into spatio-temporal travel across the universe and an interactive cockpit spacecraft installed in the forest, pulling the visitor thousands light years away.
For three days, Arrakis will sound with a live space orchestra composed of many high quality artists.
Headliner of whole event is one of the most interesting authors from Portugal - Tiago Pimentel aka Baron Harkonen "Tryambaka" (Spectral rec., Bhooteswara rec.). Among other great live projects there is Duke Atreides "Insector" (Psybaba rec., Hungary), Imperator "Beyond "(Phantasm rec., Hungary), venerable"Venomsense" (Psybaba rec., Hungary), sound conductor "Gem Reflection (Czech), or messengers from Bene Gesserith "Mythematica" (MimoTV, Czech).
The rest of the audio space will be filled with a selection of domestic and foreign psytrance scene - more information about the interprets is available at the web pages of the festival (
[mysticky-les.com]
.
The musical element will be spiced with video projected on a special surface; the content will be supplied by Czech and Italian VJs. The spectrum will be enhanced with a colour laser show.
For the temporary inhabitants of the planet there will be a fireshow performance by Masoo & friends, Fremen desert dances by M K Dance ensemble and varied range of workshops, such as UV body-painting (Alien1), themed screen-printing workshop by Kredenc, a lecture on Spice Growing, or the performance of the Kurangbe drummers, and Jaci Deky, a group specializing in overtone singing lead by Peter Litvík.. There will be an alternative cinema stage, too.
Stalls offering clothing by Flying Mouse and SpaceTribe will be available, as well as the Desert hydration Dune bar, and its consumables variant - Dune's Breakfast Bar, a tea room and a Mithras Temple spacebar full of magical spices.
Presented in partnership with
grow-bloom-crop Kleka shop
[klecka.cz]
Techno.cz
[techno.cz]
Psytrance.cz
[psytrance.cz]
Psyverse.sk
[psyverse.sk]
For more information
[mysticky-les.com]
[facebook.com]
[myspace.com]
[psytrance.cz]
[psyverse.sk]
++++++++++++++++++++++++++++++++++++++++++++++++++++++++++++++++++++
ENGLISH VERSION
Mystical Forest II. – The Sleeper Must Awaken
A spicy psychedelic festival
(word: psychedelic / meaning: intentionally heavily affecting mind, intensifying sensory perception and feelings)
ff00ff presents new, second volume of unrealistically real festival under the stars
Spice melange is the key to everything. It is crucial to billions of Empire residents. This highly addictive drug improves health and extends life. Spice is mined only on one planet in the whole universe - on Arrakis, the desert planet, known as Dune.
Spacing Guild navigators, taking advantage of their monopoly on space travel and strengthened by spice, folded space – which is the only way of travelling faster than light - between the stars in reasonable time. That way they approached Arrakis.
Intersection between our reality and Arrakis will be created on 28th August 8 PM CEST. The contact will end on its 4th day.
Most of the noble Great Houses will bring in their best men and sisterhood Bene Gesserit their best women.
Spectacular sensual vortex will defy all the logic you can mine at planet Vulcan.
Baron Harkonen Tryambaka who announced a water of life induced live act will be followed by more mentat projects and veteran photon-beam artillery of retinal disrupters.
Arrakis suffers from total water deficiency and is very sparsely inhabited. Only tribal Fremen survive here. They are well prepared for your visit. Sound system relentlesly cultivated for generations is now ready, as well the ingenious indigenous 3D decorations discovered and collected by the Imperial Planetologist Liet Alien Jedna, visually-interactively controlled forest, hand painted fabric of glorious Crysknife warriors, different multi-performances, workshops and a movie afternoon.
Who will restrain from eating for the whole day will see the sandworm called Shai-Hulud. Who shall drink and consume melange will meet the superior being, Kwisatz Haderach.
There is in all things a pattern that is part of our universe. It has symmetry, elegance, and grace - those qualities you find always in that which the true artist captures. You can find it in the turning of the seasons, in the way sand trails along a ridge, in the branch clusters of the creosote bush or the pattern of its leaves. We try to copy these patterns in our lives and our society, seeking the rhythms, the dances, the forms that comfort. Yet, it is possible to see peril in the finding of ultimate perfection. It is clear that the ultimate pattern contains its own fixity. In such perfection, all things move toward death.
Princess Irulan: Collected Sayings of Muad`Dib
"What's it like in the south?" he asked.
"When you ride the maker you'll see for yourself," she said.
"But I wish to see it first through your eyes."
"It's powerfully lonely," she said.
We must honor water, perceive it with love and gratitude, and we will be rewarded by positive vibrations and positive change. Then water will change, you will change and I will change, because you and me are water.
++++++++++++++++++++++++++++++++++++++++++++++++++++++++++++++++++++
++++++++++++++++++++++++++++++++++++++++++++++++++++++++++++++++++++
DEUTSCH VERSION
Mystischer Wald II. - Der Schläfer soll erwachen
Psychedelisches Festival, gut gewürzt, auf bohemische Art serviert
(mit "psychedelisch" wird das stark auf die Psyche wirkende, das
Erlebniss- und Genussverstärkende gemeint)
ff00ff veranstallten eine neue, zweite Fortsetzung des erfolgreichen
Festivals unter dem Himmel.
Der Schlüssel zu Allem ist das Gewürz, das Einwohner des Imperiums
abhänging macht. Es ist eine starke Droge, die das Leben besser and
länger macht. Das Gewürz kann man nur auf einem einzigen Planeten im
ganzen Weltall abbauen. Auf dem Sandplaneten Arrakis, auch als Duna
bekannt.
Die Navigatoren der kosmischen Gilde haben ihr Monopol im
Weltallverkehr genutzt. Sie wissen wie den Raum zu falten - das ist
nämlich der einzige Weg im Raum schneller als das Licht zu reisen.
Arrakis durchblendet unsere Realität um 20:00 Uhr des 28.8.2009 für vier Tage.
Die Mehrheit der bekannten Grosstämme setzen ihre besten Männer und
die Genossenschaft Bene Gesserit ihre besten Frauen an.
Ihr Sinn für Logik, so wertvoll aus dem Planeten Vulkan abgebaut, wird
völlig im grandiozen Sinnessturm angegriffen.
Eine lebendige Vorstellung (nach der Konsumation des Lebenswassers)
hat Haroken Baron Tryambaka angekündigt, gefolgt bei anderen
Mentatenprojekten und erfahrenen Photonenschützen.
Auf Arrakis gibt es absoluten Mangel am Wasser, ist dünnbewohnt und
nur die daheimischen Fremen können auf diesem Planeten überleben.
Fremen sind für ihr Besuch gut vorbereitet. Zu Sehen wird der lang
gepflegte, akustische Apparat.
Die tiefsinnige einheimische Raumdekoration, bei dem
Imperialplanetologen Lieten Alien Eins auf ganzem Planeten entdeckt -
die visuell interaktive Kontroll des Waldes, das handgemalte Gewebe
von erühmten Kämpfern aus Krispel, Multiperformance, Workshops und
Filmnachmittage. Wer den ganzen Tag nichts isst, sieht in der Nacht
den Sandwurm Shai-Hulud! Wer den ganzen Tag das Gewürz trinken und
annehmen wird, sieht er den kosmischen Übermenschen Kwisatze Haderach.
Das alles hat das System und das ist der Bestandteil im unseren
Weltall. Es hat sie Symmetrie, die Anmut und Eleganz. Diese
Beschaffenheiten Wird nur der wirkliche Künstler ergriggt. Das System
kannst du in der vier Jahreszeiten finden oder in dem Ast Larrei
mexican. Wir streben diese Systemen in unserem Leben und in der
Gesellschaft imitieren. Wir suchen Rhytmischen, Tänze und Formen, die
uns befriedigen. Aber definitive Vollkommenheit ist setr gefährlich.
Es ist klar, dass dieses definitive Systém eigene Stabilität
beinhaltet. In dieser Vollkommenheiten zielt alles zum
Tod.
DIE PRINZESSIN IRULAN: Die gesammelten Redewendungen Muad´dibas.
,,Wie ist es dort im Süden?" fragt er.
,,Wenn du den Wurm sattelst, wirst du es erfahren" sagt sie.
"Aber ich möchte es erst durch deine Augen erfahren"
"Es ist vollkommen abgeschnitten von der Welt" antwortete sie.
"Wir müssen das Wasser fühlen, es mit Liebe und Dankbarkeit wahrnehmen
und so nehmen wir positive Vibration und Wechsel an. Dann ändert sich
das Wasser, du und ich auch. Weil du und ich das Wasser sind."
Mit dem Auto
Aus Píbram (die Landstraße N.19) Richtung Plze nach Rožmitál pod
Temšínem, auf der Kreuzung am Anfang Rožmitáls biegt rechts ab und
fahrt Richtug Plze und Všín weiter. Im Dorf Všín Richtung Spálené
Poíí/Plze, nach rund 1,5 Km Waldweg biegt nach links ab. Dann nur
noch 500 Meter und ihr seid auf dem Platz.
Aus Plze fahrt (die Landstraße E49/90) Richtung eské Budjovice
durch das Dorf Bambousek, dort nach links Richtung Píbram (die
Landstraße 19). Durchs Dorf Misov und nach 4,5 Km im Wald, biegt
rechts ein. 500 Meters und ihr seid auf dem Platz.
Mit dem Bus
Direktbüsse fahren nach Všín (Freitag 17:15, 18:50 - Prag, Na
Knížecí, Sam. 11:00 - Prag, Zliín), aus Píbram (Freitag 18:17,19:52,
Sam. 9:05, 17:00) und aus Plze (Freitag 18:30, Sam. 7:45, 12:50,
15:30). Aus Všín geht zu Fuß ca. 2,5 Km Richtung Plze weiter. Im
Wald biegt links ab.
Mit dem Zug
Das naheste Bahnhof ist in Rožmitál pod Temíšem, ca. 7 Km von der
Party entfernt aber weitere Verbindungen sind sehr selten. Vom Bahnhof
geht ins Zentrum zu Fuß, auf der Kreuzung biegt nach rechts ab und
geht Richtung Plze
+++++++++++++++++++++++++++++++++++++++++++++++++++++++++++++++++++++
+++++++++++++++++++++++++++++++++++++++++++++++++++++++++++++++++++++
--- LINKS ---
[mystickyles.com]
[psytrance.cz]
[myspace.com]
--- PHOTOS ---
[google.cz]
Shops - please contact
shops@mystickyles.com
For more info about Czech-psytrance scene -
[psychedelic-traveller.net]
--- JUPI JUPI, DUNE IS LOOKING FORWARD TO SEE YOU THERE ---
>>>>>>>>>>>>>>>>>>>>>>>>>>>>>>>>>>>>>>>>>>>>>>>>>>>>>>>>>>>>>>>>>
LINEUP
Mystický Les 2 - Line up - Main Stage
pátení noc
21:30 Jarin (Yupisashi)
23:30 Osku (Goblin Records, Slovakia)
01:00 Venomsense (Psybaba Records, Hungary)Live
02:15 Insector (Psybaba Records, Hungary)Live
03:30 Ondrej Psyla (Mystical Waves, Goblin Records)
05:30 Beyond (Phantasm Records, Hungary)Live
07:00 Danger vs. Boohna (Procyon Records, Hungary)
08:30 000333 (Mimo TV)
10:30 Slater (Tribal Vision Records)
sobotní odpoledne
12:30 Work Shop .1
14:30 Work Shop .2
15:30 Work Shop .3
sobotní podveer pes noc do rána bíleho
16:00 Litvik Petr (Independent)Live
17:00 Mythematica (Independent)Live
18:30 Kurangbe - Drums ShowLive
19:30 Roman Rai (Solstice Music, Tribal Vision Records)
21:30 Djane Lolla (Zero Point)
23:00 MP (HedoniX)
01:00 Rawe (3D Vision Records, Czech)
03:00 Tryambaka (Spectral Records, Portugal)Live
05:00 DJANE SURYA NAMASKAR (TRANCE KARMA REC., PORTUGAL)- 2 Girls on stage
08:00 Styropian (Mystic Arts Event, Psylesia.org, Poland)
10:00 Tranceformer (Yupisashi)
12:00 Ondrej Psyla ((Mystical Waves, Goblin Records) Progressive set
14:00 Lesní Sms
Mystický Les 2 - Line up - Chill out Cottage
20:00 Ondrej Psyla (Mystical Waves, Goblin Records.CZ)
22:00 Kapca (Psyalaska.SK)
01:00 Fat Cat&Ambientium (Independent)Live
02:30 Ambientium Dj set
04:00 Peky (HedoniX)
06:30 Rachetik (HedoniX)
08:30 Slater (Tribal Vision Records)
10:30 Break
12:00 Mystical Cinema Area
18:00 Xchaos - thereminLive
19:00 Ambient Drift (Independent)Live
21:00 Tranceformer (Yupisashi)
23:00 Gem Reflection (Independent)Live
01:00 Spin Off (Zero Point)Live
03:00 Caramba (Silent Noise)
05:00 Osku (Goblin Records)
07:00 Asterix (Goblin, Slovakia)
After party Mystický Les 2 - Line up
15:00 Cejn (Zero Point)
18:00 Ondrej Psyla (Mystical Waves, Goblin Records)
21:00 Turo (Goblin Records, Slovakia)
23:00 Binarstorm.live (Goblin Records)
00:30 Psyself (Independent)
02:00 Osku (Label Manager Goblin Records, Slovakia)
03:30 Koza (HedoniX)
05:00 ???
Location
Location
Vesin , okres Pribram , Czech Republic
49°36'54.65''N 13°47'37.94''E
Entry
Entry
15€ 2 days
10€ 1 day
Added

11y 11m

· Update

11y 9m

· 1 ·