Misterika festival p.2 (Summer Session), Crimean Mountains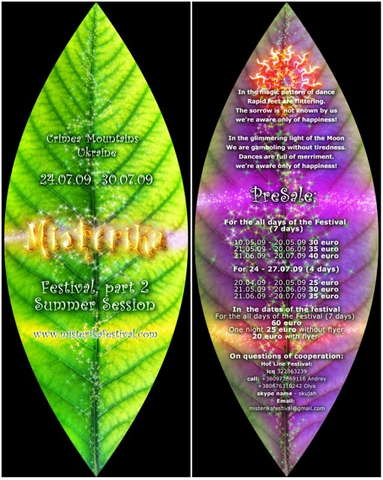 Line Up
SOLAR FIELDS
(Ultimae Records ,Swedish)
[solarfields.com]
[myspace.com]
GOASIA
(Suntrip rec / Soundmute rec / Unicornmusic, Serbia)
[goasia-project.com]
[myspace.com]
[discogs.com]
[last.fm]
OPSY
(Soundmute rec / Digital Diamonds , Serbia)
[myspace.com]
[soundmute-recordings.com]
[last.fm]
[discogs.com]
KANC COVER
(Soundmute rec / Cosmicleaf rec / Blue tunes rec , Serbia)
[myspace.com]
Loopus in fabula ***
(Fabula rec ,Italy)
[loopusinfabula.com]
[myspace.com]
TROLD
(Glowing flame rec. / Northern psylight rec Norway)
[myspace.com]
[trance.net]
Braincell ***
Rastaliens (Glowing Flame / Phar Psyde,Switzerland)
[braincell-studios.net]
[myspace.com]
[rastaliens.de]
Solar Spectrum ***
(Free Freak Records ,Switzerland)
[myspace.com]
Talpa
(Up Rec/MMR, Australlia – Soundmute.Serbia)
[myspace.com]
OmegaHertz (Greece) ***
[myspace.com]
Imaginary Sight ***
(Glowing Flame Records, Macedonia)
[myspace.com]
Yudhisthira
(Glowing Flame , Macedonia)
[myspace.com]
Paramatma
(Northern Psylight Rec. / Forest Wizards Rec. Macedonia)
[myspace.com]
Shiva3
(Lua rec., Trancemoon, Euphoria pro, Crimea)
[myspace.com]
Genepool (Ireland)
[myspace.com]
Zymosis / MagmaDivers / Alienapia
(Sentimony, Skygravity, UP)
[myspace.com]
[myspace.com]
Agneton
(Phototropic Records / Eutuchia Records Belgium )
[myspace.com]
Dosage
(Glowing Flame, Stereohemia, Forest Wizards, Macedonia)
[myspace.com]
Haltya
(Exogenic records / Finland)
[myspace.com]
[myspace.com]
[haltya.net]
Highpersonic Whomen
(Exogenic records / Finland)
[highpersonic.net]
[myspace.com]
Dirty Hippy
(United Kingdom)
[myspace.com]
Kalumet
(Halu Beats Rec.,Hun , Budapest; Hungary)
[kalumet.hu]
[myspace.com]
Asoma (Bulgaria) ***
[myspace.com]
Zirrex (Rus)
[zirrex.ru]
[myspace.com]
[discogs.com]
Psychedelic Quest (Grecee)
[myspace.com]
Kala
(Galactical Exploring ,Macedonia)
[myspace.com]
Balagan / Frog Prog
(Euphoria pro, Misterika family ,Crimea)
[myspace.com]
Spirit Medicine
(Space Baby Rec / Lviv)
[myspace.com]
[com.ua]
Mental Reason
(Space Baby Rec) Ukraine
[myspace.com]
Somatix
(Neuroflight family,Ryazan)
[myspace.com]
Yhtiot (Rus) ***
[myspace.com]
Add.:
Ork Monk (Budapest,Hungary)
[myspace.com]
Dreaming Cooper (UPRecords.Ukr)
[myspace.com]
Sample Noise (Sova Rec, Kiev)
[pdj.ru]
live guitar DJ performance
*** - await confirmation
Dj Ketil m (Norway)
[myspace.com]
[northernpsylightrecords.com]
[myspace.com]
Ziog
(swamp tales) lithuania
[myspace.com]
Zooch
(yegaveda,arkona creation,UK/ Lithuania)
[myspace.com]
MindWarp
(Clocktail Records / Odessa)
[myspace.com]
Skywolf
(Galactic Freaks Records,Turkey)
[myspace.com]
di.N.A.&sHev
(Elestial Records) Macedonia
[myspace.com]
Leprezoic Era
(Lugansk) drums –live
Soncevorot (Crimea) ***
Leksa (Russia,Krasnodar) ***
Alfacentaurus(Belgorod)
Absolute fuel (Kharkov)
Plan (Crimea)
Chip (Crimea)
Psyche (Polesye)
PsyTo (Lugansk)
Rushman (Dnepr)
Raizer / Calamus
Shivaki (Odessa)
Skylander (Rus)
Seraph (Lvov)
Sundoze (Kiev) ***
Sphinx (Krasnoyarsk)
HoverFly (Kharkov)
Om & Mila (Mosow)
OkuIri (Peace)
Maja (Kiev)
Michedelic (Kiev)
Mutlu (Belaya Tserkov)
Max Rider (Dnepr)
Memosponga (Lugansk)
Nosovoy (Crimea)
KinDza (Crimea, Pooja)
Kollega Prul (Kharkov) ***
Vadiom (Zp)
Yz Shroomov (Kiev)
Add.:
Tamara (Macedonia) ***
[myspace.com]
Inatroya (Bulgaria,Sweden) ***
[myspace.com]
Afonya (Trancecarpathiarts ,Uzgorod)
Roodee (Trancecarpathiarts ,Uzgorod)
Maximus T.Z. (Tendala ,Uzgorod)
Sunny Kitten (Lvov)
Inatroya (Bulgaria,Sweden) ***
[myspace.com]
Divex (Streamlight, Kharkov UA)
*** - await confirmation
Deco
Naria Inri Magaria / NIM (Bulgaria) ***
[myspace.com]
Shankara LAB (euphoria promo , misterika family)
[gallery.ru]
Sugarland Russia ***
[myspace.com]
Hyper Icons (Spirit Medicine Promo) Ukraine
[myspace.com]
"SMEryki" (Jitomir)
Paul Spider (Ukraine)
Ivolga - s4i , isoteric(Samara)
Khanoriya (Ukraine)
Multi Pulti Transformation (Ukraine)
Fair Theatre *Proty Nochy* (Ukraine)
[protynochi.com]
di.N.A.&sHev - fire juggling
Fire Show – Psy Flame(Euphoria)Ukraine ***
Fire Show - Fenix Ukraine
Also, with the assistance of DJ will be provided to chill-out room with ultramodern divays change of consciousness: a planetarium and an electronic kaleidoscope.
You can watch the starry sky, the Earth and Moon.
Exhibition of works from
*Joep Hommerson*Netherlands
[myspace.com]
PSI (Planetary Art Network). St. Petersburg.
Video:
Bars Records & Lahmatuy Doctor (Euphoria , Ukraine)
Ezotericheskie Cheburashki (Planeta Okean) Ukraine ***
Add.:
TranceCarpathiArts (Uzgorod) ***
[myspace.com]
Add. Video
VJ Push (Streamlight, UA)
VJ SpyNet (Install Underground, Kharkov)
*** - await confirmation
Info
At the festival is planned
Main dancefloor
Chill Out
Alternative Stage
Indigo Child Room
Krishna Kitchen
Art Shops
Info center
Camping
Car Parking
Ethnic – Fluro- Shops
Avatara art shop (Kiev)
[kiev.ua]
Ethno-wear, fashion accessories (handbags, jewelry, belts, etc.), Ninja-summer collection shuz.
Spirit Medicine | Hyper Icons
shop-metaphysical ritual artifacts (fluoro handmade T-shirts, bags, amulets)
[com.ua]
Shop Dobra (Misterika family) (Ukr)
Tea Room "Kvitko-Chai"
[ho.ua]
Location
Location
Crimean Mountains (Bakhchisaraj area)

Festival Place :

Only unusual creatures open doors to another dimension, full of magic, where all the plans done! We invite you to the fairy tale world, where eternal summer and all living things penetrated fun, sincerity, and are creating huge heart, full of endless kindness. Pakuyte your magic sunduchki, enough for the wings of the air's in the festive mood of madness. At the designated hour, we'll wait for you and only you have the portal in a picturesque corner of paradise among the mountains and untold Bakhchisaray space.

Attention!
On the territory of the activities forbidden to carry weapons, drugs and facilities for their use.
Entry
PreSale:
For the all days of the Festival (7 days)
10.05.09 - 25.05.09 30 euro
21.05.09 - 20.06.09 35 euro
21.06.09 - 20.07.09 40 euro
For 24 - 27.07.09 (4 days)
20.04.09 - 20.05.09 25 euro
21.05.09 - 20.06.09 30 euro
21.06.09 - 20.07.09 35 euro
In the dates of the festival
For the all days of the Festival (7 days) 60 euro
One night 25 euro without flyer
20 euro with flyer
Advance to the festival can also be done through a bank account for this data:
Your bank account information for prepaid tickets for the festival
EUR account number 26202601282211
Bank PRIVATBANK
Dnepropetrovsk Ukraine
SWIFT-PBANUA2X
Payment is made in EURO
After payment you need to register
Fill out the form and send it to mail:
misterikappl@gmail.com
For registration information provided by:
Name/ Mail / icq or skype / details of payment
We coordinator for cooperation:
+380972869116 Email:
misterikafestival@gmail.com
icq: 389-213-531
If you want to share their creative ideas and make a unique contribution to the festival, we look forward to hearing your ideas and work
Email: misterikafestival @ gmail.with
Coordinators :
Israel
+972524536156 Dan Dino
icq: 240186771
ddandino@gmail.com
Lithuania
+37064528497
skype - zioginfog
Russia
General Partner in Russia:
Tourist Transport Company «Lidia Group»:
[lidia.su]
[lidia-tour.ru]
E-mail:
dynamo@lidia.su
and
anastasia@lidia.su
ICQ #: 415-963-369 and 478 452 327
Tel. / fax: +7 (495) 605-65-60
Tel.: +7 (495) 928-8-928
Buy tickets can also be in the shop * World Ganesh *
m.Savelovskaya, seat B-35
or koordinators
Moscow
Alina
+ 7 916 679 02 06.
St - Piterburg
*Dolina Bortango* shop
Ekatirenburg
+7 908 906 53 06 Alena
icq: 486015161
Samara
+7 927 600 40 92 Marina
icq: 138548533
Krasnoyarsk
+7 923 366 9003 Jenya
icq: 383883025
Rostov
8 950 859 99 82 Maxim
icq: 311021974
Belgorod
+7 920 553 0 883 Alfred
icq: 413885230
Ijevsk
8 904 315 84 16 Ksenia
icq: 323307662
para-shakti@ya.ru
Ukraine
Kiev
+38 063 295 64 02 Gleb
icq: 262497419
Belaya Tserkof
+38 066 328 07 21 Vitaliy
icq: 461779090
Dnepropetrovsk
+38 095 510 15 65 Kirill
icq: 273593753
Donetsk
+38 095 617 27 76 Denis
icq: 365284711
Zaporojie
+38 050 453 65 32 Alena
icq: 432119015
Kr Rog
+38 097 687 97 79 Denis
icq: 307344332
Lugansk
+38 093 442 44 78 Andrey
icq: 169075146
Melitopol
+38 063 867 95 26 Sasha
icq: 438952965
Nikolaev
+38 068 115 56 60 Slaventiy
icq: 314758748
Odessa
+38 063 150 83 26 Sergey
icq: 496018004
Lvov
+38 068 842 51 04, +38 066 762 33 27 Maria
icq: 285673177
icq: 260648234
om@spiritmedicine.com.ua
,
mindzeroart@mail.ru
Sevastopol
+38 067 631 02 42 Olya
icq: 371369652
Simferopol
+38 050 842 11 86 Sergey
icq: 382471413
Kharkov
+38 063 715 64 13; +38 050 534 72 66 Daniil
icq: 283523844
Yalta
+38 068 498 43 42 Andrey
icq: 435175900
Organizer
Organizer
Misterika Family

with support

Northernpsylight Records (Norway) , Forest Wizards Records (Macedonia) ,
locktail Monks (Ukraine), Spirit Medicine promo (Ukraine), Y.K.I.L. (Ukraine),
Space Baby Records (Ukraine), Euphoria promo (Ukr)
Hotline
icq 322863239, call: +380972869116 Andrey, +380676310242 Oly
Added

12y 1m

· Update

12y

· 1 ·