Backend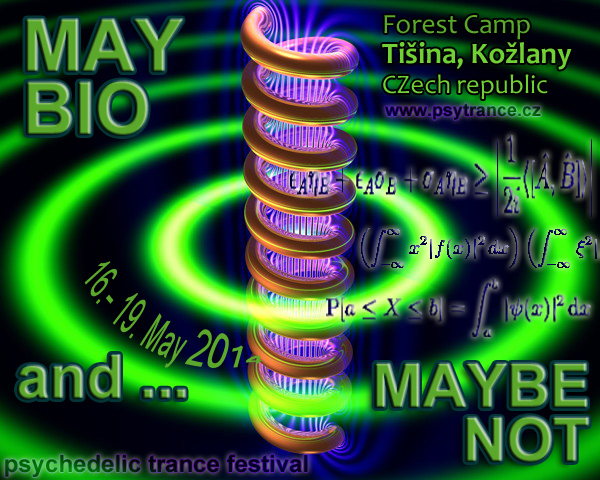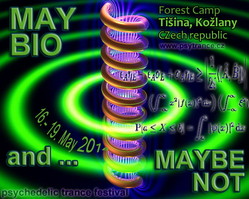 Live
Line Up
Schrödinger's cat and its 9 quantum entanglements (fuzzy logic bomb reality show), mabye namely TRANSDRIVER (Russia), DoHm (Lithuania), GappeQ (Parvati, CZ), SATO-SAN TO acid jazz live, etc, etc... in good taste we trust:)
DJs
Quality blend of many random audioparticles, whose position and momentum may be detected only on spot:)
Chill
Carefully cultivated positive vibrance healing area with an accent to originl live projects and tribal instruments
Deco
Deco
Thematic, UV active as well as pasive, creative&interactive, lots of clever laser/video installations, an emphasize given to the DIY-scented gadgets...
Info
Original op-art flyer (hand work by Coltcha) to be found here:
[acidpaper.cz]
Bio festival gathers people via personal recommendations which proved to work over the past decade quite well indeed:)
After a technical pause in 2013 we resume the 12 year tradition of BIO festivals held in the deep forests some 70km west from Prague. Its content is yet to be evolved but it will be pleasantly uncertain for sure until it becames surrealistically real.. All in line with the very popular past, check
AMOEBIO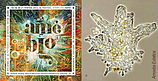 18 - 21 May '12 · Festival · Kožlany near Rakovnik (west of Prague), Czech Republic

Line Up:

IANUARIA (Pepinus Divinorum, Blue Hour Sounds Records, Austria) CELL (Cellula Gallica, ULTIMAE rec., France) ORLAK (Orla…Petrix (Petrix Carpaticum, Transcarpathia Arts, Ukrajina) Gyrro (Gyrus Spectralis, Spectral Sound FM, Slovensko) Kary (C…


Info:

11th year of traditional May gathering of all Czech and fine mixture of international psychedelic crowd amidst the deep…


Loc:

GPS/Loc: 50° 0' 20.3" N, 13° 33' 12.82" E The same…
Over:

10y 1m

·

4,785

· · Added by PerpleX
as a reminder... or just recall memories of Amoebio-Babion-Bibione-BioNebio-Möbio-Bios-Biolest-Bioles-Bioples-Bioplex or Plexus Solaris:)
Dont miss the opportunity this year, the Bio will now run only in 2 years cycle, e.g. next chance to experience it comes in 2016...
Best heuristic arguments for coming this year to be found here:
[google.com]
[google.com]
[eskanoizze.com]
[hypno.cz]
[rave.cz]
Location
Location
GPS/Loc: 50° 0' 20.3" N, 13° 33' 12.82" E
The same place as each year, e.g. the Forest camping site "Tišina" near Kožlany village, located between Rakovník and Kralovice, about 70km west from Prague and 30km north of PILSEN.
Driving: from Prague drive west dir. Karlovy Vary and turn left to Rakovnik after about 40 kms, from Rakovnik take the southern exit onto Pilsen and in Kožlany (after about 25km) take the right turn to Hradecko, after few bends turn right just before the simple railway crossing and follow white signs "Tisina" for another 3 kms mainly through the forest.
Coming by train please go to Rakovnik and change to one going to Kralovice. Get off at the small station in the forest called "Strachovice". Cross the rails and go down following the foot path crossing the brook from where the route will be (maybe) distinctively indicated with BIO signs.
From Pilsen drive north to Kralovice and then Kožlany where you turn left ards Hradecko. Then you will see the signs at the right just before the railway crossing.
Entry
Entry
20 EUR / 3 days, 14 EUR/day
Organizer
Organizer
Perplex and friends
Added

8y 5m

· Update

8y 1m

· 5 Parties ·

/ 15