Magic River People (Party camp)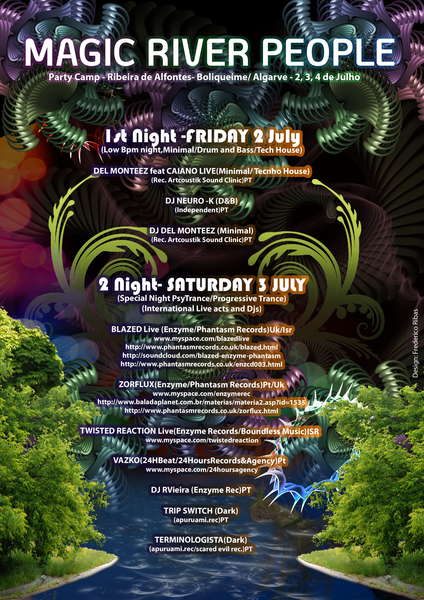 Line Up
TRANCE ROOM: LABEL PARTY-ENZYME/PHANTASM RECORDS(www.phantasmrecords.co.uk)
BLAZED LIVE (ZORFLUX VS TWISTED REACTION)ISR/UK
(Depois do 1'ALBUM "SEE DEEP INSIDE" apresentacao do 2 album RMxs e Colaboracoes )
[co.uk]
Em 2008 Zorflux & Twisted Reaction juntaram-se para criar o novo projeto Live chamado BLAZED. Som serio, cheio de groove,baixos fortes sempre com uma historia a contar em cada faxa.Psy Roots adaptado ao som atual que se faz hoje.
Ja com um Album completo prestes a ser lancado no fim de 2008@ENZYME Rec/PHANTASM rec, o poderoso projeto desta dupla esta trabalhando agora nos Rmxs de artistas como Eskimo, Horizon, Cycle Sphere, Alternative Control, Dual Core, Freaked Frequency, Bliss, Dickster,Dapanji, Menog e muito mais. Prepare-se para o BLAZED (explosao) de todos os seus sentidos com esse novo e original som psycodelic groove full on power!!
[myspace.com]
[co.uk]
[co.uk]
soundcloud
[com.br]
... ENJOY THE RIDE...LETS ROCK!!
[arabesquedistribution.com]
[facebook.com]
[psyshop.com]
youtube
BLAZED(RMX)-Eskimo Party pooper Mais Links de videos@facebook comunidade BLAZED
Mais Links de videos@facebook comunidade BLAZE
[facebook.com]
ZORFLUX (BLAZED/HORIZON (with Eskimo)-[PHANTASM/ENZYME RECORDS}Pt/UK
Vasco (ZORFLUX) ja exerce a atividade de Dj a mais de 15 anos, tocando e fazendo varias tours internacionalmente, tendo passado pelos mais importantes pontos do circuito mundial (Mexico, Japao, Brasil, Uk, Portugal,Franca, Grecia...)
Com a sua Base em Brighton,UK, ele tem vindo a promover e a tocar pelo mundo representando os selos da Phantasm Records UK e a Sub Label Enzyme Records UK do qual e dono e manager artistico. Dj, e, Live act com o nome de HORIZON com Eskimo, editou varias faixas em gravadoras como Transient Rec, Spun Rec, Millenium Rec, Phantasm Rec, e finalmente Enzyme Records Sub gravadora da Phantasm Records dirigida por ele.
Desde o ano 2000, 3 compilacoes realizadas, 1@Sphere records (2001), 2@Enzyme Records, compiladas e produzidas por Dj Zorflux incluindo artistas como, Bizzare Contact, Eskimo, Xerox & Illumination, Alternative Control, Freaked Frequency, 22o volts, Cosmosis, Mindfield, Dynamic, Jumanji. Colaborando em projetos ao vivo como Horizon (com Eskimo), Cycle Sphere, Safi Connection, Ital, Mukunga Umbura e finalmente o novo projeto com Twisted Reaction, BLAZED.
[myspace.com]
[com.br]
(entrevista balada planet)
[co.uk]
TWISTED REACTION (LIVE) (ENZYME RECORDS ISRAEL/BOUNDLESS MUSIC)
Com 2 albuns e 14 faixas editadas em compilacoes com labels como: Enzyme Records, Planet BEN, Sigma Productions, Enigma Sound, Medusa Rec, Shivlink Rec e muitas mais... Nascido na Lituania, modou-se para viver em Israel a 10 anos atras,estando envolvido com a producao musical desde os seus 12 anos, em que conheceu a musica eletronica. Vindo sempre experimentando suas ideias ate que aos 18 anos resolveu construir seu proprio estudio profissional e desde ai tem se dedicado 100% ate que seu projeto TWISTED REACTION foi lancado.
O seu estilo sempre foi noturno ate que se juntou ao time Enzyme Records (sendo seu representante em Israel), em que transitou para um novo projeto em parceria com Zorflux de psycodelico full-on groove chamado BLAZED.
[myspace.com]
PISTA ALTERNATIVA (LOW BPM PROJETO)
Dj VAZKO (24HoursRecords/Agency/Royal Soul Rec) Pt/UK
ZORFLUX aka VAZKO (LABEL MANAGER & DJ) da gravadora 24 Hours Records (www.myspace.com/24hoursrecords) de Minimal House/Minimal Techno e vertentes, VazKO apresenta em seus sets nas variadas festas e festivais a volta do mundo, o trabalho dos principais artistas desta nova record label nacional sendo o agenciamento pela 24HOURS Agency (www.myspace.com/24hoursagency)... Poderao contar com um set bem Funky viajando pelos mais diversos estilos de tech house,minimal,funky house,nu grooves and nu funk!
Bastante groove e linhas de baixo fortissimas evoluindo sempre nas tendencias mais tribais e latinas!! ate ao som mais progressivo ...
VAZKO assinou recentemente pela ROYAL SOUL Records(baseada no Brasil), que promove e toca uns sets mais alternativos ideais para uma abertura de noite!! NU GROOVES & NU FUNK, party time music!! e mais uma vertente que este versatil dj nos pode deliciar!!Check the Funk out!
[myspace.com]
[myspace.com]
(Electronica(Tech House/Minimal House and Progressive)
[myspace.com]
soundcloud
(NUGROOVE & FUNK)
1st Night -FRIDAY 2 July
(Low Bpm night,Minimal/Drum and Bass/Tech House)
DEL MONTEEZ feat CAIANO LIVE(Minimal/ Tecnho House)
(Rec. Artcoustik Sound Clinic)PT
DJ NEURO -K (D&B)
(Independent)PT
DJ DEL MONTEEZ (Minimal)
(Rec. Artcoustik Sound Clinic)PT
2 Night- SATURDAY 3 JULY
(Special Night PsyTrance/Progressive Trance)
(International Live acts and Djs)
BLAZED Live ((Enzyme/Phantasm Records)Uk/Isr
[myspace.com]
[co.uk]
soundcloud
[co.uk]
ZORFLUX(Enzyme/Phantasm Records)Pt/Uk
[myspace.com]
[com.br]
[co.uk]
TWISTED REACTION Live(Enzyme Records/Boundless Music)ISR
[myspace.com]
VAZKO(24HBeat/24HoursRecords&Agency)Pt
[myspace.com]
DJ RVieira (Enzyme Rec)PT
TRIP SWITCH (Dark)
(apuruami.rec)PT
TERMINOLOGISTA(Dark)
(apuruami.rec/scared evil rec.)PT
Deco
Deco
Decor "Hippie freaky" :P
Info
Olá a todos,
Mais uma festinha de 3 dias para amigos na ribeira, com muita água e sol…. Quero vos informar que se trata de um acampamento livre, mas com o espaço preparado para que não vos falte nada….para isso foi criado uma zona camping vedada para quem queira levar os filhotes, teremos decor, bar, chai shop, zona chill & grill e muita música…..da vossa parte levem a boa energia =) o essencial para acampar (excluam os VIDROS e ANIMAIS) e quanto ao grill será colectivo ( tragam comida e carvão)………e sempre uma especial atenção…..NÃO DEIXAR LIXO……….

Peço a quem queira participar no acampamento pelos 3 dias uma contribuição de 5€ para a gasolina dos 2 geradores, quem nos queira visitar no sábado á noite que será uma noite especial pedimos o donativo de 3€ para os artistas(djs)……


=) Obrigada a todos e conto com a vossa presença……

E TRAGAM FATO DE BANHO!!!!!!






Hello EVERYONE,

ONE MORE party for 3 days to friends in the river, with plenty of water and sun .... I want to inform you that this is a free camp, but with the space prepared . or that you will not miss anything. ... For this was created a fenced camping area for those who wish to take the childrens, we have decor, bar, chai shop, chill & zone grill and lots of music ... .. from you take good energy =) the essentials for camping (and exclude the GLASS & ANIMALS) and grill on the collective will (bring food and charcoal) ... ... ... and always pay special attention ... .. DO NOT LEAVE GARBAGE ... ... ....

I warning anyone who wants to participate in the camp for three days a contribution of € 5 for gasoline for two generators, who want to visit us on Saturday night will be a special night we ask for donation of € 3 for artists (DJs) ... ...


=) Thank you all and I count on your presence ... ...

And bring swimwear !!!!!!
Location
Location
Ribeira de Alfontes - Boliqueime

Na A22 saída 11 Boliqueime, seguir 200m e virar a direita, direcção a Loulé, seguir em frente(passando por cima da autoestrada) e depois virar á esquerda sentido Campina/Tenoca. Passar a Bomba da gasolina da Petrofer e seguir até Alfontes (largo com um poço). Aí virar á esquerda para Boliqueime,a menos de 1 Km há um café á direita e um sinal a dizer Parreira, virar aí para Parreira.Seguir em frente (a subir) cerca de 500 m, está uma placa branca com fitas do lado esquerdo, virar aí para o caminho de terra batida do lado esquerdo.Seguir as fitas (3 Km) até á festa.....Good Trip =)=)
Added

10y 9m

· Update

10y 9m

· 1 ·