Backend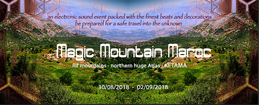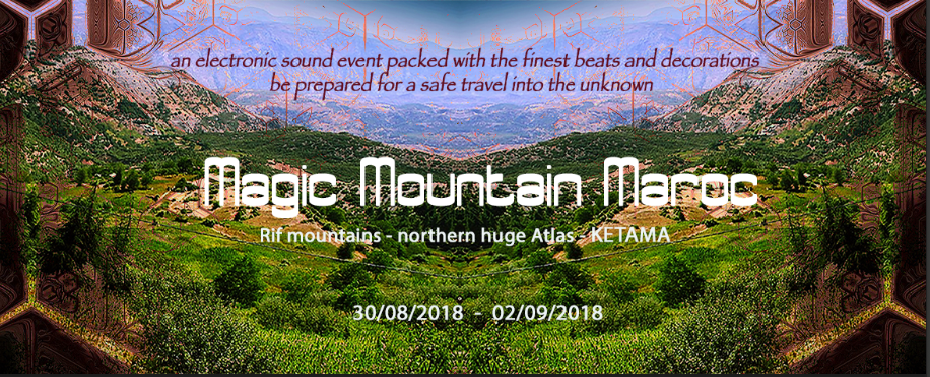 Line Up
PsyGogh
Amsterdam, Netherlands
- Monkey Forest Records

BUDDHA ॐ
Osnabrück, Germany
- Dirty Records

Ankie Shivanki
Rotterdam, Netherlands
- Independent

Mystic Anima
Morocco
- Independent

Samaya
Amsterdam, Netherlands
- Shivelight

Bloph Jahbless
Tunis, Tunesia
- Sweet Dreams Records

Psy Whispering
Horgen, Switzerland
- Loomynum Art Club

Flowducer
Berlin, Germany
- Lucy Hofmann Tribe

Yakira ॐ
Gütersloh, Germany
- Another Reality

Twenty4Hour
Osnabrück, Germany
- 7SD Recording

Achille Sehne
Salé, Morocco
- Visionary Shamaniacs

Booya Atman
Rabat, Morocco
- Magus Nexus

Voldeemort
Rabat, Morocco
- Murky Marduk Crew

Sko Motion
Casablanca, Morocco
- Murky Marduk Crew

more TBA
Info
The Magic Mountain Festival will be an electronic sound event packed with finest beats and decorations - soul food for all senses. Be invited to a safe travel into the unknown.

Multi Floors * Garden Chill * Oriental Chai House * Pools

Situated in the Rif mountains, the northern part of the huge Atlas, you find the Tidghine Hotel complex. Right in the middle of Issaguen and Ketama which together build the region of Ketama in the district Al Hoceima. The region is also known for weed farming and best agricultural products.

Life in the mountains often means to struggle with the income, on the other hand it is much more original and pure than in the big cities. All organisational aspects include the intention to give locals the possibility of participation with some fruitful results.

This trip will give you the opportunity to see stunning landscapes, get a glimpse of the Berber culture, to visit a plantation and so maybe fulfill a dream you already have had for a long time. All this fully safe and guided from the beginning on. You will stay at a well organised, huge hotel complex built in the 70ies under protection of King Hassan ll himself. It has the charme of a Sleeping Beauty in the mountains. Waiting for us to bring some life and joy.

The event can be regarded as an adventurous retreat with lots of possibilities to chill and relax – for example while doing some yoga or having an ayurvedic massage and on the other hand to dance your ass off and float away into the depth the universe of well chosen psychedelic sounds provides for you.

We also provide guided tours to farming sites and for the fittest there will be the possibility to book a trekking tour to the Tidghine mountain, which is the highest mountain in the Rif with 2460 meters.

Stay tuned for further information!

ॐ LIGHT & LOVE ॐ
C U
Location
The Festival takes place in a huge hotel complex and its surrounding area in Issaguen in the region of Ketama.

The hotel has a unique soul where details and harmony are the key words. It is a place where the vegetal world and the mineral world mix to give birth to a space in perfect osmosis with its natural environment

Nestled in the mountainous trails of the Rif, at the foot of Mount Tidghine, bordering the Mediterranean, you will be seduced by an exceptional region, which is still wild and unspoiled.
The hotel is located on an area of 15.000sqm, and it welcomes you in its stone and wood chalets on the edge of green pine trees.

The area is well known for its unspoiled nature and the traditional architecture.
The region of Tidghine has a climate of four seasons, the surrounding mountains are covered with snow until the end of June, which give an impressive landscape.
____________________________________
Sport, Recreation and Leisure
CALA IRIS Beach 55 km from the hotel. You can also get some fresh air on the beach at CALA IRIS or snuggle by the pool or on the terrace to share unique moments.

____________________________________
Nature and Meditation
A set designed for the perfect rest of the traveler, nice amount of comfort, design of cosy shabby chique and zen ambience.
Stroll through the green and aromatic garden, take full advantage of the moment of relaxation to read or to rest.
Entry fee
Entry fee
The presale will soon begin, all infos for prices and packages will be announced as soon as possible!
For pre registration visit us on facebook.
Added

4y 7m

· Update

4y 4m

· 1