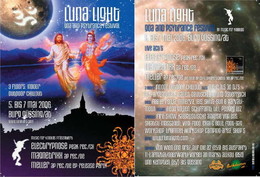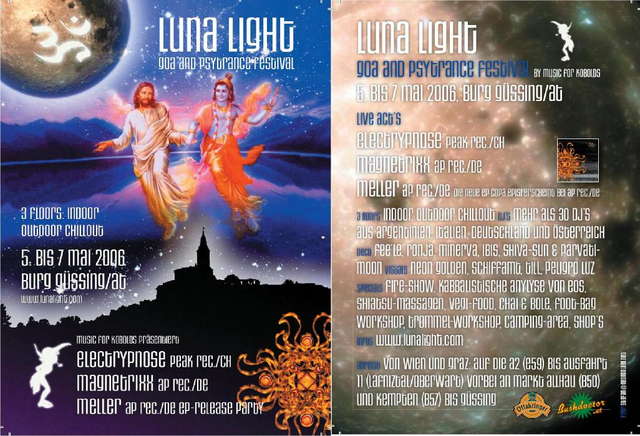 Live
Line Up
Meller (AP Records / DE) presenting their new EP
Electrypnose (Peak Records / CH)
Magnetrixx (AP Records / DE)
Main Floor:
Energizer (Music for Kobolds / Indigo Children / NÖ)
Firlefanz (Goa macht Glücklich / Vlbg.)
Gaukler (Music for Kobolds / Osttirol)
Goa.don (Music for Kobolds / Magicball Productions / Vie)
I-Drop (Argentinia)
IPPUK ( COCrew-Italy)
Kolibri (Goa macht Glücklich / Vlbg.)
Loki vom Wald (Nachtvolk / Vlbg.)
Mahakal (MIDA Records)
Oulu Boon (Nachtvolk / Vlbg.)
Paradox (dd.Con / Vie)
PinkPanther (Final Fantasy / Interzone-pa / Vie)
Ro-Tama (Interzone-Pa / Vie)
Sahaswarta (Klangzirkus Rec. / Vie)
Soth (Music for Kobolds / Vlbg)
Stephuno (Music for Kobolds / oö)
TomandTom ( COcrew-Italy)
T.w.S. (PsyTiger Team / DE)
Virus (MindEvolution / Nö)
Wolle (Music for Kobolds / Kärnten)

We're presenting Radi's Maoam Illusion !
Alternative Floor:
Live Das Naturhistorische Museum der Klänge
Live Rinus (NL)
Live Loading Zone vs. Missilez Ägainst Norm ( DE )

Teroknoar (Music for Kobolds / Vlbg)
Sonne (Music for Kobolds / OÖ)
Sinjah (Music for Kobolds / OÖ)
I.M.R. (MIDA Records / Vlbg)
Harri OM (spaceclub Osttirol)
Monee loves you (spaceclub Osttirol)
Narcos (lokal hero Osttirol)
G-HubIt vs Ysop (Soundcommunity)
Millenniumhippie
TIbor ( E- music)
soundraiser (A)
schlommo
Deco
Fee´le, Ronia, Paravati Moon & Shiva Sun, Minerva

Neon Golden
Schiffamt
Till ( logisch/CoCrew - IT )
Peligro Luz
Info
This is a Koboldbirthday !
Sorry, am Flyer ist uns ein kleiner Fehler bezüglich der Internetadresse unterlaufen. Die Adresse ist
[at.tt]
nicht .com - und es gibt jetzt auch
[lunalight.eu]
!!
Kabalistische Analyse by Eos Inspiration, Feuershow, Veganes und Vegetarisches Essen, Druidenshop, Chai by Sarvamangalam, Campingarea
MELLER aka Marco Scherer and Dj Mel represents a fusion of hard
rocking tribal trance and bold progressive sound. MELLER doesn't
follow typical standards of electronic dance music but reflects the
prefered styles of the producers in a rude mixture without frontiers
or puristic boundaries.
The MELLER liveset is programmed strictly for the dancefloor and
holds numerous psychedelic elements for brain stimulation as well
as a massive amount of energy.
Up to now MELLER played live on festivals in Japan, Spain, Italy,
Belgium, Austria, Switzerland, Germany and other countries.. But
they won't stop here! It's just the beginning..
Vince Le Barde, aka Electrypnose, grew up in a family deeply involved in classical music
for the last three generations. With music running through his veins and a passion for many
styles and sounds, he discovered Fruity Loops and began Electrypnose in the summer of 2001.
In the last few years he has released 12+ tracks through different labels, from intellitrance
(hard night & morning) to chillout & experimental beats. His first album, "Brain Stretching,"
was released in January 2005 on the online-based label, Resonantearth Records(
[resonantearth.com]
).
Since his first album release, Vince has been busy with two full-length albums in the works for 2006.
("Le Tireur de Ficelles" on Peak recs, released in february 06, and "Subliminal Melancholies" expected for
june 06 on Ajana recs) The first will be released by Peak Records, showcasing a dark, hard psytrance musical style.
The second release will feature chillout and experimental beats on Ajana Records. Along with Baphomet Engine (Brazil), Dejan (France), Shenz (France), Zapata (Switzerland) and DJ Ayash (Portugal), he has recently formed Kabrathor Records for the pure joy of releasing compilations with friends.
For more information, visit
[electrypnose.ch]
Magnetrixx is Stefan Lewin from Cologne, Germany.
The musical development of Stefan Lewin extends over more than 10 years now.
He started to play piano for a year when he was nine years old , after that he already started to
explore the more electronical ways of music. Since 1995 the project "magnetrixx"
exists and is continously progressing.
Busverbindungen :
Von Graz: ( nur eine direkte Verbindung):
andreas hofer platz - Güssinger Postamt
17:30-19:30
Bus Nr. 470
Es gibt noch mehr Verbindungen, diese sind jedoch mit Umsteigen Verbunden, und dauern sehr lange.
Von Wien:
Alle Busse ausgehend von der Friedrichstraße- Güssinger Postamt
11:00-13:45
12:15-14:45
12:45-14:55
13 :15-15:45
13:45-16:15
14:15-16:45
14:45-17:15
15:15-17:45
16:15-18:45
16:45-19:15
17:15-19:20
18:15-20:40
19:15-21:35
20:15-22:35
die busse fahren in richtung: Loipersdorf b. Fürstenfeld Therme
Güssing Postamt
Boinsdorf Grenze
Heiligenkreuz im Lafnitztal Postamt
Dies sind alles Richtungen die als Fahrtziel auf den Bussen angegeben sein können. ( alle Angaben von
[oebb.at]
)
Location
Burg Güssing,
80km from Graz, 150 km from Vienna

Routeplan on the website !

Liebe Freunde, passt bitte auf Radar .... und ähnliches ... auf !!
Entry fee
Entry fee
1 day 15 €
2 days 23 €
Organizer
Organizer
Music for Kobolds
Added

17y 1m

· Update

16y 10m

·

/ 111