Backend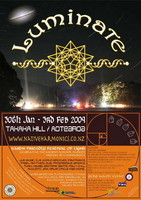 Live
Line Up
Adham Shaikh (Canada), Bluetech (USA), Paddy Free (of Pitch Black, NZ), Loopus In Fabula (Italy), Tom Cosm (NZ), Tribalistic Society (Denmark), Grouch (NZ), Psyzaak (NZ), Yeshe & the World Citizens (Australia), Organiksmness (NZ), Schille.M (NZ), Mamaku Project (NZ), Diwata (NZ), and more TBA...
DJs
Wizdumb (Cosmic Conspiracy Recs, NZ), Maia (Organic Recs UK/ Native Harmonics NZ), Evil (Bassweight Recs NZ), Bes (Domo Recs), Aunty Ethol, Biggins, Dr Firewood, and more TBA...
Deco
Deco
All Art, decor and installations are made from recycled, sustainable and natural materials.
Info
Luminate is an Earth friendly festival of music, dance, art, creativity and sustainability.
Five days of cranking world class Psychedelic music from New Zealand and overseas artists - Psytrance, Progressive, Full on, Minimal, World Grooves, Breaks, Dub, Dub Step, Chill out, Psybient and more...
Inspirational Workshops, enlightening movies & documentaries, healing zone, tribal drum circle, flamingjugglepoitoyzone with fire performers & circus skills, organic food & refreshments, fair trade coffee and chai, spacious camping, solar showers, eco loos, market stalls, arts & crafts.....plus 2 zones of Live acts, Producers, DJs, VJs, and live music with a world grooves flavour....all set in a breathtaking environment 2000 ft on top of a quartz crystal mountain surrounded by native forest, in a stunningly beautiful New Zealand location.
Join us to celebrate the ancient summer harvest festival of Lughnasadgh, mid way between the solstice and equinox.
Luminate is an authentic zero waste event: there will be no rubbish bins or recycling on site. Be prepared to pack out what you bring in and leave no trace.
There will be a composting area for biodegradables.
Zero waste means that food and drink stalls will be serving refreshments into ceramics or direct to your own plate or cup, (remember to bring your own utensils too!).
Spacious camping, family friendly, non-alcohol. Children under 12 gain free admission.
The Native zone: laid out according to sacred geometry, is an energised dance floor for all to connect with our inner magik, our higher self, and our oneness with all that is. The carefully tuned Sacral Sound system will ensure your chakras are resonating with sparkley vibrationz.
Sustainable art, organic visuals from top VJs and creative lighting will resonate in harmony with the natural awe-inspiring landscape of this powerful site.
The Harmonic Zone: also aligned with sacred geometry, is a place to chill out or dance to lushious downbeat grooves.
Check out the web site for Line up details.
Tribal acoustic jam zone: A place to get truly creative and musically spontaneous. Bring your drums, percussion, other instruments and join in the tribal groove around the fire.
Workshops: cover a range of topics such as Permaculture, Dance and movement, Flax weaving, Poi, Sacred Geometry, the Mayan calendar, Chi Gong, Yoga, Meditation, Healing techniques, Music, Drumming and Didgeridoo, Indymedia, Belly Dancing, and more…
The Flaming Jugglepoitoy zone: offers a daily programme of circus skills suitable for kids and adults. Pick up a juggling ball, club, poi, staff, devil stick, diabolo, hoola-hoop etc. spin it, drop it, throw it, dance with it… simply give it a go. Workshops and the space to practice are one of the creative outlets Luminate offers to nurture that process for opening up to what we can learn, share and enjoy. Renegade shows are planned towards the end of the festival – make sure to sign up and show your new skills!
The Healing Zone: a sanctuary of massage and alternative holistic therapies.
(All ticket prices include admission to the festival, five days camping, access to amenities and entry to all workshops).
Luminate: to spread light, elevate spiritual consciousness, put a smile on your face.
[co.nz]
[myspace.com]
Location
Location
Canaan Downs, Takaka Hill, Golden Bay, Nelson, New Zealand.
Entry
Entry
Early Bird Tickets: (prices are in New Zealand dollars)
$85 until 13th Nov.
$105 until 21st Dec.
$125 full price Pre sales (a booking fee may apply). $150 dollars Gate sales.
this equals = E40, 48, or 57 Euros pre sales. 68 Euros on the Gate.
Tickets are available on-line from
[co.nz]
Organizer
Organizer
Native Harmonics
Added

13y 7m

· Update

13y 5m

· 4 Parties ·

/ 1