Backend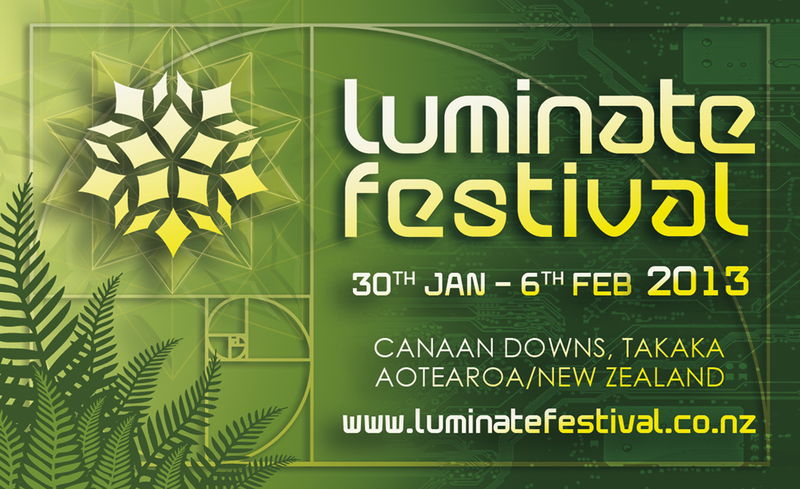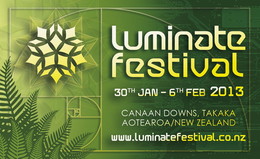 Line Up
Line Up
Psytrance, Progressive, Minimal Tech, House, Glitch, Dubstep, Ambient, Dub, Breaks, Chill Out, plus a range of live music from World Grooves, Gypsy, Celtic, Esoteric beats and more...
Info
Luminate Festival, New Zealand - home to hobbits and chilled out friendly folk. Follow the sun to the south pacific for a taste of psychedelic partying in paradise.....
The music at Luminate includes Psytrance, Progressive, Minimal Psy, Minimal Tech, Ambient, Dub, Breaks, House, Glitch, Dubstep, Chill Out, plus a range of live music from World Grooves, Gypsy, Celtic, Reggae, Esoteric beats and more...
Luminate is an earth-friendly festival of music, dance, art and culture with a focus on environmental sustainability, intentional community, knowledge sharing, creativity and inspiration. With a solid reputation for delivering a stunning line up of international and new zealand artists, offering a broad diversity of live & electronic genres, all with a psychedelic flavour, its safe to say that music, dance and trance are important features of the atmosphere at Luminate. However the vision for Luminate runs even deeper and manifests as an incredible range of activities on offer throughout the eight days, to stimulate your chakras and evolve your consciousness - a truely diverse festival experience for all ages.
Workshops include permaculture, alternative energy, yoga, african drumming, quantum science, sacred geometry, dance & movement, holistic health, creative arts, music production, reflexology, harakeke, mayan calendar, and lots more. The dedicated Juggle-Poi-Toy zone hosts sessions on everything from juggling, poi, hula hoops, stilts, slackline, staff, diablo and fire performance. There's heaps of other activities for the kids too including games, storytelling and crafts. At night you can find a range of enlightening movies & docos.
The Healing Hub offers massage, reiki and a range of alternative therapies & workshops. The Tribal zone hosts acoustic drumming & native instruments in a wonderland of organic sculpture and much barefoot dancing around the fire. The Buskers stage is a place for anyone to perform and be entertaining.
Browse the market for hand made arts & crafts, relax with a coffee or chai, and sample a wide range of delicious meals and treats of global cuisine, mostly vegetarian and organic.
Luminate has developed a number of unique environmental initiatives which aim to inspire people to take responsibility for the reality we are all co-creating.
Luminate's bold decision to have no rubbish bins or recycling, and instead create an ethos of "be prepared to pack out what you bring in and leave no trace" has been a terrific success every year. Festival participants are encouraged to bring your own plates and cups, and things are made easy with public dishwashing facilities and composting.
Aside from the wide range of features on offer at Luminate, the land itself at Canaan Downs is stunning, with spacious camping in 200 acres of pristine native bush and pasture, with quartz, limestone and marble outcrops, 2000 ft up Takaka hill. A haven for Lord of the Rings & Hobbit fans. Bring bikes to explore the festival site, and for the more adventurous there are several mountain bike tracks on neighbouring land, some of the best in new zealand.
Timed to synchronise with the ancient seasonal festival of Lughnasadgh, Luminate falls midway between the summer solstice and autumn equinox, when our ancestors would give thanks to the earth mother for the abundance of the food harvest.
More information on the festival can be found at
[co.nz]
and in the Facebook community
[facebook.com]
Location
Location
Canaan Downs, Takaka Hill, Golden Bay, Nelson, New Zealand
Entry
Entry
Early Birds 115 euro, Standard 145 euro
Organizer
Organizer
Luminate Festival Trust
Added

9y 10m

· Update

9y 10m

· 4 Parties ·

/ 1