Backend
Love and Trance Festival 2022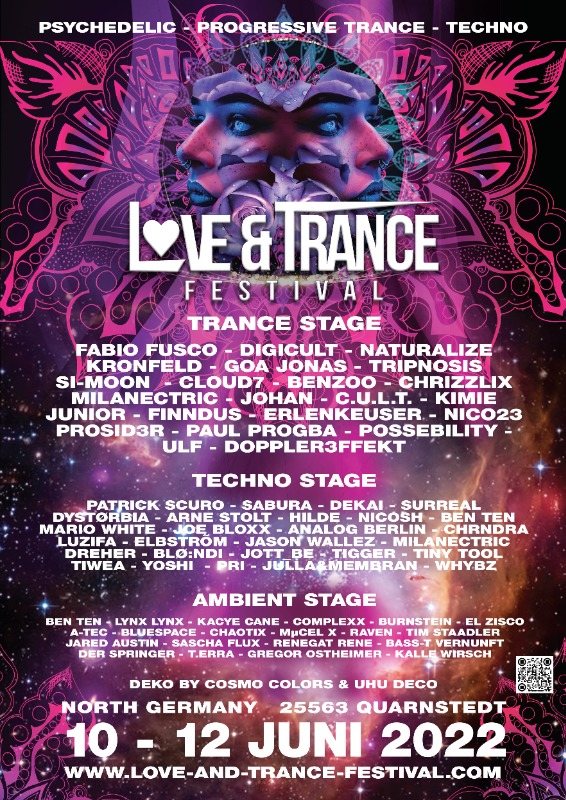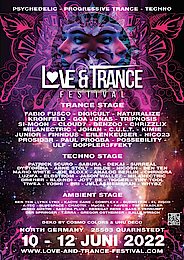 Info
🇬🇧 ENGLISH VERSION BELOW 🇬🇧

Was wären wir ohne die Liebe?
Das Einzige, was im Leben wirklich zählt, immer gezählt hat…
Wir bewahren Sie uns, frei von Ängsten und Sorgen, für alle Zeit.
Folge der Einladung des Lebens und werde Teil eines wunderschönen Wiedersehens,
mit grenzenloser Freiheit, Glück und Tanz.
Feiere mit uns die Geschenke des Lebens, denn allein dafür bist du hier.
Eine Auszeit für die Seele, unbeschwert und frei.
Zum allerersten Mal feiern wir mit dir die Liebe zum Leben auf unserem kleinen schönen Fleckchen Land in Quarnstedt bei Bad Bramstedt. Umgeben von saftigen Wiesen, Windmühlen und Natur erwarten dich 3 Tage und 2 Nächte voller Wunder. Über 50 DJs und Künstler teleportieren dich auf 2 Stages in das Paralleluniversum, nach dem du dich so lange gesehnt hast.
Darüber hinaus warten eine einladende Chillarea, faszinierende Fabelwesen und zahlreiche Shops und Köstlichkeiten aus der Region darauf, von dir entdeckt zu werden.

"Just Love and Trance – the only things we ever need."

🇬🇧 FOR OUR INTERNATIONAL FRIENDS 🇬🇧
What would we be without love?
The only thing that really counts in life, and the only one that always counted...
We keep it, free from fears and worries, for all time.
Follow the invitation of life and be part of the beautiful reunion,
full of boundless happiness, freedom and dance.
Celebrate with us the gifts of life, because for that alone you are here.
A time out for the soul, unworried and free.
For the very first time, we celebrate the love for life with you on our beautiful little patch of land in Quarnstedt near Bad Bramstedt. Surrounded by lush meadows, windmills and nature, 3 days and 2 nights full of wonder await you. Over 50 DJs and artists will teleport you on 2 stages into the parallel universe you have been craving for so long.
In addition, an inviting chill base, fascinating mythical creatures and numerous stores and delicacies from the region are waiting to be discovered by you.

"Just Love and Trance - the only things we ever need."
Location
Location
Windpark Quarnstedt
25563 Quarnstedt
Germany
Entry
Entry
🐣 frühe Vögel / Early Bird: 54,90 € SOLD OUT
🐁 Rennmäuse / Gerbils: 59,90 € SOLD OUT
🐢 Schildkröten / Turtles: 64,90 €
🦥 Faultiere / Sloths: 69,90 €
🦉 Nachteulen (Abendkasse) / Night Owls (Box office): 80,-€

🚗 Carpass : 10,- € VVK
🚗 Carpass : 15,- € vor Ort
🚮 Müllgebühr / Garbage fee: + 5 € vor Ort
Organizer
Organizer
LuF & Liebe Events Briese & Koß GbR
Schulstr. 21
25563 Quarnstedt
From
LoveAndTranceFestival ·
1,986
Added

6m 18d

· Update

3m 11d

· 1