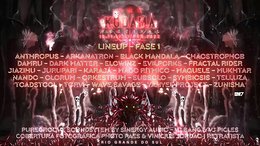 Line Up
Line Up
Anthropus - Arkanatron - Black Mandala - Chaostrophob - Damru - Dark Matter - Elowinz - Evilporks- Fractal Rider - Jiazihu - Jurupari - Karajá - Mago Rítmico - Maquele - Mukthar - Nando - Olorum - Orkestrum - Subsolo - Symbiosis - Telluza- Toadstool - Torvi - Wave Savage - Yahyel Project - Zunisha - Much more soon...
Info
Info
Our first meeting was two years ago...

A process of renewal and reflection began across the planet and after this long wait, our next meeting is approaching to celebrate the evolution that our society hopes to have achieved.

Be part of this history, the second edition of the Kodama Festival is already scheduled to celebrate freedom and consolidate the ideals that we all hope for the next cycle of evolution that begins.

See you on the dance floor, again.
Entry
Entry
A special call to travelers from all over the world who want to be a part of our celebration, secure your ticket at a very special price!
You have to show your passport at the gate.