Karneval der Alternativen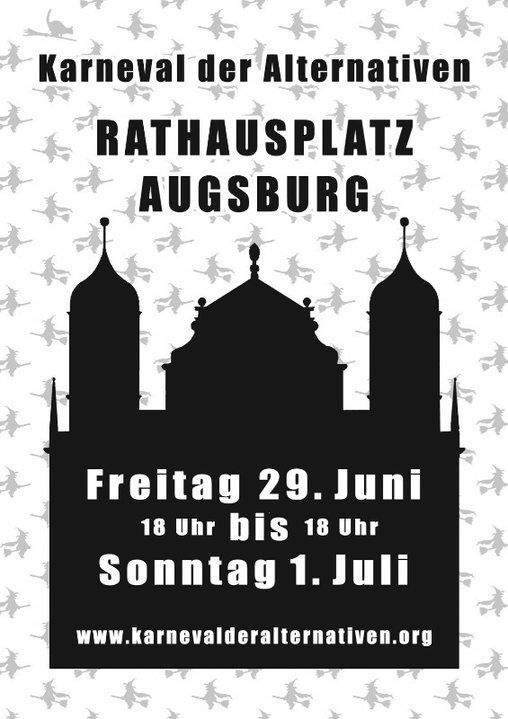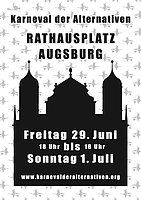 Line Up
Line Up
Electro, Trance, Techno, Acid, Goa, Dub
DJ Blackbeard (Bln, HH) & Special Guests
Info
Info
Aufruf zum Karneval der Alternativen
Freitag 29.6.18 AUGSBURG 18 Uhr bis Sonntag 1.7.18 um 18 Uhr

Ende Juni plant die AfD ihren Bundesparteitag in Augsburg. Sie ist die erfolgreichste Nazipartei seit der NSDAP. Es wird Zeit, dass wir mit demokratischen Mitteln offen und entschlossen der AfD entgegentreten. Die "IG Karneval der Alternativen" hat angekündigt, dass sie nach Augsburg zu einer riesigen Party der "Solidarität gegen Hass" einlädt. Zu der Open-Air-Party werden Raver aus ganz Deutschland und den anliegenden Ländern erwartet.
Location
Location
Augsburg - Starts Friday 6pm in Front of CityHall with the KdA-Soundsystem "Berlin vibes" ...
Saturday Protestparty from 9am till night - than different locations all over the city. Sunday more parties ...
Entry
Entry
no entrance, donations
Organizer
Organizer
IG Karneval der Alternativen
Elisenstraße 1
86159 Augsburg
Added

3y 3m

· Update

3y 2m

· 1