Backend
Kala Yatra - Sri Lanka - 2022 - Open Air Festival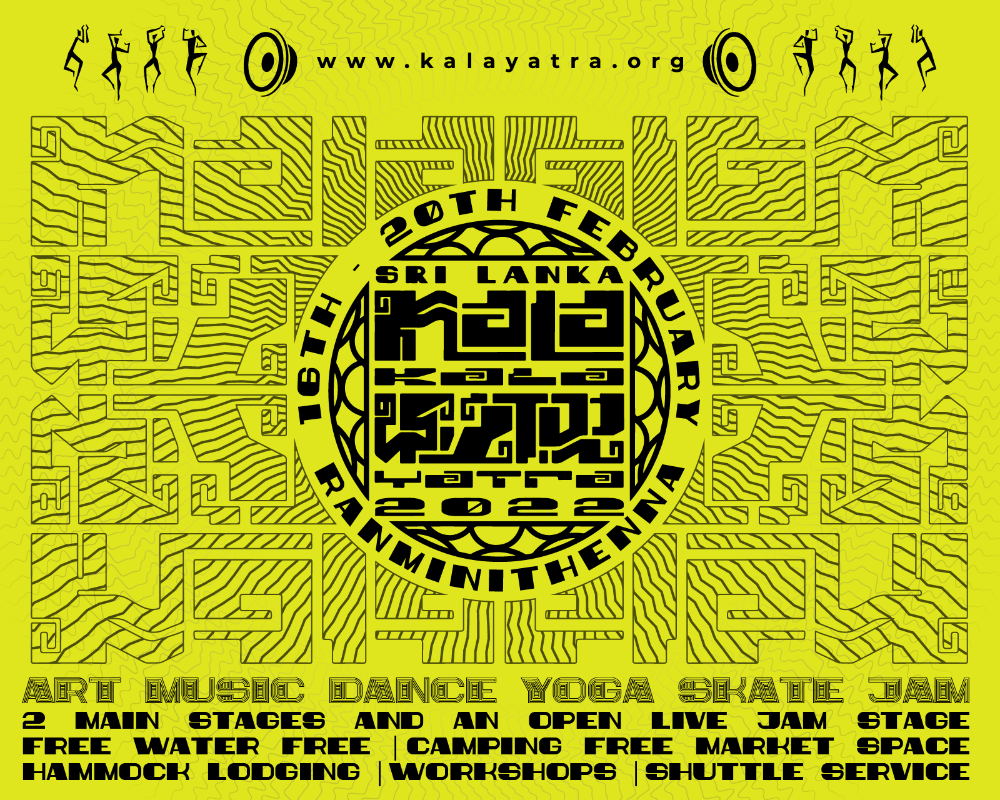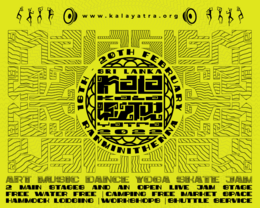 Line Up
T.D.C. (Tropical Dub Connection – Czech)
Ganapati (Ovnimoon Records/Shanthi Tree Tribe – Sri Lanka)
Jungletreepro (Jungletreepro – Russia/Ukraine)
Occultek (Dream Crew Records/Trisulam Tribe - India) ·
Critical Contents (Drumfabrik – Austria)
Psymask (Valu Records/Shanthi Tree Tribe – Sri Lanka) ·
Moonshiner (Psychedelic City – Germany)
Sonic Moon (India)
Gada (Shanthi Tree Tribe – Sri Lanka)
Dj Forest (Ukraine)
Kimo (USA)
Storyteller (Melancholy/Progsex/Shanti Tree Tribe – Sri Lanka)
Mo.Me (Germany)
Migara (Stellar Fountain – Sri Lanka)
A.R.M.(Agni Rebel Music – Sri Lanka)
Riker Striker (Drauf & Drang- Germany)
Earphonic (KF Records & Let It Prog Records - Switzerland)
Shabdalogy (Shanti Tree Tribe – Sri Lanka)
Bobby Horizon (Love-Eve-Repeat - Germany)
Datha (Music Planet - Sri Lanka)

Yakwrath (Valu Records – Maldives)
Toxic Twins (Valu Records – Maldives)
In Dissonance with Anicca (Valu Records – Australia/Sri Lanka)
Dany (Valu Records/Shanthi Tree Tribe – Sri Lanka)
Chamath/Fractal Canonique (Shanthi Tree Tribe – Sri Lanka)
Audiosynthesis (Trisulam Tribe – India)
Dreams Catcher (Dark on Urnall Records - India)
Rasha (Shanti Tree Tribe – Sri Lanka)
Gaara (Shnati Tree Tribe / Village Vibes – Sri Lanka)
Liduidate (Audioshift – india)
GammState(Mind Instrument Music - India)
Digital maya psychedelic therapy (Sri Lanka)
Earphonic (KF Records & Let It Prog Records - Switzerland)
Ashen Urban Life - Sridelic Projects - (Jatadharya Records – India)
Kosala (Village Vibes – Sri Lanka)
Anicca (Valu Records - Australia)
Dissonance (Valu Records - Australia)
Okklumentim (Kapala Records - Germany)
Info
Info
Kala Yatra festival presented by Kala Yatra Project is the initiative of a group of Art & Music enthusiasts who have been organizing and managing underground outdoor events targeting music lovers undefined by colour, race, religion, genre, and even age. After several successful events, the crew decided to expand the community by opening it to the public. 2022 is the first year of Kala Yatra as a public festival.

- 2 Main Stages (1 Urban stage and 1 Village stage and Open stage for live music.
- Free water
- Free camping
- Free market space with arts & crafts international artist with their exhibits and shop
- Hammock lodging space
- Yoga and Crafts workshops.
- Shuttle service from Kandy / Ella / Colombo / Galle / Matara / Tangalle.
Location
Location
Ranminithenna Tele Cinema Village
Organizer
Organizer
KAITP INTERNATIONAL & MRNTCP