Hypnoza Festival-Dance for Global Peace,,,!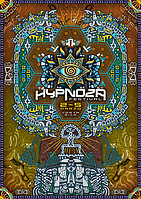 Info
Hypnoza Festival is a project which was created in 2009 by a group of travelers that after some time of exploring, fell in love with an amazing paradise located in the heart of Latin America, Costa Rica.

We collaborate with artists and friends all over the world, which are happy to share ideas and support the project.

Therefore becoming a beautiful family, united for our love to music, art, nature and cultural exchange.

Costa Rica is a very special location, full of high energies and constant transformation.

The country is result of a complex volcanic activity as part of the Pacific ''Ring of Fire", which makes it an incredible paradise. With only 0.25% of the world's landmass, it contains 5% of the world's biodiversity.

A place of ever-changing natural scenes and climates. Full of life, movement, peace and positive vibe that flows through the air and the people of this beautiful land, added to our joy for trance music and culture, was our inspiration for creating this project. Our desire is to gather people from all over the world, as well as from the local scene, to enjoy and share what make us one worldwide family; trance music, art, nature, peace and freedom.

We welcome you all to an amazing experience, performing some of the best artists from all around the world and from the local scene. Breathtaking natural scenery, and the most beautiful vibe people from all around the globe.

Pura Vida!

Line UP ! Is never close.
Entry fee
Entry fee
65$ US- EARLY BIRD

75$ US-LATE BIRD

85$ US GATE !!!
Added

3y 24d

· Update

2y 10m

· 1 ·