Backend
Holi Full-moon Celebration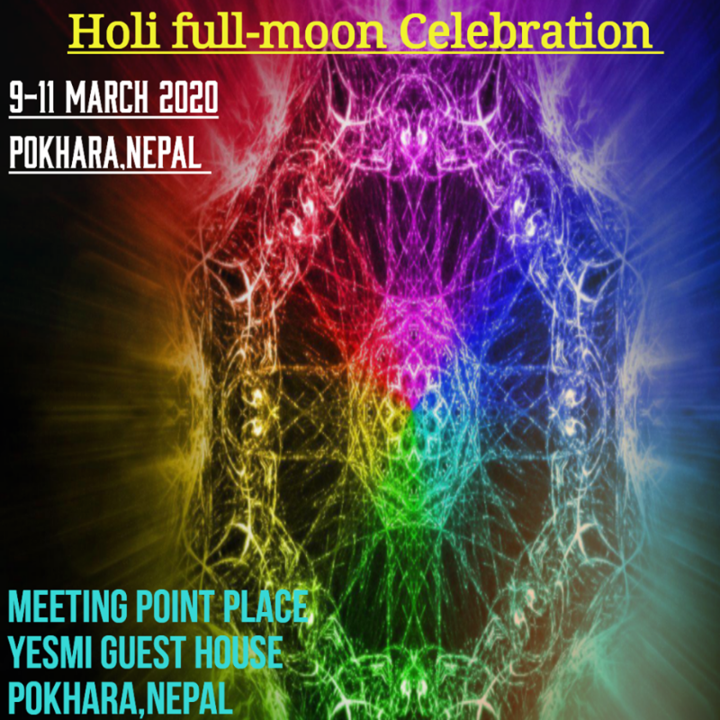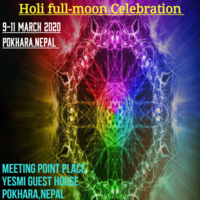 Line Up
# MonsunPro Unlimited
No Nation Productions (DJ)
Bremgarten AG, Switzerland
soundcloud
David Buster
Squamata Records
Ravensburg, Germany
Sonolumineszenz Rec.
DJ · Ravensburg, Germany
[squamatarecords.com]
Bom Pom (Digital Nomad Records) Np
soundcloud
#Cactus Bluelights Records /NPL
soundcloud
#Shiva_Tandav Bluelights Records /NPL/ UEV-Tribe
soundcloud
Fabian (flucc)
soundcloud
Baba Delic AcidManiaC.Rec UEV-Tribe (NP)
[youtube.com]
Ghising (#DarkPsy) UEV-Tribe (NP)
soundcloud
#Psy Ram 🕉 Shanti-Tribe (NP)
soundcloud
Dzay Bkash Ozone Premium Club Crew (NP)
[facebook.com]
Line Up is incomplete and will be posted soon
Deco
-Deko and visuals:
EKTA Festival
Info
Springtime/Full Moon/Holi festival... one Full day of celebration and thankfulness..starting in the morning with receiving and giving the colors.. then the 1st sunset of Spring.. followed by the party! 🎉😊🌄💚❤️
Experience the pure form of your being Witness the collective energy under the
Special #Holika Full-m00n...
Transform into a lucid prism to disperse the #colors of Life, experiencing self-actualization, #natural surroundings, #eco lifestyle, organic food, #art, music, dance chill vibes &
more! Donation entry: 55 Euro
Free #camping and #chillout area
Accommodation available at the venue
About the venue:
Pokhara, "The Lake City" a paradise in Nepal is situated on the lap of the majestic high mountains and the panoramic range of Himalayan peaks of the Annapurna that has been on the backpacker's bucket-list list since the early sixties constantly, This Himalayan bound mystic nation is a dream destination for all kinds of travelers, boasting a rich heritage and colorful lively culture, snow capped peaks, spiritual history and vibrant people.
Goa Trance came to Nepal in the 90's. It was brought by the freaks who came from Goa to visit Nepal or who came for their Indian visa extension. It started with small gatherings in the mountains and now regular full moon parties in Pokhara organized.
Standing on top of the Hill, the venue adds beauty to the Pokhara Valley. It is a perfect holiday place providing a clear view of the Himalayan range (Annapurna Mountains range, including Fishtail, Dhaulagiri, Annapurna South, and Annapurna III), Fewa Lake and Pokhara city. The hilltop provides a splendid view of sunrise and sunset. The place is about 7-10 kilometers from lakeside, the major business spot in Pokhara. There are several ways to reach the venue. There are hiking trails, cycling tracks and the road to the place. One popular and adventurous hiking trail is the crossing of Fewa Lake by a local boat and then climbing uphill through local villages which takes about an hour and half to two. The partial black-topped road takes about 45 minutes to an hour and half , which can be reached by taxi or private car. Public transportation too is available to the place.
-Things to remember
Warm cloths
Camping gear ( MUST)
Flash light
A lot of love.
-Things not allowed:
Pets
Outside food and drinks
Weapons
-Limited Dorm room available
Camp tent under roof: 100 Rs
Dorm Bed On floor: 200 Rs
Dorm Bed: 500 Rs
Pvt. room: 1000 Rs
-Camping in camping area is free of cost.
-YOU WILL HAVE TO BRING YOUR OWN CAMPING GEARS. Camping Gears are available for rent in Swissa Travel Agency in Lakeside, HallanChowk. Phone: 977 61 465339 / 61 463839
[swissanepal.com]
#TheEcoTribe #Fullmoon #Holi #Festival #PsyFestival #EcoLifestyle #EcoLiving #Music #PsyVibe #HealingSounds #ExperimentalMusic #Dance #EcoFarming #Goa #Yoga #Events #Travel Psy/Progressive Trance PSYTRANCE Psypeople Psyloforia Media Chill-out music Chill-Out-Planet ChillouT-AreA Chillout Scene Sanjay Psy Trance Psyboombay Goa-Festival.de Shanti Psydia Ravers Reunited
Creating Oneness, and Re connection to the nature.
20% of net profit from the gathering will be donated to The Unity Eco village non profitable organization for the conservation and preservation of Environment.
Genre from Ambient, Chill out/ psychill, fusion, world, rock, Progressive, PsyTrance, Prog Forest, Dark forest, Hitech, and more will be played.
Workshops on varieties of field and disciplines will also be organized.
-Gathering includes
#NATURAL_LOCATION
#Entrance_Zone
#Kid_Zone
#CAMPING_and_CARAVAN_AREA
#HomeStay_Zone
#Workshop_Zone
#Forest_Zone
#Camp_Fire_Zone
#Food_Zone
#Bar_Zone
#One_Stage/ Main Stage.
-Workshops
#Art_and_Craft #Tattoo
#Shamanism_Plant_based_medicine_Ethnobotany
#Environmental (#Recycling #Eductional
#Holistic_Healing
Entry fee, advance booking 2 week Before the Event.
Entry: 55 Euro
GET IT ONLINE
[aafnoticket.com]
For Any Information Related To The /Booking / Tickets / Booking Tents / Booking Stall Chai Shops And Space Please Contact
-Ticket point
Yesmi Guest House
[facebook.com]
[goo.gl]
Shuttle Bus leaves from
Yesmi Guest House on:
9th of march.
[facebook.com]
Entry
Entry
Entry fee, advance booking 2 week Before the Event.
Entry: 55 Euro
GET IT ONLINE
[aafnoticket.com]
For Any Information Related To The /Booking / Tickets / Booking Tents / Booking Stall Chai Shops And Space Please Contact
-Ticket point
Yesmi Guest House
[facebook.com]
[goo.gl]
Organizer
Organizer
Hosted by Pokhara Events