High Mountain Gathering Vol-II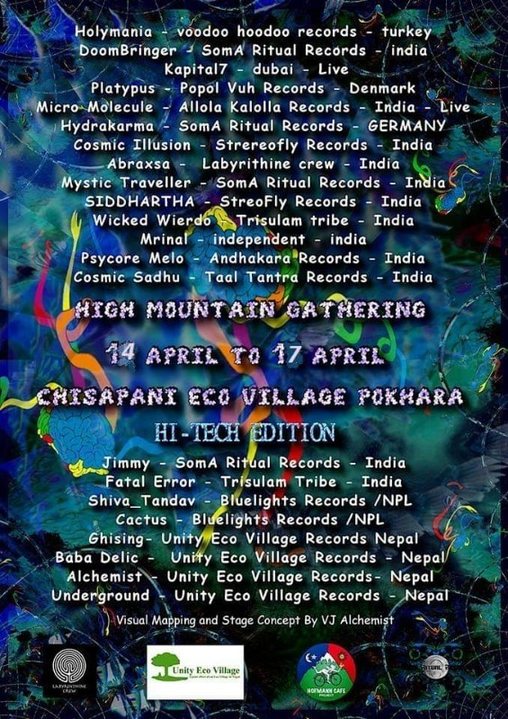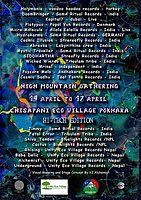 Line Up
Holymania - voodoo hoodoo records - turkey
soundcloud
DoomBringer - SomA Ritual Records - india
soundcloud
Kapital7 - dubai - Live
soundcloud
Platypus - Popol Vuh Records - Denmark
soundcloud
Micro Molecule - Allola Kalolla Records - India - Live
soundcloud
Hydrakarma - SomA Ritual Records - GERMANY
[facebook.com]
Cosmic Illusion - Strereofly Records - India
[facebook.com]
Abraxsa - Labyrithine crew - India
[click here]
Mystic Traveller - SomA Ritual Records - India
[facebook.com]
SIDDHARTHA - StreoFly Records - India
[facebook.com]
Wicked Wierdo - Trisulam tribe - India
soundcloud
Mrinal - independent - india
[facebook.com]
Psycore Melo - Andhakara Records - India
soundcloud
Cosmic Sadhu - Taal Tantra Records - India
[facebook.com]
Jungle Queen - Hoffman Project - Russia
Hyperton - Pravana Records - Germany
Geometric chaos - SomA Ritual Records - India
soundcloud
Jimmy - SomA Ritual Records - India
[facebook.com]
Fatal Error - Trisulam Tribe - India
Shiva_Tandav - Bluelights Records /NPL
soundcloud
Cactus - Bluelights Records /NPL Live
soundcloud
Ghising- Unity Eco Village Records Nepal
soundcloud
Baba Delic - Unity Eco Village Records - Nepal
Alchemist - Unity Eco Village Records- Nepal
Underground - Unity Eco Village Records - Nepal
LINE UP IS CLOSED !!
Deco
Deco
The decoration Visual Mapping and Stage Concept By VJ Alchemist
[facebook.com]
Info
A warm gratitude and welcome to all the travelers, healers, light workers, musicians, artist and beautiful souls around the globe. After the 1st edition of High Mountain Gathering we are exited to welcome you again on the 2nd edition of High Mountain Gathering.
High Mountain Gathering is a High Mountain ethnic tribal celebration that happens once a year regularly since ages where villagers around Mount Duralake region pilgrimages 3500 meters above sea levels to the top of the mountain on the first day of Nepali new year (ie: Baisakh 1st, April 14th), with a wish which they believe comes true if reached the peak. With the forest of the mountain all covered by varieties of Rhododendrons, wild spinach, berry, food and flowers they camp there for the night, harvest herb the next day and hike down to village and the mountain again rests in silence for the rest of the year gathering. The mountain is covered with snow for four months of the year yet snow can be seen for six months.
It is believed that once a son less Bhramin father of Nine daughter came and prayed the Mount Duralake goddess and was blessed with a son. After for the gratitude he built a temple there where people still pray.
High Mountain Gathering gives a majestic opportunity for the visitors to feel the culture of the mountains as it includes a trek of 6-8hrs to the mount Duralake peak through the local villages in the mountains and down to the forest rave next day where you rest or have fun in the gathering in the lap of cozy forest with warm music and peoples. After two nights and three days of music High Mountain drumming Shamans shamanic healing ceremony is followed to clean the aura and bad spirits. The gathering ends at hot spring where we heal the pain and stress of the body and mind with nature.
Come together to attend the Mystical hidden mountain celebration that is yet unfolded to hectic world.
-Gathering includes
#NATURAL_LOCATION
#Entrance_Zone
#Kid_Zone
#CAMPING_and_CARAVAN_AREA
#Workshop_Zone
#Forest_Zone
#Camp_Fire_Zone
#Food_Zone
#Bar_Zone
#Two_Stages [#Main_Psy_Stage #Chill_Out_Stage]
-Workshops
#Art_and_Craft
#Shamanism_Plant_based_medicine_Ethnobotany
#Environmental (#Recycling #Eductional
#Holistic_Healing
*** Please ensure to throw wastes at the alloted Garbage Bins ***
*** Avoid Using Substances on the Dance Floor and the Festival Premises ***
*** Please Carry Warm Clothes ***
*** Tents and home stays at the village are avaialable . Those Interested in social Volunteering can get in touch with us for registration ***
*** Please Keep the Mountains Clean And Green ***
*** Let the Music Speak ***
Online Ticketing Portal
[aafnoticket.com]
Location
Location
Pokhara, "The Lake City" a paradise in Nepal
Chisapani Eco Village Tarebhir
Pokhara 33700
[goo.gl]
Entry
Entry
Entry fee, advance booking special offers
High Mountain Gathering Vol-II
Buy Online Tickets Per Sale
e-ticket-link
[aafnoticket.com]
-Ticket point.
Umbrella cafe Nepal
[facebook.com]