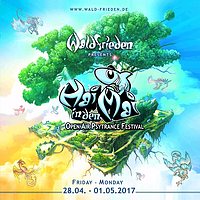 Info
Waldfrieden's annual opening of the festival season.

Area:

• Waldfrieden psy club
• Main Floor: outdoor psychedelic / progressive floor
• Backyard Floor: outdoor alternative-electro / techno floor
• Dark Floor: outdoor forest / hitech-floor!
• Healing Area at the lake
• Chillout Area
• Market Area
• Organic Food Area
• Fire Space
• Performer Stage
• Camping Area

Travel:

• Free bus shuttle from train stations Lemförde and Rahden

To minimize the car traffic on the festival grounds we have to take 5 € road toll for every vehicle driving over the area.

Other:

• Psy Care / psychedelic ambulance
• Workshops
• And a lot more!

__________________________________________

No place for racism, sexism and homophobia, watch out for each other!
Location
Location
Waldfriden Events
Bergstrasse 32
32351 Stemwede
Entry fee
There will be tickets available at the gates for the following prices. Tickets are limited because we have limited space for camping.

Friday 95€ + 5€ trash deposit

Saturday from 10 pm 85€ + 5€ trash deposit

Sunday from 10 am 65€ + 5€ trash deposit

Monday from 10 am 25€ and from 4 pm 10€

Day tickets can also be purchased on Friday, Saturday and Sunday and are valid from 10 am that day until 10 am the following day.

Free admission for everyone over 60 years.
Organizer
Organizer
Waldfriden Events
Bergstrasse 32
32351 Stemwede
More events from
Sa, 2 Jun '18 ·
Stemwede
Sa, 23 Jun '18 ·
Wehdem
Sa, 21 Jul '18 ·
Wehdem