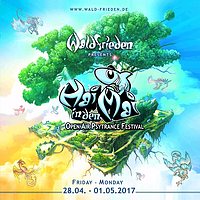 ·
Flyer comments...
Waldfrieden's annual opening of the festival season.

Area:

• Waldfrieden psy club
• Main Floor: outdoor psychedelic / progressive floor
• Backyard Floor: outdoor alternative-electro / techno floor
• Dark Floor: outdoor forest / hitech-floor!
• Healing Area at the lake
• Chillout Area
• Market Area
• Organic Food Area
• Fire Space
• Performer Stage
• Camping Area

Travel:

• Free bus shuttle from train stations Lemförde and Rahden

To minimize the car traffic on the festival grounds we have to take 5 € road toll for every vehicle driving over the area.

Other:

• Psy Care / psychedelic ambulance
• Workshops
• And a lot more!

__________________________________________

No place for racism, sexism and homophobia, watch out for each other!
Location
Waldfriden Events
Bergstrasse 32
32351 Stemwede
Entry fee
Tickets are limited! There will also be day tickets if not all tickets are sold out in presale for 45€ from 11 am to 11 am.
Organizer
Waldfriden Events
Bergstrasse 32
32351 Stemwede
Ostereier Trance
15 - 16 Apr '17 · Indoor
Stemwede ·
Germany
Line Up:

► Moonlight Burns ❂ Ajourney Prod. · ► NeuroLogic ❂ Ajourney Prod. · ► DJoanna ❂ Waldfrieden · ► Raoul ❂ Blue Hour So…


Info:

`*• ❖ Karneval im Waldfrieden ❖ •*´ Mit Verkleidungswettbewerb und Forest / Hightech Floor... ___ ❖ Eintrtitt 15€ inkl.…

Added by Waldfrieden Events · Update

27d 3h

·

1,656

· Starts in

18d 17h
Sa, 15 Apr '17 ·
Stemwede
Planet Waldfrieden
NEW
UPDATE
20 - 21 May '17 · In- & Outdoor
Wehdem ·
Germany
Line Up:

`*• ❖ Planet Waldfrieden ❖ •*´ Damit niemand zwischen Hai in den Mai und 24H Summer Special im Juni unter Waldfrieden-En…


Info:

`*• ❖ Planet Waldfrieden ❖ •*´ Damit niemand zwischen Hai in den Mai und 24H Summer Special im Juni unter Waldfrieden-En…


Loc:

Waldfrieden Events Bergstraße 31 32351 Wehdem

Added by Waldfrieden Events · Update

6d 13h

·

50

· Starts in

1m 25d
24H Summer Special Juni
UPDATE
17 - 18 Jun '17 · Indoor
Stemwede ·
Germany
Line Up:

Line Up kommt ganz bald!


Info:

`*• ❖ 24 Stunden Summer Special Juni ❖ •*´ 24 Stunden drinnen und draussen tanzen, feiern und das Leben genießen. mit: ★…


Loc:

Waldfrieden Events Bergstrasse 32351 Stemwede

Added by Waldfrieden Events · Update

6d 13h

·

946

· Starts in

2m 22d