Backend
Green Gathering (X) 10 Years Celebration (Gathering of Tribes)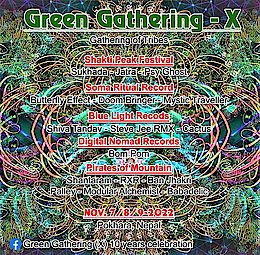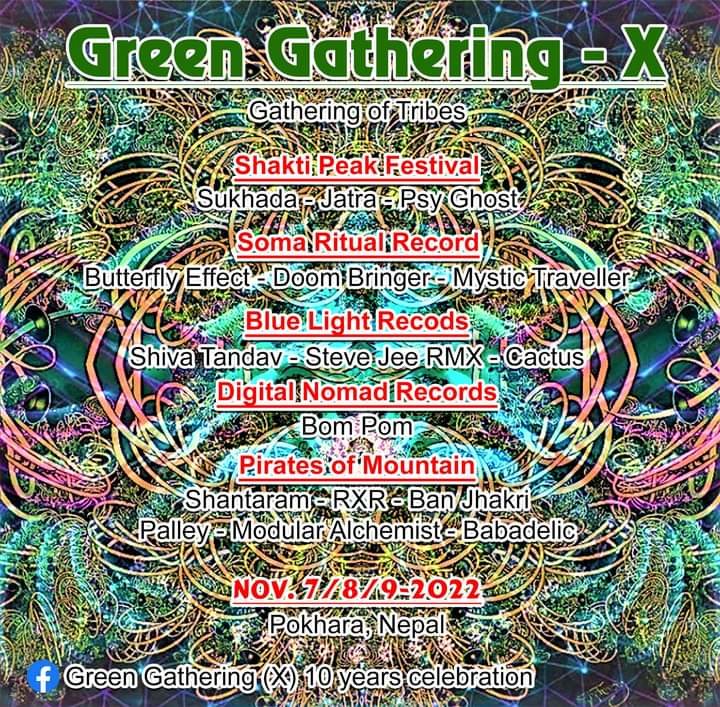 Line Up
*********LINE UP***********
-Baba Steve Jee Rmx (Bluelights Rec) Swizerland
soundcloud
-Mahatma (white jaguar tribe/ nataraja festival) Russia
[facebook.com]
-Santaram (Chautari Family/ Pirates Of Mountain) Ukraine
[facebook.com]
-Project Bhan Jhankri (Trident sound system) Russsia
-DoomBringer - (SomA Ritual Records) India
[facebook.com]
-Mystic traveller - (SomA Ritual Records) India
[facebook.com]
-Cactus (Bluelights Rec/ Dragon Fly Studio) NP
soundcloud
-Shiva Tandav (Bluelights Rec/ UEV Rec) NP
soundcloud
-Bom Pom (Digital Nomad Rec/ Pirates Of Mountain) NP
soundcloud
-RXR {Roshan X Roshni} (Shanti Tribe/ Pirates Of Mountain) NP
[facebook.com]
-Modular Alchemist (UEV Rec/ Pirates Of Mountain) NP
[facebook.com]
-Babadelic (UEV Rec/ Pirates Of Mountain) NP
[facebook.com]
-Palley (UEV Rec) NP
[facebook.com]
*********More To be Added***********
Info
Greetings family.
Firstly a very wonderful wishes for Dashain festival & hoping that everyone is doing great.
We are very glad to let you know that the Pre. Sale tickets for this years gathering are out now & available at:
#Online_Portal:
[aafnoticket.com]
#Physical_Portals:
-Yesmi Guest House. 23rd St. North Lakeside, Pokhara-Nepal.
-All In One Blues Cafe, 17th St. Lakeside, Pokhara- Nepal.
*Tickets Per. head:
-Pre. Sale: 3,000/- Rs (25 €) [50 Pcs. Only]
-Second Phase: 5,000/- Rs (40 €)
*Ticket includes:
-Entrance pass.
-Access to workshops.
-Wrist Band.
-GGX VA.
-Chance to win free paragliding worth 10,000 Rs each for two lucky ticket holders.
-Warm welcome.
-Friendly Environment.
-And much more
Hope to see you all in this years gathering.
#ShaktiPeakFestival #NatarajaFestival #BlueLightsRecords #SomaRitualRecords #DigitalNomadRecords #UnityEcoVillageRecords #WhiteJaguarTribe #ShantiTribe #ChautariTribe #PiratesOfMountain #GatheringOfTribes2022 #10YearsCelebration #GreenGathering2022 #GGX #pokharanepal
Green Gathering (X) 10 Years Celebration
(Gathering of Tribes)
Green Gathering Movements is music, art, dance, Eco solutions and conscious living, gathering of positive people hosted upon sustainable community space maintained for the education Eco-farming, woofing, healing etc. A Gathering with acoustic, Experimental live acts, dis from psy chill to , techno to fusion, acoustic and electronic music along with a retreat into the Earths highest nature where we share our skills and ideas to develop a worthy culture for future generations.
Apart from the Art & Entertainment, since the initiation time the gathering provides access to incredible nature, music, visionary art installation, performances, spiritual education, relaxation and healing and performances along with like minded people who are interested in sharing information & knowledge about Deconditioning, Holistic Healing, Spiritual Practices and living an off grid harmonious lifestyle which coexists with the nature around you. As well to make an impact which would later help the whole humanity. Many different lectures & workshops are available where you can learn from various experts and leading alternative thinkers or share your own knowledge.
Creating Oneness, Rainbows, and Re connection to the nature.
*We'd like to invite you for 1 day & 2 nights of journey with incredibly talented artists & with their art to be connected with the mother nature with an incredible mountain experience watching the Himalayas.
*What to expect in the gathering?
-Natural Location.
-Entrance Zone
-Kid Zone
-CAMPING and CARAVAN AREA
-Workshop Zone
-Workshop on Yoga, meditation, nature connection, Prana Power (sport, enjoying games), Vedic & Shamanic Knowledge, Holistic Healing, Plastic Recycling, about Environmental issues and Discussion on Human Design.
-Forest Zone (Forest Walk)
-Etheno, Herbal & medicinal plants ( Excursion, experimentation & Study )
-Lunar Eclipse Watching.
-Camp Fire Zone
-Food & Bar Zone
-Poi, fire, juggling, contemp dance etc.
-Introducing to culture heritage: epos & traditional story of land.
-Visiting village and Knowing culture.
-Two Stage [Solar & Lunar Stage]
-Open Air Stage.
-Music (Live, Acoustic, Electro Acoustic, Ethnic music, Shamanic tribal, Electronic, House, Techno, Acid, Downtempo, Psychill, Trance, Psychedelic, PsyTrance, DarkPsy, Experimental..)...
-Beautiful Peoples & Many More..... ❤ ❤ ❤ ❤ ❤ ❤ ❤
*The Gathering will initiate after the sacred ceremony held by a local Shaman to receive blessings and protection from the gods as well as Spirit of the mountains.
*About the venue:
Pokhara, "The Lake City" a paradise in Nepal is situated on the lap of the majestic high mountains and the panoramic range of Himalayan peaks of the Annapurna that has been on the backpacker's bucket-list list since the early sixties constantly, This Himalayan bound mystic nation is a dream destination for all kinds of travelers, boasting a rich heritage and colorful lively culture, snow capped peaks, spiritual history and vibrant people.
Goa Trance came to Nepal in the 90's. It was brought by the freaks who came from Goa to visit Nepal or who came for their Indian visa extension. It started with small gatherings in the mountains and now regular full moon parties are organized in Pokhara.
Standing on top of the Hill, the venue adds beauty to the Pokhara Valley. It is a perfect holiday place providing a clear view of the Himalayan range (Annapurna Mountains range, including Fishtail, Dhaulagiri, Annapurna South, and Annapurna III), Fewa Lake and Pokhara city. The hilltop provides a splendid view of sunrise and sunset.
Organizer
Organizer
Green Gathering team