Galactic Paradise Festival----Where change happens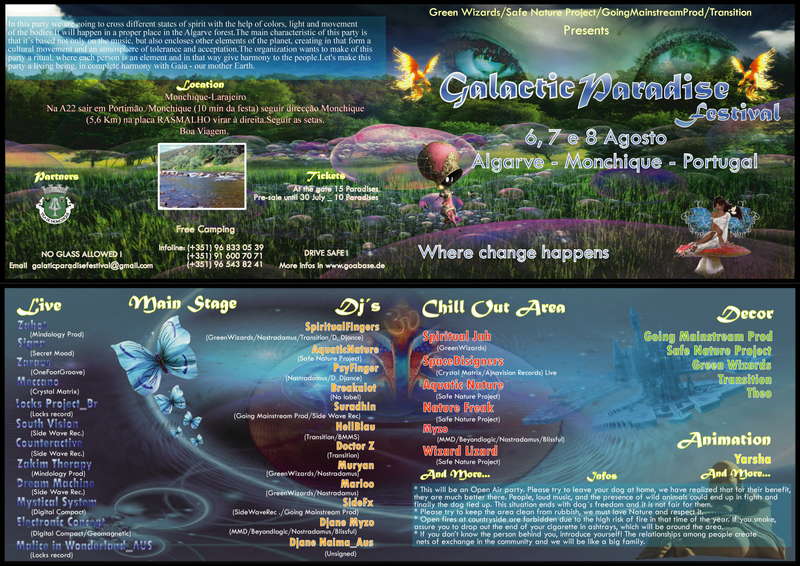 Chill
SpaceDisigners (Crystal Matrix/Ajnavision Records ) Live
[myspace.com]
Spiritual Jah ( GreenWizards ) ReaggeSet
Aquatic Nature ( Safe Nature Project )
Nature Freak ( Safe Nature Project )
Wizard Lizard ( Safe Nature Project )
Deco
Going Mastering Prod

Safe Nature Project

Green Wizards

Transition

Theo

And More
Info
ENGLISH
In this party we are going to cross different states of spirit with the help of colors, light and movement of the bodies.
It will happen in a proper place in the Algarve forest.
The main characteristic of this party is that it's based not only in the music, but also encloses other elements of the planet, creating in that form a cultural movement and an atmosphere of tolerance and acceptation, joining a broad family of trancers from the Algarve.
The organization wants to make of this party a ritual, where each person is an element and in that way give harmony to the people.
Let's make this party a living being, in complete harmony with Gaia - our mother Earth.
ADVICES
* This will be an Open Air party. Please try to leave your dog at home, we have realized that for their benefit, they are much better there. People, loud music, and the presence of wild animals could end up in fights and finally the dog tied up. This situation ends with dog´s freedom and it is not fair for them.
* Please try to keep the area clean from rubbish, we must love Nature and respect it.
* Open fires at countryside are forbidden due to the high risk of fire in that time of the year. If you smoke, assure you to drop out the end of your cigarette in ashtrays, which will be around the area.
* If you don't know the person behind you, introduce yourself! The relationships among people create nets of exchange in the community and we will be like a big family.
* When you do your backpack just take into account this little list:
Sleeping Bag
Torch
Enough clothes to change
Light clothes for the day
Swimsuit
Sunscreen and after-sun cream
Portable ashtrays
Mosquito Repelent
Your own cup - a deposit fee for the cup (1€) will be collected at the bar. Bring your own if you want!
Happiness
Camping Free
There will be a little camping zone where you can create your own area with your friends. Bring your shade. Please keep it as clean as possible. Ask for directions when arriving.
The art you create
If your art is linked to some of the topics below, you can have your space to spread your work over the festival.
-Craft
-Painting
-Alternative Theatre
-Malabars
-Circus
-Face-Painting
-Various Performances
Public Transport
If you go by public transport you need to go by train to Portimão. Here is the link to go look for the schedule of trains (website in english):
[cp.pt]
This is the link of google maps to the place of the train station. The bus station is just behind the train station:
[google.pt]
In Portimão you pick the bus to Monchique. Get out in Rasmalho. Here is the link to the website of Frota Azul (the bus company) (website in Portuguese only):
[frotazul-algarve.pt]
Send a sms or email with the time of your arrival to Rasmalho so that we organize your ride to the party, because there are still 5km (and there are no bus).
P.L.U.R
P(eace). The inner peace that is in each one of us, though we are not always capable of finding it. When we hold it, we send out calm and serenity to everything and everyone around us.
L(ove). The unconditional feeling of affection that we feel for something of someone. By the universal law of action-reaction, all love that you give to someone will be returned to you somehow. Remind you that the two first letters of PLUR represent the spirit of the ideal hippies (Peace and Love)
U(nion). Beside all differences, we all share a common set of characteristics: we are human, imperfect and depending on each other for surviving. With peace and love, union allow us to communicate with other people, THOUGH all differences, and even enhance us with the exchange of experiences.
R(espect). Where we have to recognize and accept that we are different, beside our common set of characteristics. We need to respect others, ourselves (taking care of our body and mind) and the environment around us. Who respects is tolerant, helps others and concerns with the space around.
PORTUGUÊS
Nesta festa vamos atravessar diferentes estados de espírito com a ajuda das cores, luzes e movimento dos corpos.
Ela vai acontecer em um lugar adequado na Serra do Algarve.
A principal característica deste grupo é que é baseada não só na música, mas também engloba outros elementos do planeta, criando dessa forma um movimento cultural e uma atmosfera de tolerância e aceitação, juntando-se uma ampla família de trancers do Algarve.
A organização quer fazer desta festa um ritual, onde cada pessoa é um elemento e dessa forma dar harmonia às pessoas.
Vamos fazer da festa um ser vivo, em completa harmonia com Gaia - a nossa mãe Terra.
CONSELHOS
* Esta será uma festa ao ar livre. Por favor, tenta deixar o teu cão em casa, pois muitas pessoas e a música alta não lhes trazem benefícios.
* Por favor, tenta manter a área que ocupas limpa de lixo, devemos amar a Natureza e respeitá-la.
* Fogueiras ou qualquer tipo de fogo estão proibidas, devido ao elevado risco de incêndio nesta época do ano. Se fumares, assegura-te que apagas bem o cigarro no cinzeiro, que estarão espalhados pelo recinto.
* Se não conheces a pessoa atrás de ti, apresenta-te! As relações entre as pessoas criam redes na comunidade e seremos como uma grande família.
* Quando fizeres a tua mochila tem em conta esta pequena lista:
Saco de dormir
Lanterna
Roupa suficiente para mudar
Roupas fresca para o dia
Fato-de-banho
Protector solar e creme pós-solar
Cinzeiros portáteis
Repelente de insectos
O teu próprio copo - uma taxa de depósito para o copo (1 €) será recolhida no bar. Se quiseres traz o teu próprio copo (mas não de vidro!)
Alegria
Campismo Grátis
Haverá uma zona de campismo onde podes criar a tua zona com os seus amigos. Traz algo para fazer sombra. Por favor, mantenha-o o mais limpo possível. Pede indicações ao chegares.
A arte que crias
Se a tua arte está ligada a algum dos temas abaixo, podes ter o teu espaço para divulgar o teu trabalho ao longo do festival.
-Artesanato
-Pintura
-Teatro alternativo
-Malabares
-Circo
-Pinturas Faciais
-Performances variadas
Transportes Públicos
Se fores de transportes públicos precisas de ir de comboio até Portimão. Aqui está o link para procurares o horário dos comboios:
[cp.pt]
Aqui está o link do google maps mostrando o local da estação de comboios. A estação de autocarros é por trás da de comboios:
[google.pt]
Em Portimão segue de autocarro para Monchique. Sai em Rasmalho. Aqui está o link para o site da Frota Azul:
[frotazul-algarve.pt]
Envia uma sms ou email com a hora a que vais chegar ao Rasmalho, para organizarmos a tua boleia desse local até à festa pois até lá ainda são 5km (e não há autocarro).
P.L.U.R
P (eace) PAZ. A paz interior que existe em cada um de nós, embora nem sempre somos capazes de encontrá-la. Quando a sentimos, enviamos calma e serenidade a tudo e todos ao nosso redor.
L (ove). AMOR. O sentimento incondicional de afecto que sentimos por algo ou alguém. Pela lei universal da acção-reacção, todo o amor que deres a alguém será devolvido de alguma maneira. Lembrar que as duas primeiras letras do PLUR representam o espírito do ideal hippie (Paz e Amor)
U (Nion). UNIÃO. Apesar de todas as diferenças, compartilhamos um conjunto comum de características: somos humanos, imperfeitos e, dependendo uns dos outros para sobreviver. Com paz e amor, a união permite-nos comunicar com outras pessoas e mesmo reforçar-nos com a troca de experiências.
R (espect). RESPEITO. Sempre temos que reconhecer e aceitar que somos diferentes. Temos de respeitar os outros e nós mesmos (cuidando do nosso corpo e mente) e do ambiente que nos rodeia. Quem respeita é tolerante, ajuda os outros e preocupa-se com o espaço ao redor.
Location
Location
Algarve - Monchique - Portugal

Na A22 sair em Portimão/Monchique (15 min da festa). Na rotunda seguir em direcção a Monchique durante cerca de 6 Km. Depois da bomba de gasolina, nos primeiros semáforos, antes da placa RASMALHO, virar à direita para Alferce. Seguir cerca de 4km. Quando chegares a um cruzamento virar para a esquerda, direccção Alferce. Seguir cerca de 4km até chegares à localidade Laranjeira. Seguindo na estrada principal, o recinto do Festival encontra-se no lado direito.
Boa Viagem.

ENGLISH

On the A22 exit at Portimão / Monchique (the party is 15 min away). At the roundabout take the direction to Monchique for about 6 km. After the petrol station, on the first traffic lights before the sign Rasmalho, turn right direction Alferce. Follow approximately 4km. When you come to a crossroad turn left, direccção Alferce. Follow about 4km until you reach the village Laranjeira. Following the main road, the local of the Festival is at your right.
Have a safe journey.
Entry fee
Entry fee
In the gates_15 €

Pre sale until 31 July _ 10 €
Organizer
Organizer
Green Wizards / Safe Nature Project / Going Mastering Prod / Transition
Hotline
00351 91 2238785 ou 916007071 //// 00351 968330539 ou 96 543