Backend
-------G O A L A N D------- F E S T I V A L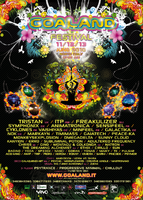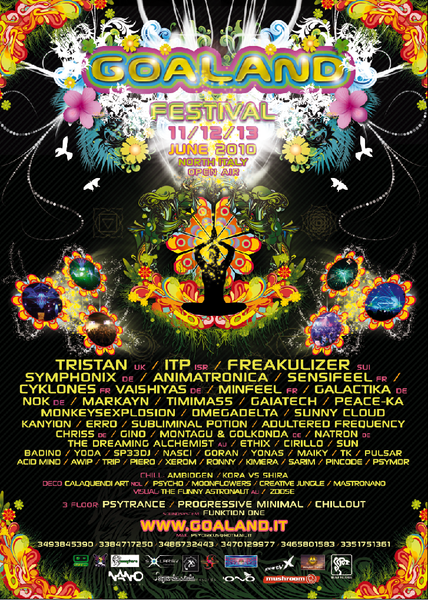 Line Up
&WOODSTOCK EVENT PRESENT:
::::::::::::::::::::::::::::::::::::::::::::::::
:::::::::L I V E::::A C T::::::::::::::
::::::::::::::::::::::::::::::::::::::::::::::::
OPEN DAY ***** SPECIAL LIVE CONCERT BY *****
------- CHUMA CHUMS ------- IT
LIVE PERCUSSION AND SPECIAL PERFORMANCE
[facebook.com]
-----------------------------------------------------------------------------
SUPER SHOW and ALTERNATIVE PERFORMANCE BY "LE GIRAFFE BOLOGNA"
-----------------------------------------------------------------------------
► TRISTAN ( Nano Rec. ) --- UK ---
[myspace.com]
[djtristan.com]
He started producing trance in 1993 after a long trip around asia, when i was turned on to the psychedelic movement in goa and koh phan gan, during the next decade i have collaborated with some amazing artists and made some lasting friendships; manmademan, process, hallucinogen, serge, dimitri, dick trevor, laughing buddha, aphid moon, gms, and many many more crazy and wonderful characters. i joined forces with twisted records in 1996 and released my first single with them 'martian arts'
Since then i have never looked back, in my mind they are a label that exudes 'quality', and is a label of the highest quality. i released "audiodrome" and "substance", dj'ed the "twisted sessions:vol 1", and am now nearing completion of my third, and in my opinion best work, in the solo album: "Chemisphere". It has been a bit of a labour of love, taking quite a lot longer than i anticipated but working hard on the production, arrangement, and vibe has been well worthwhile. Cabin fever is setting in so i can't wait for the full summer festival to begin! I need to do some stomping on the dancefloor...
Anyway....of course my dj career has been integral to the whole production trip; and some of my most far out moments have been at psychedelic festivals around the world that i have been lucky enough to play at.
Ones that really spring to mind, and i hope some of you were there to share them; were: samothraki (year 1 and 2) , the south africa eclipse of 2002, hungary eclipse, wingmakers in the west country of england,
solstice parties in japan, and the vortex events in south africa, and of course the universo parallelo parties in brazil, probably the best parties in the world right now; and organised by some of the nicest most authentic people on the planet.
► ITP ( Phonokol Rec. ) --- ISRAEL ---
[myspace.com]
[itpmusic.net]
Erez Yaffe & Sami Sabin, the ITP duo, have been producing electronic music & trance together over then 5 years. The two have already released music in various compilations around the world their debut album - "Lose Your Illusion" (SunDance Records, 2007) was highly rated by the reviews.
In mid 2007 ITP were spotted by the Israeli mega-label Phonokol records as a huge potential in a world saturated with trance artists - The uniqueness, the freshness & the special timbre of ITP's music make them one of the most intriguing acts in the trance scene! Recently Erez & Sami have released their second album "The People Are..."!
ITP (standing for 'Individual Thought Patterns') is all about being good music: Combining accustic sources such as oriental instruments, vocals & guitars with electronic manipulation & high quality production, their unique & highly musical style is particularly noticeable over todays psytrance scene background & could be compared with acts like Hallucinogen, Infected Mushroom, Juno Reactor & Shpongle.
► FREAKULIZER ( Alchemy Rec. ) --- SUI ---
[myspace.com]
[ch.vu]
Freakulizer has been creating a stir in the psytrance scene since his debut album 'The Awakening Process' was released on Alchemy Records in 2005. Hailing from Switzerland, Freakulizer is Simon Schwendener, the leading psytrance producer in Switzerland and otherwiser known as DJ Thujon.
At the young age of 15, Simon started to spin psytrance on vinyl back in1996. After 5 Years of DJ'ing in clubs around Switzerland, he turned his talent to produce his own music. He got some helping hands along the way from well known psychedelic artists like Sesto Sento , Eskimo, Pixel, Cyber Cartell ,Psysex , Vibe Tribe who helped cultivate the now infamous deep morning sound that is the signature of 'Freakulizer'. His sound is powerful and melodic and has a definite sense of depth and purpose.
Freakulizer has an extensive release sheet and has been continually touring around the world since his debut album. For more than three years of producing tracks he has released tracks on numerous labels from Com.pact, Vision Quest, Headroom, Psytropic, Zoom and of course the now legendary Alchemy Records. ¨
► SYMPHONIX ( Blue Tunes Rec. ) --- DE ---
[myspace.com]
[myspace.com]
The nineties drew to a close when Psychedelic Trance underwent an interesting development: Track arrangements were thinning out more and more, instead of being overloaded quite some productions now focussed on single sound effects, subtle placed melodies and extensive percussive compositions. According to its breaking-new-grounds style this popular subgenre soon had an own name: Progressive Trance. Brothers Stephan and Sirko Wötanowski were enthusiastic about this sound from its very first days and this early passion should be the beginning of a very extensive musical engagement which is without equal.
It was around 2003 when the two of them already had loads of party experience both in the middle of blasting dance floors as well as behind the DJ decks and they felt the urge to transform all this energy they had collected into their own music. As a consequence they found themselves spending quite some sleepless nights with twiddling knobs and working the keyboards in their studio from now on. And soon some proper results piled up on the hard discs: Dreamy melodies and spaced-out sound effects bedded on bouncing bass lines, everything kind of tidied-up and very up-to-date. The production quality reached remarkable standards right from the beginning and the driving psychedelic pressure of the tracks reflected all the years of euphoria and experience about Progressive Trance the producers had in their back. Symphonix was born. It is not a wonder that this sound caught the spirit of the age and hit world wide dance floors like a bomb; The Symphonix brothers rapidly became very welcome artists at parties and festivals all around the globe.
The excessive touring around, the different countries with their different scenes and different people of course meant a mighty source of inspiration. Soon another change within the Progressive Trance scene became apparent: Again the track arrangements were tidied up, the amount of sounds was reduced and more and more elements of contemporary club music found their way into the productions. This process provided some refreshing new perspectives for Stephan and Sirko and they broke new grounds in the studio. Because their passion for the original Progressive Trance was still very strong they decided to found a new project as a platform for their rather clubby experiments. True Lies obtains influences from various electronic music genres: There is Progressive House, there is Electro and for sure there is a proper potion of Trance, too. But on the other hand the sound of True Lies doesn't fit exactly into one of these genres. It could be rather described as a hybrid construct which is based on Progressive Trance and reflects the ideas of up-to-date club music. In consequence the releases can be found in the cases of DJs keen to experiment from different electronic music genres.
Both Symphonix and True Lies are the musical result of the intense and very dedicated relationship the Wötanowski brothers have with the Progressive Trance scene. No matter if you prefer the classical version of this style with loads of psychedelic bounce or if you are fond of the rather modern and clubby tunes: With these two acts you will always find reliable clues for high quality music!
► SENSIFEEL ( Spintwist Rec. ) --- FR ---
[myspace.com]
[sensifeel.info]
SENSIFEEL is Philippe Sancier, who surely must be considered as being one of the biggest progressive artists to ever come out of the French trance scene. He has released 2 albums as Sensifeel on top labels Domo and Yellow Sunshine Explosion, as well as appearances on compilations from labels like Blue Tunes, Interzone, Plusquam, ZMA and Spintwist. Apart from his main project Sensifeel, he also has a project with DJ Drenan in their project Cyklones, and in 2006 they released their first album on Yellow Sunshine Explosion.Progressive house ,electro and trance dj for over 12 years, he has now a solid background and as a result of his top quality releases he has for long been in high demand on the partyscene around the globe, and has already toured many continents, with appearances on festivals and clubs in countries like Australia, Brazil, Mexico, Japan, Israel as well as over most of Europe.
► VAISHIYAS ( Spin Twist Rec. ) --- DE ---
[myspace.com]
[vaishiyas.de]
It was 1999. With a proper portion of guitar music in his back, Hannes Klitta suddenly discovered a new passion: Producing electronic dance music. His sudden enthusiasm was triggered by the hypnotic crunch of that certain rocking chair: The track Schaukelstuhl perfectly represented the bouncing and extremely creative sound of the "Hamburg school", which became a major influence. Just one year later a first Vaishiyas release hit the scene. The fact, that this one was nothing less than a full length album which was released on the renowned Progressive Trance label Jum Jam Records gave a meaningful hint about the creative potential of this artist. And so it is no surprise that Vaishiyas nowadays is regarded as a guarantor for intelligent and pushing Progressive Trance of simply highest quality.
Festivals like Boom or Universo Paralello have been important milestones in Hannes Klitta's musical career, where the euphoric reactions of the audience blessed him with his biggest compliments. In a technical respect it has been the progressive development of software synthesizers which left its mark on him, as well as the discovery of midi guitar pickups, Ableton Live and recently the controller APC40, which has been specially designed for this program. These technologies support him to achieve his standards of an intuitive and interactive live performance that is still inspired by bands like Dream Theater.
► MINFEEL ( Spin Twist Rec. ) --- FR ---
[myspace.com]
[sensifeel.info]
MINFEEL, aka (also known as) Philippe Sancier, is the new Minimal tech / House
project of SENSIFEEL. From his studio in Paris to the vast regions of Brazil, Minfeel
became a derivative solution for the regeneration of European influenced House
music borne of the globally renowned Sensifeel/ Cyklones [an eclectic hybrid Trance
collective]. From his psytrance musical stylings to a planetary psychedelic
movement, Minfeel was spawned by the seductive Brazilian dance culture.
Deciding to showcase a more diverse side of his work, Minfeels unique House
experimentalism debuted at La Loco in the communal districts of Paris, Ile-de-France.
His desire to introduce an aesthetic sound to the local literati spanned an increasing
demand to play in neighboring countries such as; Germany, Sweden, Austria, &
Switzerland consecutively. All within an astounding three-month turnaround time,
riding on highly-acclaimed performances, Minfeel presented his House
rhythms back to the rooted allure of his South American sweep embarking in
an expansive tour through Sao Paolo, Marilla, and the dens of Belo Horizonte.
With an impressive initial dossier, Minfeel will take greater heights to
expand his creative explorations of House music to the States. Attempting
to bridge over and break the barriers of American nationalism greatly influential to
his future flow from electronic music to a grittier and urbane House groove, like
but not compared to Laurent Garnier respectfully, Minfeel specifically set
his sights on Chicago and New York City with aspirations to perform in
California and South Beach Miami. From the godfathers of House to the founders
of Detroit Techno, it is a natural evolution to start with the Midwest.On a
personal evolutionary track, Minfeel originated his feel for the bpm rise
with a transcendence in Reggae tones in 1996 though he professes music was
in his blood from a much earlier age. His breakthrough advanced from
Dub / Drum & Bass, including all forms of Electronica concentrating mostly on
progressive mutations. Already mesmerized by the European underground
psychedelia, Minfeel was drawn to the artistry of James Monro, Sebastian
Kruger, Lunatic asylum, Slinky wizard or Atmos. Presently, what moves Minfeel
are his soulful experiences and adventures symbiotically encompassing
all the colorful people he encounters. Based on an infinite array of world music
and the Dj stylings of his counterparts, Minfeel attributes much of these impressions
alongside working partnerships with his international peers namely Odiseo,
Hamelin, Symphonix, Perfect stranger; Deadmau5, Glenn Morison, Freq,
and Antix to be great examples in what drives his music and inspires his
spiritual quests to improve in all formats of life. Minfeels first release "Bitch",
is a stealthy remix of Maelström (manager of Iboga rec). It will be released
on Iboga records before the summer 09. Albeit Minfeel himself being a solo
project, he thrives on making connections and melodically synthesizing
all elements of his existence into his music career. On the cusp of his musical
quest, Minfeel dares to work the festival scene from not only his creative angles
but compels to independently tackle the business arena. This brainchild
shows great promise to excel in any scene, in any environment, anywhere.
Constantly thinking a few steps ahead, Philippe Sancier aka MINFEEL, currently
constructs his studio to include a prosperous intercontinental and worldwide booking
agency enmeshing video and film projects. His portfolio includes web design and
graphic arts incorporating music with fashion. Projects include incorporating video
podcasts and music videos for the Sensifeel/ Cyklones artist collective (FR), web
design for Mia Bella events (US), and booking collaboractions with over 30
festival and club promoters/ creative artists/ and music producers. With hundreds
of fans and Dj / musicians in his corner, the Sensifeel studio will be a universal
commodity in today's interactive world wide web market providing commercial
outlets for underground talent. Their goal is to proactively link a group of
artists under one umbrella and provide a medium outlet through live performances,
global tours, and produce video documentation for a conscious audience.
► MARKAYN ( Mk Rec. ) --- ITA ---
[myspace.com]
► TIMIMASS ( Mk Rec./Solarsiv Rec. ) --- ITA ---
[myspace.com]
► GAIATECH ( Polena Rec. ) --- ITA ---
[myspace.com]
► PEACE-KA ( Mind Funk Mind Expansion ) --- ITA ---
[myspace.com]
► MONKEYSEXPLOSION ( Monkeyexplosion/ Mk Rec. ) --- ITA ---
[myspace.com]
► OMEGADELTA ( Mk Rec. ) --- ITA ---
[myspace.com]
► SUNNY CLOUD ( Mk Rec. ) --- ITA ---
[myspace.com]
► KANYON ( Nutek Rec./ Mk Rec. ) --- ITA ---
[myspace.com]
► ERRO ( Psy Fly Project ) --- ITA ---
► SUBLIMINAL POTION ( Mk Rec. ) --- ITA ---
[myspace.com]
► ADULTERED FREQUENCY ( Psy fly project ) --- ITA ---
[myspace.com]
line up CLOSE
::::::::::::::::::::::::::::::::::::::::::::::::
:::::::::::::::::::: D J ::::::::::::::::::::
::::::::::::::::::::::::::::::::::::::::::::::::
► CHRISS ( Full Moon Festival ) --- DE ---
[myspace.com]
► GINO ( Sonica Festival ) --- ITA ---
► MONTAGU & GOLKONDA ( Blue Tunes Rec. ) --- DE ---
► NATRON ( Solartech Rec. ) --- DE ---
[myspace.com]
► THE DREAMING ALCHEMIST (Paradise Festival, Bass Island) --- AU --
[myspace.com]
► GAIATECH ( Polena Rec. ) --- ITA ---
[myspace.com]
► ETHIX ( Solarsiv Rec. ) --- ITA ---
[myspace.com]
► CIRILLO ( Psy Fly Project ) --- ITA ---
[myspace.com]
► SUN ( Solarsiv Records / Neophere ) --- ITA ---
[myspace.com]
► BADINO (Mmh rec.)
► YODA (Psy fly)
► SP33DJ
► NASCI (Magnetic Aliens)
[facebook.com]
► GORAN
► YONAS (Mk rec-)
[bansabaii.com]
► MAIKY (Mk rec.)
► TK (Mk. rec)
► PULSAR (Mmh rec.)
[myspace.com]
► ACID MIND
► AWIP (Maitake prod)
► TRIP (Solarsiv rec-)
► PIERO
► XEROMORPH
► SETH
► RONNY
►SARY M.
► KIMERA
► EKTOR
[myspace.com]
► M PROJECT
line up SURPRISE !!!
DECO
►THE WONDERFUL WORLD OF :
[calaquendiart.com]
--- NLD ---
► PSYCHO --- IT ---
► MOONFLOWERS --- IT ---
► CREATIVE JUNGLE --- IT ---
► MASTRONANO --- IT ---
VISUAL :
► THE FUNNY ASTRONAUT --- AU ---
(Optical Matrix)
[myspace.com]
► ZOOSE --- IT ---
(Open Ears Sound Splatters)
► VJ ZOID --- Austria ---
(Bass Island, Paradise Festival)
Info
HAPPY BIRTHDAY STEFANO AKA CIRILLONEEEEEEEEEE!!!!
3 DANCE FLOOR:
::::::::::::::::::::::::::::::::::::::::::::::::::::::::::::::::::::::::::::::::::::::::::
MAIN FLOOR [[[[ LIVE - FULLON - DARK - PSYTRANCE ]]]]
::::::::::::::::::::::::::::::::::::::::::::::::::::::::::::::::::::::::::::::::::::::::::
and
::::::::::::::::::::::::::::::::::::::::::::::::::::::::::::::::::::::::::::::::::::::::::
SECOND FLOOR [[[[ PROGRESSIVE ]]]]
::::::::::::::::::::::::::::::::::::::::::::::::::::::::::::::::::::::::::::::::::::::::::
and
::::::::::::::::::::::::::::::::::::::::::::::::::::::::::::::::::::::::::::::::::::::::::
THIRD FLOOR [[[[ CHILLOUT ]]]]
::::::::::::::::::::::::::::::::::::::::::::::::::::::::::::::::::::::::::::::::::::::::::
TECHNICAL INFOS:
►FUNKTION ONE SOUND SYSTEM
►MARTIN W 8 SOUND SYSTEM
►MULTI MEGA SCREEN
►LASER SHOW FROM UK
►3 SOUND
►3 BIG DANCE FLOOR
►CHILL OUT ZONE
►MEGA FLUO DECORATIONS
►SPECIAL FIRE SHOW
►ROBOT LIGHT SHOW
►SMOKE MACHINE
►FREE CAMPING
►RIVER
►AREA MASSAGE
►MEDICAL SERVICE
►FREE PARKING
►SHOWER
►TOILET
►RESTAURANT
►BAR
►EQUIPPED AREA FOR CAMPER AND TENT
►CD SHOP
►SMART SHOP
►CLOTHES SHOP
►RISTOR POINT
AND MORE....
please :
-- PEACE --
-- LOVE --
-- NO ABUSE --
-- NO DRUGS --
-- NO DOGS --
_ NO GLASS _
_ NO UNDERAGE _
-- ONLY POSITIVE PEOPLE --
-- RESPECT FOR ALL --
-- OPEN YOUR MINDS --
-- ONLY ENJOY and SMILE --
(: GOOD VIBES :)
_______________ 0000 __0
____________0____00___00
____________00_______000
_____________0000 000000
______ 000____00000000*
____ 0000000___ 00000
_____000000000___________000000
_____000_____00_________00000000
______________00_______0000000000
______________00_______00 _____ 00
_____________000___00000 _______ 00
____________000_000000000 _______ 0
0________0000000000000000 ________0
0________0000000000____00 ________0
00________00____00_____00________ 0
00_______________00____00_______ 00
00______________000___ 00_______ 00
_00_______________00___00 _____ 00
__00______________000__0000000000
___00____________0000___00000000
____000__________0000____000000
_____0000______00000_______000
______00000000000000
________00000000000
_________000000000
TRANCE BECAUSE OF DANCE NOT BECAUSE OF DRUGS
NO DRUGS
YES FUN!!!!!!
---------------------------------------------------------------------
---------------------------------------------------------------------
---------------------------------------------------------------------
---------------------------------------------------------------------
PER AVERE ULTERIORI INFORMAZIONI SCRIVERE IN PVT O A:
psycirkus@hotmail.it
O CHIAMARE LE INFOLINE -PREFERIBILMENTE A ORE PASTI!!!!!
---------------------------------------------------------------------
---------------------------------------------------------------------
---------------------------------------------------------------------
---------------------------------------------------------------------
___ GOALAND FESTIVAL ___ LINEUP
-----MAIN FLOOR-----
from friday to sunday
20.00-21.00=CHUMA CHUMS live
21.00-22.30=XEROMORPH
22.30-24.00=PSYDROM-PINCODE
24.00-01.15=GORAN
01.15-02.30=SETH
02.30-03.30=NASCI
03.30-04.30=ACID MIND
04.30-05.30=KANYON  live
05.30-06.30=MONKEYSEXPLOSION  live
06.30-07.30=FREAKUALIZER  live
07.30-08.45=PULSAR
08.45-09.45=ITP live
09.45-11.00=OMEGA DELTA live
11.00-12.30=SUN
12.30-17-----stop
17.00-18.30=EGO 
18.30-20.00=YONAS
20.00-22.00=DREAMING ALCHEMIST
22.00-23.15=KIMERA
23.15-00.30=MAIKY
00.30-02.00=BADINO
02.00-03.00=PEACE-KA  live
03.00-04.00=SUNNY CLOUD  live
04.00-05.30=AWIP
05.30-07.00=PIERO
07.00-08.00=TRISTAN  live
08.00-09.00=NATRON
09.00-10.00=ANIMATRONICA  live
10.30-12.00=ETHIX
12.00-13.30=MONTAGU & GOLKONDA dj set
13.30-14.30=SYMPHONIX live 
14.30-16.00=EMY
15.00-16.30=CHRISS
...................................................
-----SECOND FLOOR-----
from saturday morning to sunday
07,00-09:00 EKTOR Vs RONNY
09,00-10,00: SARI M.
10,00-11,15: KORA vs SHIRA
11,15-12,15: TIMIMASS live
12,15-13,30: GINO
13,30-14,45: GAIATECH
14,45-15,45: VAISHIYAS live
15,45-17:00 GIAWH
17,00-18,30: DUALIST live
18,30-19,45: M.PROJECT
19,45-20,45: BERTA
20,45-22,15: SENSIFEEL dj set
22,15-23,15: SENSIFEEL live
23,15-00,45: TK
00,45-02,45: YODA vs DADODANDY + SUBLIMINAL POTION live
02,45-03,45: ERRO live
03,45-05,00: CIRILLO
05,00-06,00: TRIP live
06,00-07,00: ADULTERED FREQUENCY live
...................................................
-----CHILLOUT-----
ALL THE TIME
...................................................
GRAZIE A TUTTI PER IL SOSTEGNO !!!
Peace and Respect
Location
North Italy
++++++++++++++++++++++++++++++++++++++++++++++++++++++++++++++++++++++++++++++
++++++++++++++++++++++++++++++++++++++++++++++++++++++++++++++++++++++++++++++
++++++++++++++++++++++++++++++++++++++++++++++++++++++++++++++++++++++++++++++
TUTTE LE INFO
SU:
[goaland.it]
++++++++++++++++++++++++++++++++++++++++++++++++++++++++++++++++++++++++++++++
++++++++++++++++++++++++++++++++++++++++++++++++++++++++++++++++++++++++++++++
++++++++++++++++++++++++++++++++++++++++++++++++++++++++++++++++++++++++++++++
++++++++++++++++++++++++++++++++++++++++++++++++++++++++++++++++++++++++++++++
++++++++++++++++++++++++++++++++++++++++++++++++++++++++++++++++++++++++++++++
GOALAND LOCATION:
[campinglequerce.com]
++++++++++++++++++++++++++++++++++++++++++++++++++++++++++++++++++++++++++++++
++++++++++++++++++++++++++++++++++++++++++++++++++++++++++++++++++++++++++++++
►►►in auto:
prendere autostrada bologna direzione firenze
uscita RIOVEGGIO
girare a sinistra x camping le querce
dopo 4 km sulla sinistra lo trovi
Exit Rioveggio on the left 4Km, then go for Camping Le Querce
IMPORTANTE -- Strada da fare alternativa. per chi viene dalla toscana uscita Pian Del Voglio. Madonna di fornelli direzione Bologna autostrada a1 Bo-Fi
NOTE - alternative way to go. Coming out from Tuscany Pian del Voglio. Our Lady of rings a1 motorway towards Bologna Bo-Fi
►►►BUS/NAVETTE
oltre alle nostre navette che faranno 2 corse i giorni di venerdi e sabato alle ore 16.00 e 19.00
dalla stazione di bologna al goaland, ci saranno anche i bus di linea per arrivare/tornare
► ► ► shuttle bus
In addition to our shuttle will make two trips daily on Friday and Saturday at 16.00 and 19.00
station to goaland bologna, there will also be buses to arrive / return
►►►MEZZI PUBBLICI:
►DA BOLOGNA AL CAMPING LE QUERCE
prendere bus N.92 DA VIALE PIETRAMELLARA (VICINO STAZIONE TRENI BOLOGNA) FINO A SASSO MARCONI - AL TERMINAL CAMBIO CON BUS 827 ULTIME CORSE ALLE 17.10 - 17.40 E 18.40
►DAL CAMPING LE QUERCE A BOLOGNA
alle ore 13.20 oppure alle ore 18.50
prendere bus n.827 di fronte parcheggio camping
quando arriva a VADO trasborda in bus n.826
Public Transport:
FROM BOLOGNA TO THE CAMPING QUERCE
take bus N.92 FROM Via Amendola (BOLOGNA TRAIN STATION NEAR) TO SASSO MARCONI - TERMINAL TO CHANGE WITH LATEST RACES TO BUS 827 17:10 to 17:40 and 18:40
FROM CAMPING IN BOLOGNA
at 13:20 or 18:50 pm
take bus n.827 parking in front of camp
when I go to get transships bus n.826
►►►x info bus atc: n.051290290
►►►x info taxi bologna: n.051372727
►►►x info taxi monzuno: n. 051534141
******************************************
PROMO VIDEO BY ETHIX
youtube
******************************************
LOCATION:
[facebook.com]
---------------------------------------------------
------------------------------------
PRESALE 25 €
------------------------------------
ON :
ZOOM CLUB VIA MATTEI 50/I BOLOGNA
ALVERMAN - MONTAGNOLA BOLOGNA MERCATO
OR BY MAIL:
psycirkus@hotmail.it
BEFORE 5 JUNE
------------------------------------
PREVENDITE 25 €
------------------------------------
POTETE ACQUISTARLE :
TUTTI I POMERIGGI O TUTTI I SABATI ALLO ZOOM CLUB VIA MATTEI 50/I BOLOGNA
OPPURE AL BANCO DI ALVERMAN - IN MONTAGNOLA AL MERCATO DI BOLOGNA AL VENERDI E AL SABATO
OPPURE SCRIVENDOCI UNA MAIL A:
psycirkus@hotmail.it
CI ACCORDEREMO PER SPEDIRVELE A CASA
OPPURE CHIAMATE I SEGUENTI NUMERI:
CESENA/FORLI 3486732443
REGGIO EMILIA/PARMA/MODENA 3920701650
BOLOGNA 3391604541
SOLO FINO AL 5 GIUGNO...QUINDI AFFRETTATEVI!!!!!!!
--------------------------------------------------
--------------------------------------------------
AFTER 5 JUNE:
AT THE DOOR 35€ + Cd Compilation Goaland Vol.2 in present to the first 1500 people !!!!!!!
[beatspace.com]
DOPO IL 5 GIUGNO:
ALLA PORTA 35€ = INGRESSO + CD NUOVA COMPILATION GOALAND Vol.2 IN REGALO ALLE PRIME 1500 PERSONE !!!!!!!!
[beatspace.com]
---------------------------------------------------
---------------------------------------------------
►►►►►►GOALAND BUS FROM THE STATION OF BOLOGNA
PER CHI VIENE IN TRENO:
►►►►►►DALLA STAZIONE DI BOLOGNA UN BUS NAVETTA VI PORTERA' FINO ALLA LOCATION DEL GOALAND!!!!!
CI SARANNO DUE CORSE I GIORNI DI VENERDI 11 E SABATO 12 GIUGNO
CHE PARTIRANNO DAVANTI ALLA STAZIONE DI BOLOGNA ALLE ORE 16:00 E ALLE ORE 19:00
E VI PORTERANNO FINO ALL' INGRESSO DEL GOALAND
---------------------------------------------------
GOALAND ANNIVERSARY 10 EDITION
SPECIAL EVENT
FOR 2000 PEOPLE MAX
RIVER
AND NATURE!!!
Organizer
Organizer
►FREAKADELIK CREW
►M.K. REC
►SOLARSIV REC.
►PSYFLY PROJECT
►NEOSPHERE
►MAITAKE PROD
►LA MAGICA BOUTIQUE
►OWT MADHOUSE
Added

13y

· Update

12y 5m

·

/ 572