Fullmoongui - Secret Comet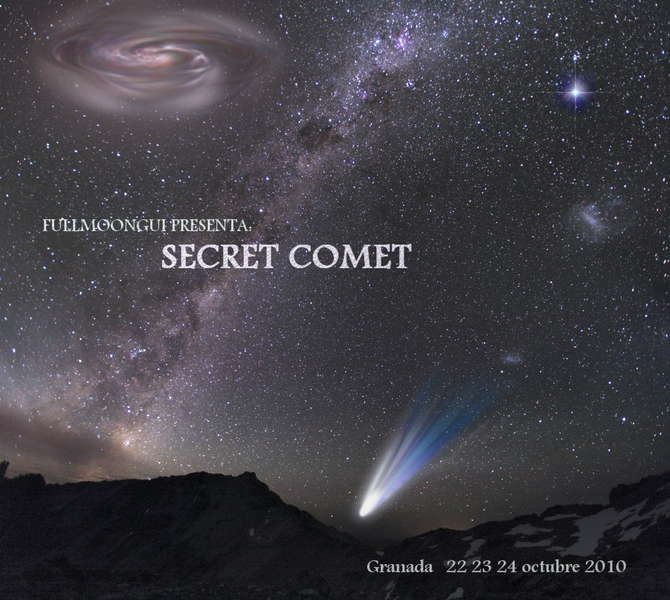 DJs
All the best around the world...
Info
En esta ocasión fullmoongui celebra la visita de un secreto visitante del espacio: el cometa Hartley. Coincidiendo con la luna llena, Hartley hará su máximo acercamiento al planeta durante estos días. Aunque la timidez de Hartley va a impedir su avistamiento a simple vista, debido principalmente al brillo de la luna, nosotros le hemos preparado una fiesta de bienvenida con todo tipo de luces y filigranas. Esperamos contar contigo para que nos abandone durante otros 6 años con una gran sonrisa en su cola…

Este es nuestro pequeño homenaje a nuestra hija Luna, de qué mejor manera que danzando bajo su luz y su magia en los fines de semana que más brille. Intentad respetar el lugar, tirando las colillas en latas vacías por ejemplo, jugad bonito con las sustancias mágicas y sobre todo sed felices.

Os esperamos en el altavoz de la izquierda...

MUY IMPORTANTE: Se ruega fervientemente dos cosas muy muy importantes:

- No acampar. Si por necesidad extrema necesitais aparcar coged el coche y moveos algún kilometrillo.
- No hacer fuego. Las noches granainas son bastante fresquitasa, aún así siempre se puede bailar con más ganas.

El respetar estas dos normas hace la diferencia de estar en el lugar de manera legal a estar de manera ilegal, RESPÉTALAS!!!!
Location
Location
El pinar mágico:

Un pinar a 30 km de granada. Lo mejor que podeis hacer es pinchar el enlace de google maps. Estos son los pasos a seguir:
- Autovía dirección motril, salida 144 OTIVAR
- Hay 2 rotondas (o 1, depende de donde se venga), coger siempre la carretera dirección Almuñecar (A-4050)
- En el km 13 de la A-4050, a unos 50metros más adelante coger la carretera que hay a mano derecha. A partir de aquí seguir las indicaciones para la CANTERA LOS LINOS (habrá un cruce que es a derecha, vereis el cartel de la cantera)
- A unos 500 metros después de pasar la puerta de la cantera (mirad el cuantakilómetros) hay un camino de tierra a mano derecha, !!seguir todo RECTO hasta la fiesta!! (no os desvieis por ningún camino, la vereis a mano izquierda cuando tengais que frenar por rocas "rompebajos" en el camino)