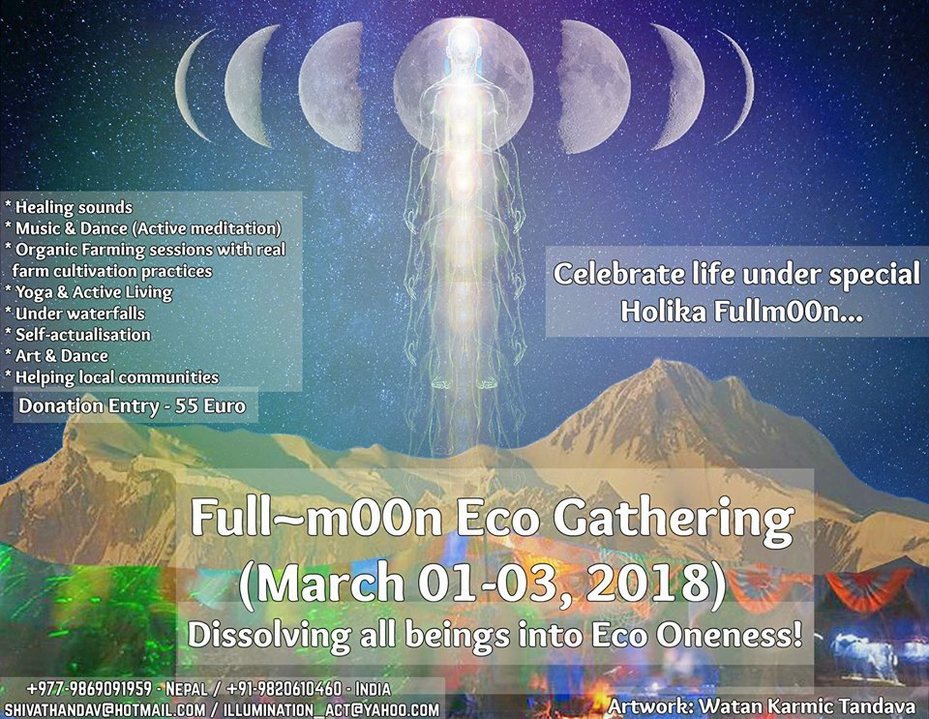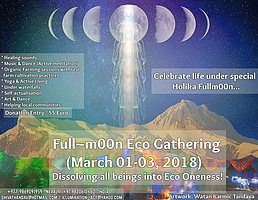 Line Up
A gathering to celebrate full moon experiences, eco lifestyle, sustainable community, learn and educate Eco-farming, sustainable living, meditation, energy healing and artistically more.
TOGETHER WE GROW
Artist line up:
Day-1
Local traditional cultural music
*Backdoor Man
[facebook.com]
*Igor da Costa & friends
(Acoustics mix. Combo. Saxophone, guitar,.......)
*Chill out
Day-2
*Shiva Tandava
*Unorthodox (live music)
[facebook.com]
*Arjun Chainpure (Healing music)
*Cactus
Day-3
*Mystic Seeker
*Bom (Live acoustics)
Originals
[facebook.com]
Bom Pom
Unity Eco Village
Chapakot
986-9091959
[goo.gl]
Info
Full~m00n Eco Gathering
Welcome Eco Oneness !!
Please share, donate, support in any way...collective energy to pure natural and sustainable living...celebrating life and respecting Mother Nature...
Eco Gathering is a festival of music, art, dance, Eco solutions and conscious living.a gathering of positive people hosted upon sustainable community space maintained for the education Eco-farming, woofing, healing etc.
a party with live acts and dis from psy chill to , techno to fusion, acoustic and eclectic.
a retreat into the Earths highest nature where we share our skills and ideas to develop a worthy culture for future generations.
ACTIVITIES SEQUENCE:
* Temple visit
* Visiting village and Knowing culture
* Nataraja Dance Meditation
* Kundalini Meditation
* Sunset Laughing Meditation on the mountain
* Live Nepali Traditional Classical music
* Open heart Dance Meditation with fire Dancers
nternational healers crystal healing Reiki,
*Om Yogi Sadhana Camp program
* Sweating Meditation
* Yogi Style Living
* Vedic Knowledge
* Natural healing
* Yoga session
* Waterfall visit
* Organic farm help-in-hand activities with the villagers
Concept of Making Ayurveda Garden .
Yogi life style is a life of balance between cleaning the mirror and spreading the light.• Meditation
* Crystal Healer
Reiki Master Yoga session after Sunrise enchantments
yoga instructor traveling through Nepal during the month of march. She would love to teach a class at the event
*
A Y A Born in 1974 in Japan,
Earth Pilgrim
Crystal Healer
Reiki Master
[himalayacrystalgrid.org]
Around the venue:
There are many other activities that you can do around the gathering venue, near to Pokhara - Adventure sports and Ayurveda massage, artistic and fancy shopping.
With our partners, Jyagdi Eco Trek, offering new concept for trekkers who wish to walk away from the beaten paths.
Paragliding or Tandem flights after the gathering, snorkeling, kayaking.
Reasonable price for Adventure Sports From Pokhara
The following things you need to bring for Full Moon Eco Gathering.
1. Flashlight
2. Water bottle
3. Sandal
4. Sun glasses
5. Fleece jacket
6. Extra pair of full sleeves shirts, t-shirts and trousers
7. River wears, shorts and swimming custom
Sleeping bags and tents are availed on renting basis on advanced booking
* AND yess !! Please AVOID plastic bags/abused bottles/lying alcohol bottles at the venue*
FOR YOUR CAMP EQuipment For Buy , Sell, Rent Exchange .
BABA TREKKING EQuipment Shop
Lakeside -6 Pokhara ,Nepal
Hotline no +977-984603023
After Party For Full~m00n Eco Gathering Eco Festival we have Permaculture meeting with local culture, western traditional music meeting with local traditional music, and the convergence of other arts and philosophies such as yoga, meditation, reiki, massage etc.What is being created is the future
Organizer
Organizer
Fullm00n Eco Gathering