Backend
Freemental Festival - Alpha Edition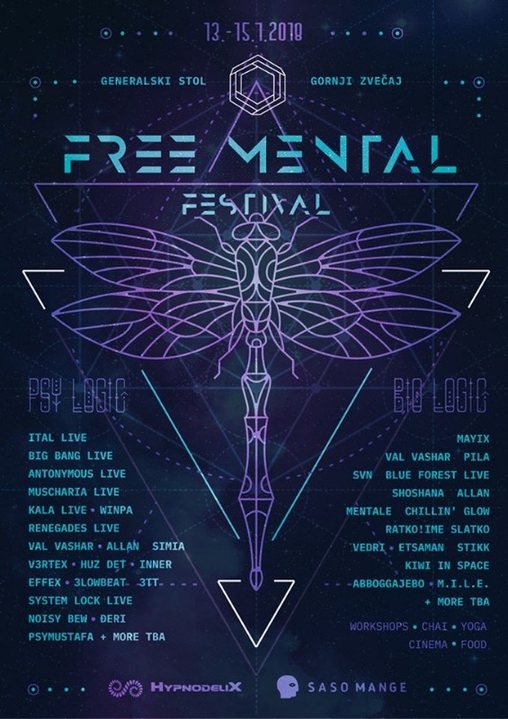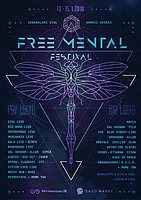 Line Up
◀ FREEMENTAL FESTIVAL - ALPHA EDITION ▶
Liebe psychedelische Liebhaber und alle, die sich so fühlen!
Wir freuen uns, das Freemental Festival ankündigen zu können, gegründet von langjährigen Freunden von Saso Mange Soundsystem und Hypnodelix, Trance-Liebhabern und Organisatoren in Zusammenarbeit mit dem River Festival.
Wir verbinden Kräfte, weil wir Ihnen diese neue und aufregende Geschichte bringen wollen.
Das Freemental Festival ist eine gute Gelegenheit für guten psychedelischen Spaß und entspanntes Chillen.
Der Ort liegt in der Nähe des wunderschönen Flusses Mrežnica, der ein Ambiente bietet, das der dynamischen Musikgeschichte entspricht, umgeben von der Natur, die höchsten Respekt verdient und bewahrt.
Als ein Ort der psychedelischen Pilger versammelt, der sich in einem Königreich von Hängematten versammelt, stellt es die Plattform für die Präsentation regionaler Künstler dar, schließt aber ausländische Namen, psy-Legenden und neue, frische Gesichter nicht aus.
Durch die Musik lieben wir es, die Geschichte zu kreieren. Auf Psy Floor werden Sie von den Klängen von Progressive, Full On, Forest und anderen psychedelischen Provisorien überwältigt und für eine intimere Atmosphäre haben wir eine kleine Waldecke mit unverzichtbarem Downtempo und Chai Tee vorbereitet.
Dies ist eine Gelegenheit, unsere Gehirnkreise zu lockern und die erste Ausgabe des FreeMental Festivals zu beginnen, ein unvergessliches psychedelisches Ereignis!
<Partizipationa>:
Zealot Phase - (bis 01.05.): 17 €
Enthusiastphase - (bis 09.07.): 26 €
Engagierte Phase - (am Eingang): 33 €
Raver Phase - (Samstag): 25 €
E-mail:
hana.pilski@gmail.com
◀ FREEMENTAL FESTIVAL - ALPHA EDITION ▶
Full On, Forest, Psychedelic Nighttime, Progressive, Psybreaks, Psytechno/Techno, Psychill, Downtempo, Ambiental
13.07.-15.07.2018.
Generalski stol, Gornji Zvečaj bb, rijeka Mrežnica
Dear psychedelic lovers and all who feel like that!
We are happy to announce FREEMENTAL Festival, established by long-standing friends from Saso Mange Soundsystem and Hypnodelix, trance lovers and organizers in collaboration with River Festival. We are combining forces because we want to bring you this new and exciting story.
Freemental Festival represents great opportunity for good psychedelic fun and relaxed chilling. Located near gorgeous river Mrežnica which gives ambient that is true to the dynamic music story, sorrounded by nature that deserves maximum respect and preserving. Imagined as a place of psychedelic pilgrim gathering in a kingdom of hammocks, it represents the platform for presentation of regional artists but it doesn't exclude foreign names, psy legends and new, fresh faces.
Through music we love to create the story, so on psy floor you will be overcome with the sounds of Progressive, Full On, Forest and other psychedelic makeshifts, and for a more intimate atmosphere we have prepared little forest corner with indispensable downtempo and chai tea.
This is an opportunity to loosen our brain circuits and begin first ever edition of FreeMental Festival, an unforgettable psychedelic event!
◅ Partycitpation ▻
Zealot phase - (until 01.05.): 17€
Enthusiast phase - (until 09.07.): 26€
Devoted phase - (at the gate): 33€
Raver phase - (Saturday): 25€
E-mail:
hana.pilski@gmail.com
---------------------------LINE UP----------------------------
⬡ Ital - (Antu Rec., Chile) // LIVE
soundcloud
⬡ Big Bang - (Antu Rec. - Chile/Brasil) // LIVE
soundcloud
⬡ Antonymous - (Sonic Loom Rec. - Grčka) // LIVE
soundcloud
⬡ Muscaria - (Sonic Loom Rec. - AUT) // LIVE
soundcloud
⬡ Kala - (Forestdelic Rec., MKD) // LIVE
soundcloud
⬡ Renegades (Pixan Rec., CRO) //LIVE
[bandcamp.com]
⬡ Huz Det (Overa Crew, CRO) //LIVE
soundcloud
⬡ System Lock (Regeneration, CRO) //LIVE
soundcloud
⬡ Val Vashar (Zenon Rec., CRO)
soundcloud
⬡ Winpa (Insectik Rec., CRO)
soundcloud
⬡ Allan (Kaoslab/Taman, CRO)
soundcloud
⬡ Simia (Hypnotique Rec., SRB)
soundcloud
⬡ V3rtex (MoDem/Psynon Rec., UK)
soundcloud
⬡ Inner (Oddvod, CRO)
soundcloud
⬡ Pelks (Modem Festival/SyntaxSense/Intergalactic Dürüm, CRO/DE)
soundcloud
⬡ Effex (Hypnodelix, CRO)
soundcloud
⬡ 3lowbeat (Hypnodelix, CRO)
soundcloud
⬡ 3TT (Regeneration, CRO)
soundcloud
⬡ Noisy Bew (Psylicious, CRO/IRL)
soundcloud
⬡ Đeri (CRO)
⬡ PsyMustafa (Saso Mange Soundsystem, CRO)
soundcloud
⍋ BIO-LOGIC STAGE ⍒
POWERED BY: Saso Mange Soundsystem
DECO: Area 51 - deco team
⬡ Blue Forest (Mindspring music, CRO) // LIVE
soundcloud
⬡ Mayix (Pistolero Rec, CRO)
soundcloud
⬡ Val Vashar (Zenon Rec., CRO)
[click here]
⬡ Pila (Forestdelic Rec.,CRO)
soundcloud
⬡ SVN (CRO/UK)
soundcloud
⬡ Shoshana (Mami's Magic, SLO)
soundcloud
⬡ Mentale (Visionary Mind, ITA/HUN)
soundcloud
⬡ Chillin' Glow (Hypnodelix, CRO)
soundcloud
⬡ Allan (Kaoslab/Taman, CRO)
[click here]
⬡ Ratko!Ime slatko (Chillozofiranje, CRO)
soundcloud
⬡ Vedri (CRO)
⬡ Etsaman (CRO)
soundcloud
⬡ Stikk (Hartera, CRO)
soundcloud
⬡ Kiwi in space (Muzika Miliona, CRO)
soundcloud
⬡ Aboggajebo (Offcycles, CRO)
⬡ M.I.L.E. (CRO)
soundcloud
⬡ 3TT ( (Regeneration, CRO)
[click here]
⬡ El Commando (Taman/No Balance/Klub Kocka, CRO)
soundcloud
⬡ Nocturnal (Geomagnetic/Digital Drugs/Kaoslab, CRO)
soundcloud
⬡ Cidakis (Cruise, CRO)
soundcloud
⬡ Kommoda (Taman/Klub Kocka, CRO)
soundcloud
◅ EXTRA ▻
⬢ Bar
⬢ Food
⬢ Camping/Hammocks
⬢ Workshop/Cinema area
Deco
Deco
Area: 51, VJ: Dimension Tricks
Info
Info
Workshops/Cinema, Camping, Food, Chai bar
Entry
Entry
◅ Partycitpation ▻

Zealot phase - (until 01.05.): 17€
Enthusiast phase - (until 09.07.): 26€
Devoted phase - (at the gate): 33€
Raver phase - (Saturday): 25€
Organizer
Organizer
Freemental festival
Hypnodelix crew
Saso Mange Soundsystem