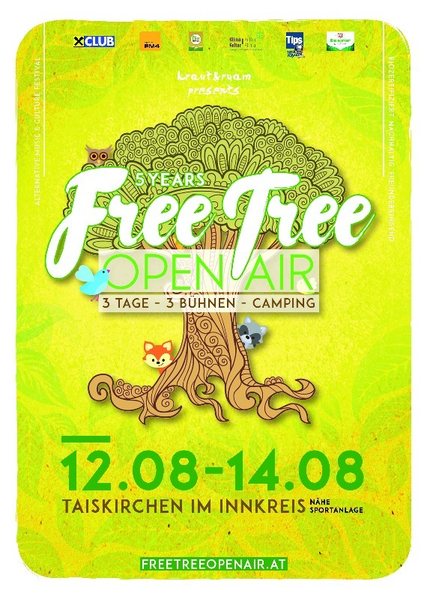 Info
KV KRAUT und RUAM präsentiert stolz die fünfte Ausgabe des
─▒▒▒▒▒▒▒──▒▒▒▒▒▒▒───▒▒▒▒▒▒▒─
▒▐▒▐▒▒▒▒▌▒▒▌▒▒▐▒▒▌▒▒▐▒▐▒▒▒▒▒
─▒▀▄█▒▄▀▒─▒▀▄▒▌▄▀▒──▒▀▄▌▒▄▀▒
────██──────██────────██───
░░▄▄██▄░░░░▄██▄░░░░░░▄██▄▄░
██ FREE TREE OPEN AIR 12.08 - 14.08.16 ██
✿✿✿ alternative music and culture festival ✿✿✿
▬▬▬▬▬▬▬▬▬▬▬▬▬▬▬▬▬▬▬▬▬▬
✿ 3 Tage - 3 Bühnen - Camping
✿ 34 Bands - 30 DJS - Kulturprogramm
✿ official GREEN EVENT
✿ 5 jähriges Jubiläum - 3 Tage Festival ♥
✿ Taiskirchen im Innkreis - Kainzing - im Grünen
▬▬▬▬▬▬▬▬▬▬▬▬▬▬▬▬▬▬▬▬▬▬
NACHHALTIG - BIO ZERTIFIZIERT - FREUNDEBRINGEND
▬▬▬▬▬▬▬▬▬▬▬▬▬▬▬▬▬▬▬▬▬▬▬▬
Musik, Spaß und Kultur werden mitten im Grünen in traumhaften Ambiente vereint. Nach den unvergesslichen Free Tree Open Airs der letzten 4 Jahre feiern wir heuer das 5 jährige Jubiläum mit einem zusätzlichen Festivaltag. Heuer gibt es das Free Tree erstmals 3 Tage! :) (Montag 15.8.16 Feiertag)
Sei wieder dabei, lass dich überraschen und erlebe ein perfekt abgestimmtes Line Up, mitreißendes Kulturprogramm mit Workshops, Kabarett, Poetry Slam,.... geniale Dekorationen, qualitatives und kontrolliertes biologisches sowie auch veganes Essen und noch mehr, gemäß KV Kraut und Ruam!
▬▬▬▬▬▬▬▬▬▬▬▬▬▬▬▬▬▬▬▬▬▬▬▬
✿ ALLE INFOS UNTER:
[freetreeopenair.at]
aftermovie 2015:
youtube
aftermovie 2014:
youtube
- Die Veranstaltung findet bei jeder Witterung statt!
- Teile der Veranstaltung sind überdacht!!!
- Es gilt das OÖ Jugendschutzgesetz
- Campingplatz ab Donnerstag 11. August 17:00 geöffnet!
▬▬▬▬▬▬▬▬▬▬▬▬▬▬▬▬▬▬▬▬▬▬▬▬
✿ LOCATION:
Riederstrasse 25
4753 Taiskirchen im Innkreis
nähe Sportanlage
im Grünen -> follow the signs :)
▬▬▬▬▬▬▬▬▬▬▬▬▬▬▬▬▬▬▬▬▬▬▬▬
✿ TICKETS:
Tageskarte VVK 25€ incl. Gebühren
WE-Pass: VVK 49€ incl. Gebühren
Erhältlich bei allen Raiffeisenbanken und Ö-Ticket stellen.
Ticketlink:
[freetreeopenair.at]
Wir empfehlen Vorverkauftickets zu kaufen!
▬▬▬▬▬▬▬▬▬▬▬▬▬▬▬▬▬▬▬▬▬▬▬▬
✿ SPONSOREN & PARTNER
30 Jahre Tips Zeitungs GmbH & Co KG
Raiffeisen Club OÖ
KlimaKultur:KulturKlima Oberösterreich
radio FM4
BIO AUSTRIA
Baumgartner Bier
LT1 OÖ
Viva con Agua Österreich
MAKAVA delighted ice tea
VOLUME.at
Leuchtmittel
Hotspot Veranstaltungstechnik Schwarzmayr
NOMEX Eventtechnik
BAV Ried im Innkreis
IN-STYLE FRISEUR RIEDAU
Gasthof Autzinger
Körndl Naturladen
EZA Fairer Handel
Hirandnow
KUPF OÖ
MARKL Dachdeckerei-Spenglerei Riedau
PRESSURE festival
Progressive Selection
<<<MORPHED>>>
PsycoholiX
Cirque de la nuit - The Original
Kreba Sound
Constant Irie crew
Lost
ELEMENTS Festival
▬▬▬▬▬▬▬▬▬▬▬▬▬▬▬▬▬▬▬▬▬▬▬▬
Wir freuen uns auf dich!
greetz KuR
:D
▬▬▬▬▬▬▬▬▬▬▬▬▬▬▬▬▬▬▬▬▬▬▬▬
Event Empfehlung:
ELEMENTS Festival AISTERSHEIM
03. Sept. 2016
[facebook.com]
Location
Location
Riederstrasse 25
4753 Taiskirchen im Innkreis
nähe Sportanlage
im Grünen -> follow the signs :)
Entry fee
Entry fee
Tageskarte VVK 25€ incl. Gebühren
WE-Pass: VVK 49€ incl. Gebühren
Organizer
Organizer
KV Kraut & Ruam