Forestronika, The Electronic Music Festival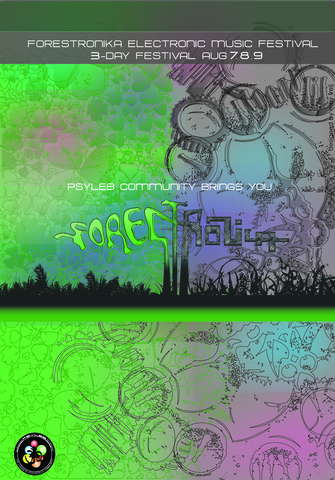 Main Stage Line-up:

-Gunther & Stamina
-MaDJam / Twisted House
-Jade (The basement Beirut) / Mish-Mash
-Diamond Setter (The basement- Beirut)
-The Kaa (Air snare records- France) / DVJ act Minimal & Progressive
-Psychogenesis (Namaha records - India; Psyleb-Lebanon) / Twilight Psychedelic
-Subdog / Acid Breaks & Dubstep
-Roy Malakian (The pulse) / Underground
-Dansz (Q.Bik entertainment - Lebanon) / Techno
-Kalice (Double 8 records - Jordan) / Minimal Techno & Techno
-Weird Noise (Weird noise project - Cyprus) / Dark Psychedelic
-Hear (The Basement - Montreal) / Tech House
-Cyber Dragon (Psyleb - KSA) / Drum N Bass
-A Slonge Xperiment (Lebanon) / Progressive Psychedelic
-Moudy (Positive Vibes - Lebanon; No preset Records - Spain ) / Minimal Techno & Techno
-Madd nadd (Namaha records - India) / Twilight Psychedelic
-J-Deep (Tribonic Records - India) / Tribal
Chill out Stage Line-up:

-Ants / Live chill instrumental
-Georges / Live experimental chill
-Yoriguana (Greece) / Acid Jazz
-Necrostate / Experimental, glitch & IDM
-Psyshroom / Minimal Psy
-Duke / Psybient
-Walid / Soundscapes
-Elias / Triphop
-Trip / Ambient
-Psykorgasme / Prog Goa Trance
Deco
Deco
Visual projections by:

-DVJ Kaa
-Mossig
-Ikabod Crane

Deco by Explosion Deco (Jordan)
Info
"All for one, and one For'esTronika"
"ForesTronika" The Open Air Electronik Music Festival
Aug 7,8,9 2009 @ Eco Village, Chouf (Lebanon)
We're baaaaack!! Bigger and meaner, with a massive line-up covering all of your electronic underground urges, from minimal to Drum N Bass all the way to psychedelic.
For 3 days, Psyleb will be creating in the heart of our beautiful nature forest, a magical village, running on pure stomping energy, where you can check out at the door all of your outer world worries, and indulge urselves into pure eletronic bliss. Your visions will be distorted into our hand made, UV psychedelic decoration, backdrops and string art courtesy of Explosion deco (Jordan), our fire dancers will enchant you into another dimension, your hearing senses will be seriously damaged by the mayham
basslines the forestronika DJ's will throw on the dancefloor and the full blasting outdoor sound system we have installed for you. All of ur other senses will be magnified by the beautiful forest and the breath taking sceneries.
Detailed plan for the 3-day festival:
-Friday, the 7th of August: doors open at 12 noon: attendees will be able to find their preferred spots and install their tents, chillout music will be playing throughout.
PS: We have taken your last year's suggestions and comments into consideration, and this year, the main stage will shut off for 8 hrs on saturday during
the day, and for 4 hrs on sunday. During these break hrs, the chillout stage will kick in, you can relax to down tempo tunes, enjoy the nature and outdoor activities, get some much needed sleep, soak ur feet, and recharge your energies for another stomping night.
- Friday at 7:30pm: official opening ceremony of Forestronika.
- 8pm: First Dj kicks off the journey
- Sunday, the 9th of August 6pm: closing set + closing ceremony.
Facilities available on site:
-Camping areas (bring your own tent) (free of charge)
-Available tents to rent (Prices will be announced soon)
-Huts & Tree houses for rent (Prices will be announced soon)
-Food and drink bar (Price list on site, very pocket friendly)
-Restrooms, showers and dressing rooms
-Art workshop
-River
-Outdoor Activities
-Tribal accessories & clothing shop
PS: Places for tents & mud houses are limited. Kindly reserve before hand
What to bring:
-Sleeping bags
-Tents
-Flash lights
-Anti Mosquito spray
-Trash Bags
-Warm clothes for the night
-Sun protection
-Swimming suits
Regulations & Conditions of the entry
Forestronika is an open air music festival by attending and participating in anyway you agree full responsiblity for yourself and your actions. Management reserves right to refuse entry. Violent & indescent behaviour will not be tolerated.
*Banned and Illegal substances would not be tolerated and we are not responsible for any individual found with such substances. Any such suspision will lead to dismisal of right to party.
This Festival is Animal friendly! Your pets are welcomed
Let us celebrate nature together by respecting it
For more info and Pre-sale tickets please Contact:
Rabih: 00961 70 21 41 50
Nicole: 00961 3 79 26 85
We welcome your suggestions on hotmail and msn chat:
forestronika@hotmail.com
[forestronika.com]
(Coming soon)
Psyleb Crew
The Jounrey Begins
[psyleb.com]
Location
Location
How to get to Forestronika (Eco Village):

From Damour, Jiyyeh Highway, take the "Beit el Deen" Exit, pass the Lebanese Army check point, going up towards Chouf, to a village called Dmeet. (It's the first village after the check point, almost 15 mins away).
Once you get to Dmeet, reach COOP supermarket, you will get to a roundabout, on which there's a sign directing you to Forestronika Parking space, also escorts to parking spots will be provided by the Dmeet municipality police. Once you reach the parking space, please park ur cars! DO NOT drive to the location, as site is only accessible with 4x4, and there will be NO on site parking.
Shuttle buses will be available from the parking space to the festival location, back and forth, running on a planned schedule and for a small fee that we will announce soon.

For those who have commuting problems and don't have cars, getting to the Dmeet is very easy, as you can find public busses going up and down.
Entry
Entry
Ticket prices for the festival:

Presale tickets (June) : 40$
Presale tickets (July) : 45$
At the door: 55$

PS: Number of tickets limited
Organizer
Organizer
Psyleb
The Lebanese Psychedelic Xperience
The Journey Begins