Backend
Forest Star - Midsummer Festival 2018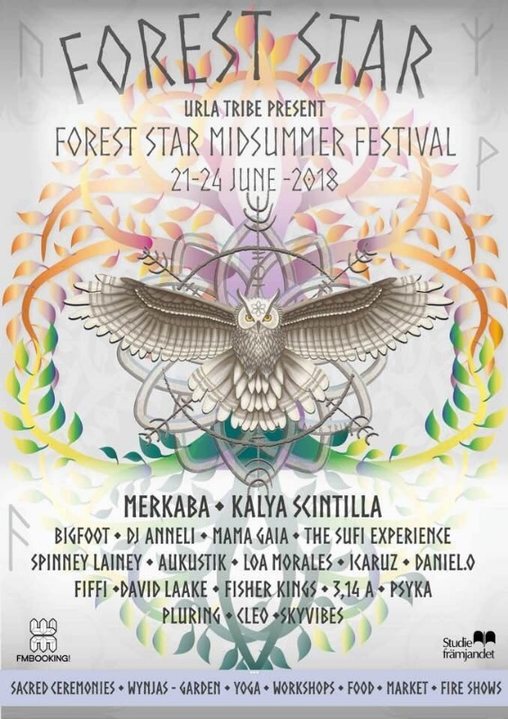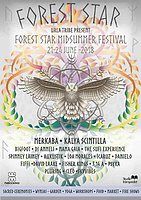 Line Up
MERKABA
soundcloud
KALYA SCINTILLA
soundcloud
BIGFOOT
soundcloud
DJ ANNELI
soundcloud
SPINNEY LAINEY
soundcloud
THE SUFI EXPERIENCE - NASIRI ft. SON
soundcloud
LOA MORALES
soundcloud
KHATNIP
soundcloud
ICARUZ
soundcloud
PSYKA
soundcloud
PLURING
[click here]
MAMA GAIA
soundcloud
CLEO SYMBIOZ
soundcloud
DAVID LAAKE
soundcloud
AUKUSTIK
soundcloud
FISHERKINGS
[spotify.com]
soundcloud
3,14 A
soundcloud
....and more
ღ Healing Area / Workshops ღ
- URLA WOMAN Ceremony
The Urla woman shares with you Urlass ceremony at saturday midnight.
The ceremony this year is a contribution to the creation of life, the ice and the fire and to Audhumbla, mother of all.
- NORDANDA YOGA
[nordandayoga.se]
- MARCUS SARHAGEN Lecture/workshop
- ARNFRIDUR YOGA
[arnfridur.com]
....and more
ღ Childrens Festival ღ
Forest Star is not only a magical gathering with music and dance for grownups, we want the children to have an amazing experience, that is why we do our best to provide a good environment for them where they can feel welcome and free to play and express themselves.
We have a beautiful playground in the chill out, theatre for the small ones that also will involve them somehow, face painting, workshops & much more visitors; they bring so much joy and pureness.
Info
ღ Forest Star - Midsummer Celebration ღ (Summer Solstice) 2018 - 21-24 June ღ

Our ancestors were speaking about the old powerful midsummer tradition, the summer solstice,,,, this time the sun is shining the longest and in the night it almost doesn't get dark... that's when you see the fairy's dancing in the mist, with flowers in their hair singing songs about love and growth..

We celebrate Sunna the Sun, returned to shine her light over us the earth. She is the goddess "Asynja" that drove the sun-wagon over the sky. She is sending the healing light of courage and self-love over us. She helps us to remember to take our place in the universe and that we all have a place here and now

In the Old Norse tradition we celebrated the female and male energy, this energy was represented by Freja and Frej, goddess and god. We all have this in us it's all about Love, growth, life and Balance!

We dress the midsummer pole with flowers and dancing around it to celebrate life!! The pole is not only a phallus symbol it is also representing the womb and this two are symbols for male and female energy! Let the power of this fill you with self-love, love to others, love to the universe!

We found Urla forest we found home ღ
We tasted the water we smelled the trees while we lead down in the moss, after the cleansing rain through the fog we were listening to the ravens. Along our walks the forest star flower greeted us! In the nights we heard Urla howling her wisdom as we sat around the campfire. We shared our longings and our dreams; we wanted to gather the tribe in a loving midsummer dream!

*Urla Tribe*

ღ Festival Rules & Guidelines ღ

This festival takes place in Urla Forest "THIS LAND IS MY GARDEN" Togetherness is part of the basic concepts of this festival.
We think it's a blessing to be able to create and share this amazing experience in this beautiful forest, but for that to be possible we all need to collaborate and take care of this gift.
Take care of ourselves and each other as brothers and sisters, open our hearts and stand in our own power.

The love and unity of the people is what this festival is about.
So please show gratitude to nature and the surroundings and respect our rules and guidelines.


ღ Bring your ID: at the entrance you may need to provide identification, OBS! Everyone under 18 must have a parent that is responsible for them during the festival.

ღ Children: We welcome and care about all children ღ. Children must wear ear protection at all times throughout the festival. We do not tolerate children on the main stage after 21.00; there are exceptions during our ceremonies. We do our best to provide a safe environment but we don't take any responsibility's for your children's safety. Please take good care of them.

ღ NO Dogs or animals of any kind: we believe a music festival is no place for our sensitive animal friends. We make no exceptions!

ღ Don't drink and drive: In Sweden we have a zero-tolerance' policy, It means your Blood Alcohol Level cannot be over 0,0 BAC.

ღ Drug Policy: According to the Swedish law you are not allowed to possess narcotic drugs and psychotropic substances. We encourage all visitors to take it seriously, so we can all enjoy our beautiful festival.

ღ Photos & Film recording; it is forbidden to carry out any Commercial or advertising activities without a written permission from the organizers. Sound and Film recording will only be produced of the event. Photos You are allowed to take photos, but commercial media publications can only be made with the agreement of the Organizer.

ღ Bush Fire:If there is a bush fire, info is coming!

ღ Fire: we do NOT allow any fires anywhere on the festival site! Please respect that! There is going to be 2 fires on site, one at the Chill out and one at the Main stage. Forest Star crew will look after them, so please DO NOT put any firewood in the fire except if the fire start to run out.

ღ Rubbish: we provide and organise recycling bins and a recycling station. LEAVE NO TRACE! So please make sure you recycle. All the rubbish you can't recycle needs to be taken back home!

ღ Water: We provide drinking water, But It always good if you come with your own water supply as well, in the forest there are small creeks but we do not take any responsibility for that water "safety". You're not allowed to use soap or toothpaste or any products that can harm the creek water and please do not wee near the creek!

ღ Toilets: we provide Baja major (portable toilettes) so please use them, even if it's only for weeing. For those who decide to use the forest, please use our forest shit pits in the Camping areas. If you have an Nr 2 emergency and you need to use the forest this is how it should be done.

ღ Nr 2 – Go far away from the festival area! Dig a hole in the ground big enough to contain all your waste, cover your waste very well, including the toilet paper, so none will accidentally step on it. Respect the nature, keep it clean and leave no trace!

ღ Parking: Its 2km from the festival area. It takes about 30 minutes to walk to the festival. IMPORTANT! If you have a lot to carry or children we suggest you to bring a barrow, trailer or similar because we cannot longer provide our FOREST-TAXI.

ღ Cigarette Butts: we are doing our best to provide ash trays, so whatever you do don't put them on the ground, take your time and find a bin/ashtray.

ღ Knotten & Mosquitos: these tiny little creatures are usually at the festival; their bites are very itchy and if bitten multiple times can result swelling. Consider to bring repellents and a light scarf or net to protect your face.

ღ Rain: midsummer often blesses us with rain, so be prepared for it, the ground can get very muddy so gumboots are the best!

ღ Cold weather: yes it is summer but believe us, especially at night time in Urla forest, the temperature can drop and it gets very cold, we recommend you to take warm clothes, sleeping bags and blankets for your campsite.

ღ Earplugs: it is a good idea to bring earplugs with you, they can be very useful when you need a break from the loud music or when you want to sleep.

ღ Money: bring cash! We don't have atm's or card use, so you can buy food and shop at the market area, there is going to be lots of alternative cool shops and yummy food to buy. The closest atm is in Tidaholm or Hjo, about 15 km from the festival area.

ღ NO Illegal substances

ღ NO Glass

ღ NO campfires or fires of any kind

ღ NO Nitrous oxide

ღ NO Negative Vibes

ღ NO Dogs or animals of any kind

ღ NO Motor Bikes or Quad Bikes

ღ NO Couches / Lounge Chairs

ღ NO Generators

ღ NO Commercial signage or advertising

ღ NO Fireworks or flares

ღ NO Handheld lasers

ღ NO Excessive Amounts of Alcohol

ღ NO Weapons of any kind


ღ It is many rules to be followed; we hope you all understand our Responsibility, to make sure that this festival is fun, safe and functional in every way.

ღ We put our trust in all of you ღ
Entry
Entry
1st phase 750 SEK
2nd phase 850 SEK
3rd phase 950 SEK
Keep in mind we have a limited number of tickets ღ
BUY YOUR TICKET HERE
[foreststar.se]
Organizer
Organizer
Emma Vilda Althaus Bruder
Added

4y 4m

· Update

4y 4m

· 1