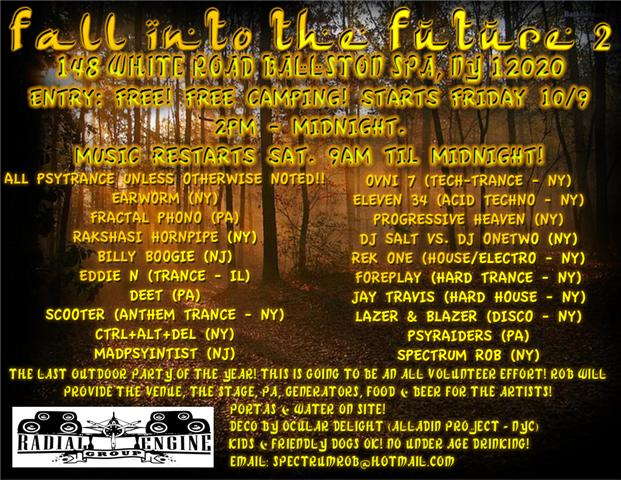 DJs
ALL PSYTRANCE UNLESS OTHERWISE NOTED -
EARWORM(NY), FRACTAL PHONO(PA),RAKSHASI HORNPIPE(NY), BILLY BOOGIE(NJ), EDDIE N(TRANCE)(IL), SCOOTER(ANTHEM TRANCE)(NY), CTRL+ALT+DEL(NY), MADPSYINTIST(NJ), OVNI 7(TECH-TRANCE)(NY), ELEVEN 34(ACID TECHNO)(NY), PROGRESSIVE HEAVEN(NY), DJ SALT vs DJ ONETWO(NY), REK ONE(HOUSE,ELECTRO)(NY), FOREPLAY(HARD TRANCE)(NY),JAY TRAVIS(HARD HOUSE)(NY), LAZER & BLAZER(DISCO)(NY), PSYRAIDERS(PA), SPECTRUMROB(NY), SOUNDICIDAL(EXPERIMENTAL)(NY).


THE LAST OUTDOOR PARTY OF THE YEAR. THIS IS GOING TO BE AN ALL VOLUNTEER EFFORT. ROB WILL PROVIDE THE VENUE, THE STAGE, PA, GENERATORS AND FOOD & BEER FOR THE ARTISTS.

PORTAS AND WATER ON SITE.

FLYER SOON.
Deco
Deco
OCULAR DELIGHT (ALLADIN PROJECT)(NYC)
Info
Info
KIDS AND FRIENDLY DOGS OK. NO UNDER AGE DRINKING ALLOWED(STRICTLY ENFORCED).
Location
Location
ROB'S FAVORITE AUNT'S FARM
148 WHITE ROAD BALLSTON SPA NY 12020

RAIN, SNOW OR SHINE, THIS PARTY IS GOING TO HAPPEN! BRING YOUR OWN, BRING WARM CLOTHES AND BRING FIREWOOD IF YOU CAN.

CLOSE TO HALLOWEEN, SO COSTUMES ENCOURAGED.
Entry
Entry
FREE!!!, FREE CAMPING. STARTS FRIDAY 2PM GOES TIL MIDNIGHT, THEN SATURDAY 9AM TIL MIDNIGHT.

NOTE - YOU DON'T HAVE TO LEAVE WHEN IT'S OVER ON THE 2ND NIGHT.
Organizer
Organizer
RADIAL ENGINE GROUP