EQUINOX: THE T.O.U.C.H. SAMADHI 6TH ANNUAL ARTS & MUSIC FEST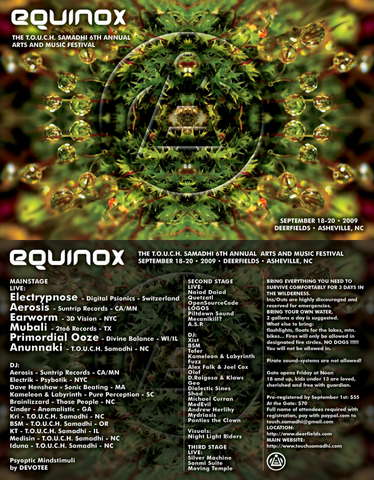 Line Up
MAINSTAGE
LIVE:
Electrypnose - Digital Psionics - Switzerland
Aerosis - Suntrip Records - CA/MN
Earworm - 3D Vision - NYC
Mubali - 2to6 Records - TX
Primordial Ooze - Divine Balance - WI/IL
Anunnaki - T.O.U.C.H. Samadhi - NC

DJ:
Aerosis - Suntrip Records - CA/MN
Electrik - Psybotik - NYC
Dave Henshaw - Sonic Beating - MA
Kameleon & Labyrinth - Pure Perception - SC
Brainlizzard - Those People - NC
Cinder - Anomalistic - GA
Kri - T.O.U.C.H. Samadhi - NC
BSM - T.O.U.C.H. Samadhi - OR
KT - T.O.U.C.H. Samadhi - IL
Medisin - T.O.U.C.H. Samadhi - NC
Iduna - T.O.U.C.H. Samadhi - NC

Psyoptic Mindstimuli
by DEVOTEE


SECOND STAGE
LIVE:
Naiad Daiad
Quetzatl
OpenSourceCode
LOGOS
Piltdown Sound
Mecanikill?
A.S.P.

DJ:
Xist
BSM
Tofer
Kameleon & Labyrinth
Fuzz
Alex Falk & Joel Cox
Olof
D.Raigosa & Klaws
Geo
Dialectic Sines
Shad
Michael Curran
MedEvil
Andrew Herlihy
Mydriasis
Panties the Clown

Visuals:
Night Light Riders

THIRD STAGE
LIVE:
Silver Machine
Sonmi Suite
Moving Temple
Info
EQUINOX
THE T.O.U.C.H. SAMADHI 6TH ANNUAL ARTS AND MUSIC FESTIVAL
SEPTEMBER 18-20 • 2009 • DEERFIELDS • ASHEVILLE, NC

BRING EVERYTHING YOU NEED TO SURVIVE COMFORTABLY FOR 3 DAYS IN THE WILDERNESS.
Ins/Outs are highly discouraged and reserved for emergencies.
BRING YOUR OWN WATER,
2 gallons a day is suggested.
What else to bring:
flashlights, floats for the lakes, mtn. bikes... Fires will only be allowed in designated fire circles. NO DOGS !!!!! You will not be allowed in.

Pirate sound-systems are not allowed!
Entry
Entry
Gate opens Friday at Noon
18 and up, kids under 13 are loved, cherished and free with guardian.
Pre-registered by September 1st: $55
At the Gate: $70
Full name of attendees required with registration, pay with paypal.com to
touch.samadhi@gmail.com