Donna of The Dark Forest
Fuenteheridos(Sierra de Huelva) ·
Spain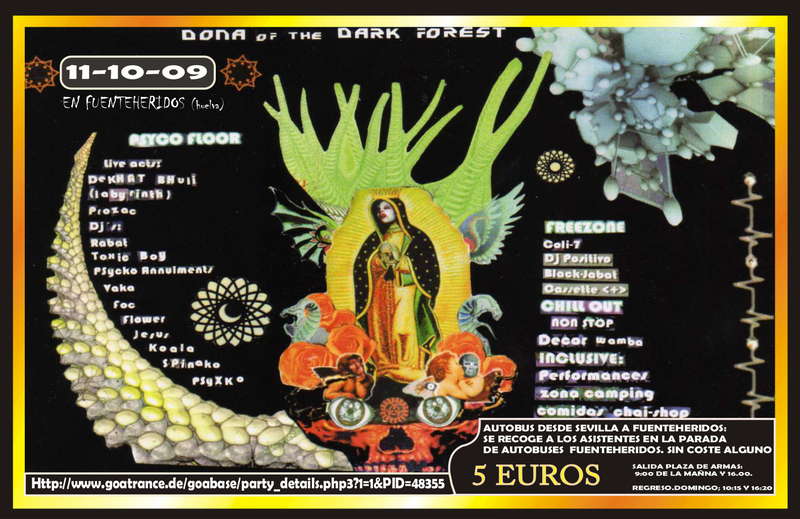 Live
Line Up
SABADO
09:00
Prozac (full on - guitar trance)
18:00
Meccano (Trance/Electro/Progressive) (Crystal Matrix) (Pt)

DOMINGO
03:00
Dekhat- Bhuli (LaByrinth) Ultratumba recs/Ultravision recs/Heavy-Musci-prod recs/Y.A.W.W.E Recs(Pt)
VIERNES - SABADO
00:00 Wamba (progress)
01:30 Foc (full on)
03:00 Chus Romero (full on)
04:30 TXP (full on - dark)
06:00 Jesus (dark)
07:30 Rabat (full on)
09:00 Prozac (LIVE) (full on - guitar trance)
10:00 Toxik Boy (full on - guitar trance)
12:00 Kola (full on)
13:30 Zathoichi (full on)
15:00 Lull (full on)
16:30 Psyfont (progress)
18:00 Meccano (LIVE) (Trance/Electro/Progressive)
19:30 Xupix (full on)
21:00 Coly-7
22:30 Oscar Sanchez (psycodelic)

SABADO - DOMINGO
00:00 Corthes (nightpsy)
01:30 Psyxko (darkpsy)
03:00 Dekhat Bhuli (LIVE) (darkpsy - hardtrance)
05:00 Flow (dark)
06:30 Spinakel (dark full on)
08:00 J-Xtorsion (Ultravision Rec)
09:30 Vaka (full on)
11:00 Psycko Annulments (psycodelic)
13:00 Pituki (psycodelic)

CLOSED LINE UP, SORRY
FREE ZONE:
Skisoundsystem (Reggae)
Coli-7
Dj Positivo
Black-Jabat
Cassete <+>
Pituki
Panic
sI L N a Y E:LIVE-IDM / Tropical / Electrónica en directo

CHILLOUT:
"non stop"
Deco
Deco
Deco:
Wamba
Psymouse (Skizodelic Mind) Mal
Indian AcidBox

Performances
Zona Camping
Comidas
Chai-Shop
Info
La cultura Trance podriamos decir que en la actualidad se ha dividido en dos corrientes afines entre si : la espiritual,donde se mantienen todos las influencias de la India y la cosmica donde se entrelaza el sentimiento del cosmos como parte de uno mismo. Si bien lo que ha caracterizado al Psychedelic-Trance ( entre otras cosas) son las fiestas en las que se escucha esta musica. En la Cultura Trance estas celebraciones son una travesia por distintos estados de animo donde los colores, el movimiento y las luces son estimulantes.

La decoracion de estas fiestas hacen alusion a deidades totemicas, egipcias, prehispanicas, hindues ,psiquedelicas, cosmicas ,siendo asi el sentido mistico el proverbial. Los lugares donde se realizan estas celebraciones por lo general tratan de ubicarse en centros de energia o chakras como bosques, playas, desiertos, ruinas, etc. Estos campos de energia no estan presentes en las fiestas que se puedan hacer en locales,club's,discoteca,siendo los espacios al aire libre los mas indicados para las fiestas trance

Las fiestas de Psy-Trance no solo se basan en la musica y el baile. Cada lugar, a nivel global, se añaden elementos locales y ancestrales, de tal manera que da paso a la existencia de una generacion cultural que se basa en la planeacion del evento, el concepto, los flyers, la musica, la produccion y los Dj's. Ademas de la creacion de una educacion en la toleracia y la aceptacion. Por lo tanto el organizar una fiesta trance es casi como una ceremonia o ritual, donde el primordial elemento es la armonia entre la gente que la realiza, de esta forma se puede transmitir energia positiva a todos los asistentes,pudiendo llegar a estados elevados de consciencia colectiva,convirtiendose la fiesta en si en un ser vivo e inteligente en completa armonia con la naturaleza y el cosmos.

Paz hermanos a disfrutrar de la vida!!!!

Colabora y respeta el medio ambiente
Comparte y recicla
Atencion: Contacto alienigena
Diviertete y cuida de nuestra naturaleza

COLABORAN:

Energy Control

Trilokosound System
Psylocibe Sound
Skizodelic Mind
Skisoundsystem
Location
La fiesta será en un cortijo privado, se llega: al salir de Aracena, cojer la general, la primera entrada a Fuenteheridos y a partir de ahi, seguir las indicaciones para la fiesta en forma de flechas fluor... (estar atentos)
The party will be in Fuenteheridos (Huelva), in a farmhouse, when you pass Aracena, take the first entry to fuenteheridos and follow the indications to the party (fluor arrows).
Como llegar desde sevilla:
[google.es]
Como llegar desde Madrid:
[google.es]
Como llegar desde Granada:
[google.es]
Como llegar desde Malaga:
[google.es]
Como llegar desde Valencia:
[google.es]
Como llegar desde Lisboa:
[google.es]
Como llegar desde Barcelona:
[google.es]
AUTOBUS DESDE SEVILLA A FUENTEHERIDOS:
LA ORGANIZACION RECOGE A LOS ASISTENTES EN LA PARADA DE AUTOBUSES DE FUENTEHERIDOS,EL DIA 9 Y EL 10,SIN COSTE ALGUNO.
(AVISAR POR TLF.)
HORARIOS:
AUTOBUSES CASAL:
SALIDA PLAZA DE ARMAS:
DIAS 9,10; 9:00 DE LA MAÑNA Y 16.00 DE LA TARDE
REGERSO.DOMINGO; 10:15 Y 16:20
Organizer
Organizer
DKDS PSYTRANCERS COLECTIVES
Hotline
664685516 / 646473738
Added

11y 9m

· Update

11y 8m

· 2 Parties ·

/ 1