Backend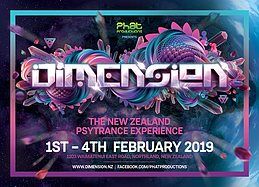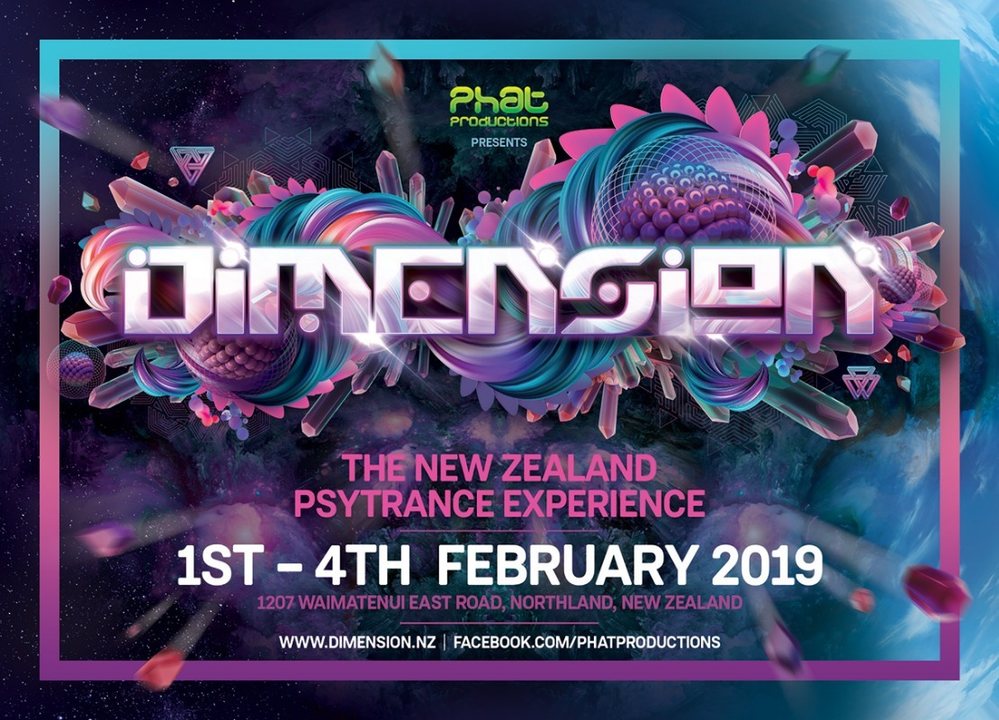 Line Up
Phat Productions Presents
▶ DIMENSION ◀
The New Zealand Psytrance Experience
1st - 4th February 2019
1207 Waimatenui East Road, Northland, New Zealand
You want to be taken higher than you've ever been before - higher in consciousness, sensation, connection and enjoyment.
So come and join a tribe of like-minded seekers and immerse yourself for 72 hours of perception-bending music and crystal-clear HD audio/visual bliss.
Then stare wide-eyed in disbelief as you watch yourself soar past every peak of what you thought fun could be.
There's a reason we take pride in guaranteeing the ultimate party experience and all that goes with it. That's what every aspect of what we produce is for - that's why we do what we do.
▸LINEUP◂
The Dimension lineup features a carefully curated selection of the finest international psy-trance artists, along with our special local New Zealand sound, blasting for 3 back-to-back nights designed to maximize your aural pleasure.
And during the day, you can vibe out to a fresh collection of phat psybreaks, techno, and prog to mix things up.
Djantrix (Live / Digital Om Productions / Macedonia)
Beardy Weardy (Live & DJ / Wild Things Records / UK)
Architekt (Live & DJ / Phat Productions / NZ)
Pollyfonika (Blacklite Records / Mexico)
Megapixel (Grasshopper Records / Japan)
The Rave Commission (Live / Zero One Music)
Terra Nine (Live / Iboga Records / NZ)
Sirius Music (Live / Altar Records / NZ)
Akasha (Phat Productions / Malaysia)
Big Dave (Phat Productions / NZ)
Cymatic (Phat Productions / India)
DJ Ryan (NZ)
Froggman (Aum Productions / NZ)
ICU (Phat Productions / NZ)
Miss Molly (Phat Productions / NZ)
MTM (Trancevaders / NZ)
Pie (Phat Productions / NZ)
Prog Dog (NZ)
Psybaba (Persia)
Skylab (Phat Productions / NZ)
Sonic Climax (Aum Productions / Germany)
Treewalker (NZ)
Tripfore (NZ)
DJ Refraction (NZ)
82% Merino (NZ)
Anirvan Deva (NZ)
Louie Nouvou (NZ)
▸EXPERIENCE◂
Here's what it all comes down to – at a Phat Productions party, your experience is our art form.
For over a decade now, we've been fine-tuning every aspect of the ultimate party experience - every sensation, mindset and desire – to tailor the ideal blend that will keep you surpassing the top of your own game, elevating you to higher and higher levels for a full three days and nights.
That's what we do.
And we're committed to this art form because we know first-hand the transforming power an experience like this can have in a person's life.
The core foundation of what we produce is sound; and even though words could never quite capture the sheer quality of the unmatched proprietary sound system we've been honing all these years (with its instantly detectable positive effects), we know when you hear it for yourself you'll understand what we mean when we talk about making our sound eclipse the limits of what's possible.
Then there's the visual aspect, where your upward ride gets framed and enriched by a twisted array of visual arts; state-of-the-art UV lighting and Mindfunk Deco, layered with psychotropic patterns by our very own VJ ICU, along with the purity of aligned light provided by our dual Soulstorm lasers.
These immersive, transcendent visual textures serve to map the collective psychedelic space we'll be journeying through together to reach and explore all new cosmic realms and plateaus amidst the backdrop of our beautiful New Zealand site.
Picture a freshwater river meandering past the dancefloor, two swimming holes, loads of shade, and majestic trees you can stare at for hours.
So come let every aspect of your being be enhanced.
Really, there's nothing like it.
▸CHILL◂
As you can surely imagine, balance is key when it comes to the consummate festival experience. As we work to raise you increasingly higher throughout the duration of the event, it's important to also take time to rest, chill, and connect with others so that you can re-energize, re-integrate, and re-prepare yourself to be lifted once again.
This year we bring the authentic chill buzz to Dimension with Woosah.
"Woosah" has been designed to be a much-welcomed contrast to our main floor and will be like stepping into a gentle warm breeze after being hailed on by a psychedelic sand storm. Woosah has been inspired by the smoky Bedouin tents of African and Middle Eastern deserts that were erected for tired sand travelers to safely rest their weary feet and souls. Featuring soulful sounds and hammocks, this is the perfect place to relax and have your deep-and-meaningfuls.
▶ ALSO FEATURING ◀
▸ BYO Alcohol (strictly no Glass)
▸ Exotic Market Area (full of tantalising food, original art & expressive clothing)
▸ EFTPOS & Wi-Fi
▸ Free Camping
▶ MORE INFORMATION ◀
▸ Website:
[dimension.nz]
▸ Facebook Page:
[facebook.com]
▸ Instagram:
[instagram.com]
▸ Email:
info@phatproductions.net
Location
1207 Waimatenui East Road, Donnellys Crossing, New Zealand
Three Hours Drive North of Auckland
Entry fee
Entry fee
For tickets and pricing follow this link
[co.nz]
Organizer
Organizer
Phat Productions