DIGITAL WAVES - Psychedelic Music Festival (II edition 2011)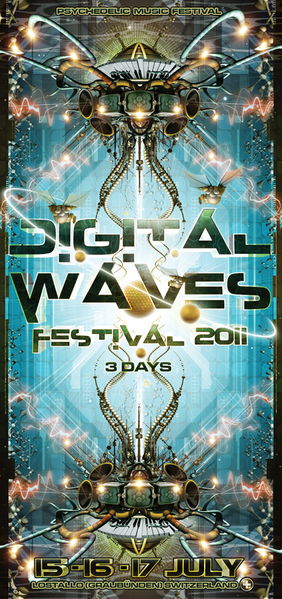 Line Up
ATMA
(Y.S.E Records,AUT)

COMPRESSOR
(24/7 Records,UK)

E-CLIP
(Yellow sunshine Explosion,SRB)

ITAL
(Antu Records,CHI)

MANTRA FLOW
(Mutagen,DK)

MENTAL BROADCAST
(24/7 Records,BR)

MONKEYSEXPLOSION
(Monkeysexplosion TM,IT)

PLASMOTEK
(24/7 Records,FR)

SINERIDER
(24/7 Records,UK)

SUNDAY LIGHT
(Anunaki Records,RUS)

SEVEN11
(Aphonix Records,CH)

WHIIPTONGUE
(Looney Moon Records,BR)

XPIRAL
(Vagalume Records,BR)
ANTENAUS
(Gioacosmica,CH)

AKUSTIK
(Spin twist,CH)

ARMONIX
(Solar tech,CH)

AUDIOCLIP
(Narmada productions,CH)

DRISS
(Hadra records,FR)

E-FREQUENCY
(Zero Rec, CH)

FOG & PHOBOS
(Looney Moon Records,IT)

DJANE GABY !!!new entry!!!
(Sunlight,SL)

JOSHUA
(Magic-Lounge,CH)

MAHI
(Aphonix Records,CH)

MASTERKAOS
(Goanica,CH)

MINDWHEEL
(Danceline,IT)

NAGUAL
(Narmada productions.CH)

NESJAJA
(Chromanova,GER)

SOLARIS
Fractal records,CH)

RANDY
(Fractal records,CH)

RIFF RUFF
(24/7 records,AT)

SINSAN
(Pitch Record Productions,CH)
ANTENAUS
(Gioia cosmica,CH)

ARMONIX
(Solar tech,CH)

FOG
(Looney Moon Records,IT)

DJANE GABY !!!new entry!!!
(Indipendent,SLO)

NESJAJA
(Chromanova,GER)

SOLARIS
(Fractal records,CH)
Info
!!!ATTENTION!!
► FOR BUY THE TICKET:
[digitalwavesfestival.ch]
After the great experience of last year, we are happy to announce you the second "Digital Waves Festival" edition!!
This year we're ready to impress you with a new chill area, visual amazing decorations and many many NEWS!!!
Thanks to all those that are collaborating to this fantastic edition!
To know more about the rest we invite you to come to our festival at july ;)
Official partner: LOONEY MOON REC.
[facebook.com]
•• STAGE, AUDIO, LIGHT & LASERS SHOW ••
IMPACT-VISION
[impact-vision.ch]
► Sound System "Funktion-one" used to the Boom festival!!
[funktion-one.com]
► Amazing light (new led technology) and laser show!!
► Parking area near the festival
► SHUTTLE BUS from train station (Bellinzona) to the festival!
► Big chill out, shops, food & drinks
► Showers & Toilette
LOOK THE PSYCHEDELIC FESTIVAL LIST OF THIS SUMMER:
[bit.ly]
Facebook:
Profile:
[facebook.com]
Photo last edition:
[facebook.com]
Goabase:
Last edition:
goabase
Location
Location
Lostallo - GR - Switzerland
Added

10y 5m

· Update

10y 12d

· 8 Parties ·

/ 16